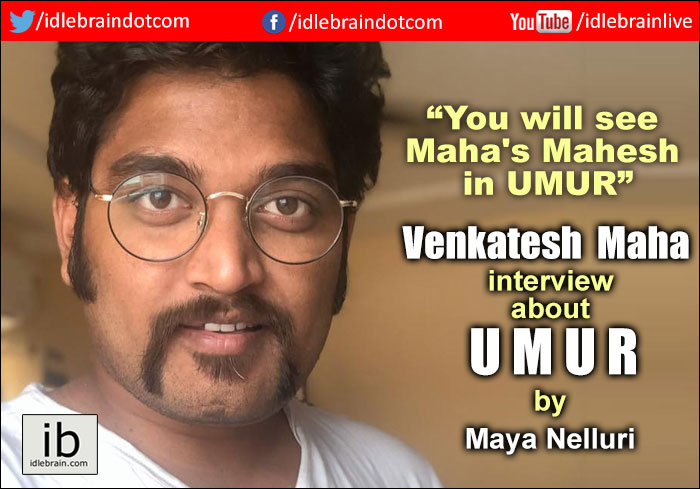 29 July 2020
Hyderabad
2020 has given us all much to think about. The simple pleasures we once took for granted are the ones we now eagerly wait to experience. Catching up with friends for a movie is one such joy. But, do not despair. We have a chance for relief on July 31st. On this day the eagerly awaited film Uma Maheshwara Ugra Roopasya starring Satyadev will be out on Netflix. The film's talented and straight-shooting director, Venkatesh Maha, speaks exclusively to Idlebrain. He talks about his life post C/o Kancharapalem and wants the audiences to know that while his first film was an urban script, they will see a completely different and rural setting in UMUR. Read on to find out more.
You've mentioned that you left home at the age of 16. What prompted that?
I've been an independent soul with a radical streak since my childhood. I would question my parents and brothers which annoyed them. At 16 I told my mother that I would like to leave home to live independently. Initially she was apprehensive but she allowed me to spread my wings and told me to come back if anything went wrong. After two months when I went home with gifts she said I earned a lot of respect because of my decision and encouraged me to keep going. She said, "don't come back!"
Set boy to director – how long did that journey take you?
I spent almost five years doing various odd jobs before entering the film industry at age 20. From there it took me another seven years to start my first film, and another two for it to release. The overall journey took 10-12 years during which time I faced a lot of things. I had this fire in me which made me soldier on without any deviation.
How was life after C/o Kancharapalem?
Life changed a lot. Before Kancharapalem I was like a vagabond, wayward. Afterwards I felt a bit like a boxed free soul. I think I became lazy so I told my friends and family to shake me up whenever they find me like that. Earlier I rarely used my phone, I used to search for it on the occasion that I needed it. But now my phone is always with me and social media is definitely deviating me. I'm thinking of going off it soon. After the pandemic situation calms down people will see the old Maha back.
There is a perception among the audiences that C/o Kancharapalem and Uma Maheshwara Ugra Roopasya (UMUR) have a similar backdrop. Can you clarify?
I want to point out that both films do not have a similar backdrop. C/o Kancharapalem was an urban script whereas UMUR is a rural story. Unfortunately for us city means skyscrapers and rich houses. It is a misconception that I want to address and break. Kancharapalem is in fact a main spot in Vishakhapatnam. UMUR is set in Araku which is actually a tribal area in the middle of a forest, so it is not even a village. Araku became a popular tourist spot and a lot of people from plains like Vishakhapatnam and Anakapalli moved and settled there. Now with the Tribals the population is a great mix. I wanted to capture that life.
What prompted you to choose Araku?
UMUR is adapted from the Malayalam film Maheshinte Prathikaaram. It was set in Idukki so I wanted to choose a location with such a unique quality. I love Araku; I've been there lots of times prior as well. Araku is a civilisation of its own in the middle of a forest. The people there are distinctive with an aggressive streak. I took Praveena garu, my producer, there and showed it to her. She also fell in love with it. When you watch the film you will clearly see the difference I brought to UMUR. In Maheshinte Prathikaaram the characters have an innocence and niceness to them which is much like the personalities you find in Idukki. In UMUR they are much more aggressive because we tried to bring in the characteristics of the Araku people. Most people only see Araku as a holiday spot, they will see the nuances of its people and culture in UMUR.
Do you feel people will find other differences between the two films?
Yes, there are many other differences between Maheshinte Prathikaaram and UMUR. Mahesh's character in UMUR is very different to the Mahesh in Maheshinte Prathikaaram. It is Maha's Mahesh whom you will see on screen. Even though Satya watched the film previously it took some time for him to understand this character. After a week on set, Satya would come to me and say things like, 'aa Mahesh gadu ilachestadu kada.' He understood the character so deeply that we used to make fun of Mahesh and Satya would come up with many suggestions regarding his characteristics and quirks which I would also agree with and incorporate.
What prompted you to go with a remake for your second film?
It's been two years since the release of C/o Kancharapalem. Still, I see 10-20 posts about it daily on social media. The audiences still love that film and cherish it as their own. In order for me to create something that good it takes time. I'm human, I need to observe enough. C/o Kancharapalem was the result of me observing the society for 27 years. Whatever I liked or didn't like in the society made up C/o Kancharapalem. Now I've started observing again. It'll take time for a great screenplay to come out but that doesn't mean I can stop my life. I'm a filmmaker and as a filmmaker I think we can only really breathe on a film set. It's like my ventilator. I have to shoot. Initially we (me and Praveena garu) wanted to make an original film but none of the ones I worked on fit into the box we wanted the project to be in. So when she suggested that I do a remake, I told her there were only two films I wanted to remake in my life and Maheshinte Prathikaaram was one of them. She instantly loved it when she watched it and that's how the process started.
UMUR is on a much bigger scale compared to your first film. What was that experience like?
The screenplay I was working on after C/o Kancharapalem kept getting bigger by the day. But before getting to it, we wanted to do a bigger project. That's the box I referred to earlier. We shot 37 days for UMUR and 20 of those had a crew of 150 people. Compare that with C/o Kancharapalem where on any given day we had about 13 crew and actors who were from the same village. For my first film the set went to the village but for UMUR we went to the location and made a set there. Handling that many people during UMUR really threw us into the deep end; it allowed us to understand the dynamics of such a large scale project. If C/o Kancharapalem was our first year of film school, UMUR was our second year!
UMUR's music is certainly distinctive.
Yes, it's different from the usual commercial music. The music in the original film is also very fresh and new. So when I was thinking of music for UMUR I wanted to introduce the audience to something new. I personally love music a lot, I always try to understand and learn the nuances of music.
How did u decide on the casting for UMUR?
A year before C/o Kancharapalem I met Satya for another project. I was searching for someone very rooted and grounded and a friend introduced me to him. When I told him the script he loved it. I tried for some time to make that happen but didn't get investors at that point. With that frustration I went on to do my first film.
With UMUR, initially I wanted to experiment with the casting so I thought of another actor. That didn't work out both ways. Then immediately I thought of Satya. I gave the production houses other options as well but the process went full circle and everyone wanted Satya. As soon as I told him I was thinking of doing this project he was very excited. He also loved that film so he was very happy when I asked him to play this role.
How was the experience of working with Satya?
We knew each other from before so we were comfortable. And it was a great experience because Satya is one actor that we must celebrate! We used to celebrate Chiranjeevi garu and other great actors; that's an era which should be written about so we can truly reminisce about Telugu cinema. There were many brilliant performers then who would tell brilliant stories. Somewhere through the years such storytelling has gotten lost. For example, Rajendra Prasad garu was a hero who did comedy, fights, conflicts. He did a series of amazing films – the likes of which don't come out now. I see a wonderful actor like that in Satya. I want him to go on to tell great stories with his acting ability, whether they be100 crore films, 500 crore films, or indie cinema.
UMUR was made for a theatrical release but now it will be out on OTT. What are your thoughts on that?
Initially I was a little upset when I found out. While shooting, me and the cinematographer framed each shot for the theatre. There will be a difference in visuals when one composes for a theatre and for TV. I would have composed differently if I knew that it would release on TV. When Shobu sir explained to me that theatres might not even open till the end of the year, and Praveena garu who is a doctor stressed that the pandemic is much more serious than I considered it to be, I understood that I was underestimating the situation. Once they explained it, I got the visuals and understood that this is the best way to go. I am happy that we got a good platform like Netflix and also that everyone is looking forward to watching it. For my satisfaction, after the pandemic, I want to play UMUR on the big screen and watch it with my team.
What's next for you?
Right now I'm just chilling and writing three different stories. After UMUR's release and the following reactions, I'll see what comes up. Going forward, I very much want to strive to increase the standards of filmmaking. I want to make a global standard film. I don't want to restrict myself to regions or languages like Telugu, Tamil, and so forth. With every new project I'll try to make a better film. I also want to address the things that have irked me in the past. We are what we laugh at and enjoy in our art. Our culture is defined by that. So, I want to promote progressive ideas and challenge the clichés.