Bommarillu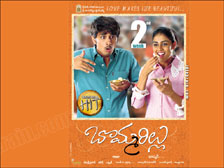 Ha what an experience it's been and after a long time i was reminded how refreshing and beautiful a sensible movie could be.
I was starved of movies that i could watch with my parents but this movie demanded the presence of parents!!(and let me assure u it's not because of any A certificate)
The first pulling force was the music one hearing and i just couldn't control myself and to date i am still humming "appudo ippudo" and i must say this is something coming from an 18 year old whose lips change tune almost everyday.
Secondly, Siddharth is my favorite actor and he sure has surpassed all his previous performances and proved that there is no one like a guy who is determined to achieve something notable.I hope people accept him as a true blue telugu abbayi after this. Every scene shows his effort and determination. He makes a great combo with Prakash Raj who carries off his role with aplomb.
Genelia was a surprise, though.I have always thought her cute and vivacious but this role brought out her true capability.
And some scenes were so well enacted that i could hear sniffling into their hankies all around me! Hats off to the entire unit!!
The cinematography, lyrics, choreography, dialogues and scenes every bit is a s natural as possible. There is no attempt to earn brownie points through vulgarity and no need also to tell u the truth. The flick's as sweet and lovely as fresh flowers. All the actors are in perfect sync and blend into their characters with utmost ease.
I loved the movie and came out of the theatre feeling that here was a masterpiece. I have already watched it twice and wouldn't say no to an encore.
So all u guys make sure u watch the movie at least once coz such pics are rare and make sure u take ur parents along. This would a perfect gift to any mom or dad!
Remember 'veelayithe nalugu maatalu kudirithe cup coffee?'
MMMmmmm....truly delectable!!
lalitha spoorthi
[email protected]
More My Movie experiences:
LRMB - Shravan
Bommarillu - Anirudh
LRMB - Srinivas
LRMB - Darsakudu
LRMB - S Sridhar
Bommarillu - Shridevi
Bommarillu - Vasudev
Bommarillu - Roopa
Sriram - Godavari
Sarath - Bangaram
Bala - Pokiri
Srinadh - Allari Pidugu
Sudheer Allari Pidugu
Anu - Athadu
Shyam Krishna - Iqbal
Purnesh - Grahanam
Sudhindra - Super
Vijay - Aparichitudu
Madhav - Aparichitudu
Hazaraon Kwaishein Aisi
Swades
Shyam - Black
Sai - Anand
Rohit - Anand & Veer Zaara
Jaya Prakash - 7GBC
Raj - Anand
Purnesh - Anand
Purnesh - The Village
Sriram - Gudumba Shankar
Purnesh - Gharshana
Purnesh - Lakshya
Purnesh - Yuva
Leenesh - Yuva
Kis - Lakshmi Narasimha
Indian Pride - Tagore
Raj - Boys
Phani - Gangotri
Phani - Khadgam
Vikram - CKR
BKR - Indra (Singapore)
Ram - Indra (Dubai)
Ranjeet - Idiot
Rahul - Indra
King Koduri - Indra
Srilakshmi Katragadda - Mitr: My Friend