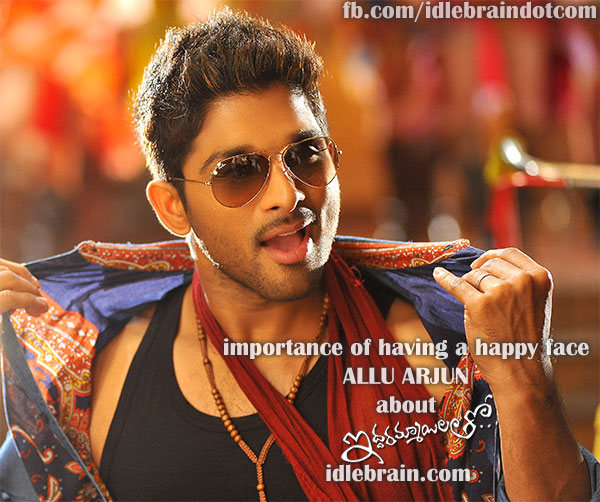 29 May 2013
Hyderabad
Allu Arjun talks about his 31 May release Iddarammayilatho. He tells us the importance of a happy expression and grace in dancing.
You are one of the most graceful dancing heroes Telugu cinema has ever produced. How do you feel about it?
I used to do lot of dances by putting lot of effort in my early films. People used to think that I work hard towards dancing. I have realized much later that it doesn't matter how much work hard for a dance, but the audiences should have the pleasure of watching a happy song. If you see my latest films, you can see a happy and enjoyable expression on my face even when I do the most difficult step. In my opinion, Dayi Dayi Damma step in Indra is the best in Chiranjeevi's career. It's the most difficult step, but Chiranjeevi has done it with the happiest expressions on the screen.
I also feel that the greatness of a dance step is there in its simplicity. The Gangnam style dance has become hugely popular for those simple yet enjoyable steps.
Tell us about Iddarammayilatho film?
I credit the entire film to Puri Jagan. I feel that it's essential to have a perfect chemistry between hero and director to deliver a hit film. If director loves hero and hero loves director - you can see magic on the screen. I have such perfect directors like Puri and Sukumar in my career. I believe in director-actor combination magic. We have few examples like Denzel Washington – Tony Scott, Russell Crowe – Ridley Scott, Leonardo DiCaprio – Quentin Tarantino in Hollywood. It is Puri Jagan's ideas I strongly believe in. I feel that Puri Jagan's ideas are great. Puri has loved making this film. Irrespectively of the result, my work for Iddaramammailatho will remain as one of the most satisfying.
What is the genre of Iddarammailatho?
I think most of Indian films are multi-genre films. I have five genres included in Iddarammailatho – action, music, comedy, romance and drama. If I have to specify two genres that dominate, these are romance and action. One can call it as romantic action entertainer.
Technical highlights:
If you look at trailers, you will understand the finest cinematography done by Amol Rathod. Bangkok based action choreographer Kecha has composed action sequences. He has done sleek action sequences in Thupaki film earlier. Devi Sri Prasad is coming up with his best work again and again for my films.
Tell us about Amala Paul and Catherine Tresa?
Both of them are darlings of the unit. Both these actress will carve niche for themselves in the days to come. Puri Jagan has a history of introducing finest of actresses who went onto become big at a later point of time like Asin, Anushka and Hansika.
Do you have a lip-lock scene again in this film?
Let me make it clear about myself. I am a family guy and I personally don't want lip-lock scenes in films I watch as I go to theaters with family and kids. I also don't enjoy kissing heroines as I am already married. I do lip-lock scenes only when these scenes are needed absolutely.
Let me explain lip-lock scenes in three films I had worked for –
1. Arya 2: The girl has to hate boy. Hence boy should do something nasty to make her hate him
2. Varudu: Villains are chasing and hero has a few seconds to express how much he loves heroine. Hence lip-lock.
3. Vedam: When hero is about to confess that his entire life is a fake, heroines gives him a peck on lips and assures that everything will be ok.
Rumors are rife that climax of the film was reshot?
I feel that if a scene is not good in the film, one should reshoot and rectify the mistake. It's a good thing and lot of big hits of Telugu cinema had reshoots during production. However, there was no reshoot for Iddarammailatho film. Patchwork is something which gets shot after the shoot is over in order to get continuity in certain scenes right. We had done that patchwork for a couple of days. I respect people who do reshoots and I openly admit if I indulge in one.
Your looks are good in this film?
I should thank my stylist Ashwin Ash for that. His debut film was Arya 2 and he has been consistently doing for all my films since then. He has also worked for many big hits in recent times.
Tell us about postponement of Iddarammayilatho from 24 May to 31 May?
Release of a film is decided by several factors. Producer Ganesh has taken the following things into account to postpone the film so that we get maximum number of theaters and great openings -
1. IPL season is getting over by 26
2. Ganesh's film Baadshah is celebrating 50 days on friday (theaters problem)
3. Recent release Tadakha is doing well and we have same distributors for Iddarammailatho in most of the areas.
Tell us about your future films?
My next film is Race Gurram to be directed by Surender Reddy. It has romance, comedy and action in it. Thaman composes music.
I am doing a 5-minute cameo in Ram Charan's next film Yevaru. Though the duration is of 5 minutes,