Story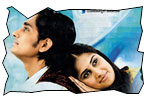 Uday (Siddharth) is a rich and spoilt brat who believes in short term pleasures. Sandhya (Shamili) is a loner who lives on her own. She is a responsible girl with long term plans and strict principles. Uday falls in love with Sandhya at the very first sight. And she joins her place as a paying guest. When everything is going well, Uday comes to know that Sandhya is suffering from cancer and her days are numbered. But Sandhya is not aware of it. The rest of the story is all about how Uday makes Sandhya realise all her unfulfilled wishes.
Artists Performance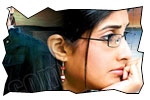 Siddharth is excellent as Uday. His costumes and goggles are very nice. He made sure that he wore goggles for 80% of his screen appearance (including songs). His dances in songs are energetic. Shamili is pretty good with acting, though her looks are strictly average. They should have managed the dark circles around eyes with good make-up. It may be a sheer coincidence for Shamili to again act as a patient in her debut film as a heroine. She had earlier donned the role of a mentally challenged, ill girl when she was just three years old in Maniratnam's blockbuster Anjali and won the national award. Krishnudu is good. Sunil is not good in first half, but is nice in the second half. One doesn't understand why they cast Napoleon for that role. Pradeep Rawat did his Chatrapati role in this movie. Surekha Vani got a nice role in this movie. Radha Kumari is hilarious in an episode with Ravi Kondala Rao. The comedy involving Ali and Master Bharat is completely irritating.
Technical departments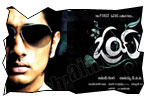 Story: We should appreciate Anand Ranga to letting out the references for this movie right in the beginning. This film is inspired by Erich Segal's novel 'Love Story' which was made into a classic 'Love Story' (Jeevi Review). Johnny by Pawan Kalyan is also inspired by the same movie. However, there is no father/son conflict in this movie. We have another film titled 'Amruta Varshini' (Telugu dubbed version of Kannada blockbuster Amruthadhare) that speaks about husband fulfilling the wishes of wife before she dies. Films like Bucket List (jeevi review) and Sweet November also sports the similar themes.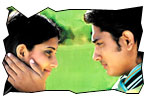 Screenplay - direction: The first half of the movie is dedicated for introducing the characteristics of the two main leads and the way they fall in love. The illness of heroine is revealed to hero much before the interval. The entire second half is dedicated to the boy fulfilling the wishes of the girl. The director succeeded in establishing the characters well and knit a proper and sensible love between them. He could deal with sensible humour well. But he fails when it comes to the comedy meant for front benchers (Sunil, Ali and Bharat). Screenplay of the movie is adequate. A film of this type works only if the tragic part of the movie is narrated in a heart-touching way. But you don't feel for the characters by the time movie ends. Director could have made to genuinely heart touching with a better handling of second half. However, there are three things i liked in this movie
1. The 12th birthday gift (girl's version and boy's version)
2. Getting the Pradeep Rawat's character out of Chatrapati film to continue it in this movie. It is very creative and of Woody Allen style.
3. Radha Kumari and Ravi Kondala Rao's train episode.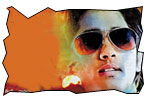 Other departments: Music by Yuvan Shankar Raja is superb. The picturization of songs is also good. Cinematography by Vijay Chakravarthy is another asset. Locations are very good. The vast geographies of Bihar, Kolkota are Varanasi are explored well. The house set erected in Rushi Valley, Vizag is of class taste. The color grading and postproduction activities are done with proper care. Editing is fine. Dialogues are neat. Production values by Universal Media are grand.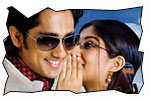 Analysis: First half of the movie is decent. Second half is lengthy and is dragging at times. The climax is predictable and is not heart-touching. The plus points of the movie are Siddharth, music and cinematography. One should have guts to make such a film in Telugu where heroine dies at the end. These kinds of endings carry enormous risk quotient. I wish that the director could've made the climax in more effective way. We have to wait and see how it performs at box office.
Oy links
• Music review
• Siddharth interview 2
• Siddharth interview 1
• Music launch
• Photo gallery
• Wallpapers
• Trailers
Jeevi reviews of previous 5 films
• Evaraina Epudaina
• Current
• Raju Maharaju
• Boni
• Kavya's Diary
• Ride
• Aa Okkadu
• Diary
• Pista
• Prayanam
• Kick
• Veedokkade
• Mitrudu
• Circus Circus
• Adhineta
• Punnam Naagu
• Ananda Tandavam
• Billa
• Bheebatsam
• Manorama
• Aakasamantha
• Sontha Vooru
• Malli Malli
• Mesthri
• Naa girlfriend baga rich
• Drona
• 16 Days
• Satyameva Jayathe
• Siddham
• Nenu Devudni
• Konchem Istam Konchem Kastam
• Shh...
• Arundhati

More Reviews