Story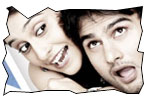 Shiva (Sudhir Babu) works as a courier boy and is of mass type. Shruti (Regina) works as RJ in Radio Mirchi. They meet in a train journey and their relationship starts off on a false note. They get to meet each other at regular intervals and start having love and hate relationship. Shruti keeps misunderstand Shiva. By the time Shiva clarifies one misunderstanding, another one is generated. The rest of the story is all about how Shruti and Shiva clear it all for ever.
Artists Performance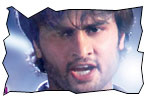 Sudheer Babu: Sudheer Babu makes a confident and fine debut with SMS movie. He doesn't look like a first-timer. He is an excellent dancer and gracefully moves his body to difficult dance movements. He is athletic and is very good with action sequences. He excels both in casual scenes and emotional scenes. However, he need to improve his voice modulation while doing comical stuff as there is a squeakiness in it.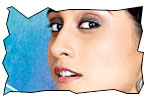 Others: Regina impresses you with her effortless acting. The girl who dubbed her voice also brings freshness. The second hero of the movie is 'Chanti' who entertained us in Tatineni Satya's earlier film 'Bheemili'. Chanti has extremely likable dialogue delivery and expressions. He is as good as Ali in comedy timing. The dialogues written to his also helped the cause. Vennela Kishore entertains in a low-key character. Subbaraju is superb in a 2-minute cameo. Thagubothu Ramesh entertains again in one more climax. Roshini is apt as hero's mother. Kasi Viswanath played the role of heroine's father. Mirchi Hemanth makes his mark in climax.
Technical departments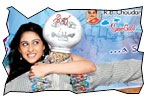 Story - screenplay - direction: The story of the movie is a simple one-liner. The story has a single thread of misunderstanding between the lead pair. Director Tatineni Satya made sure that there is ample perfectly timed entertainment in the movie. He is very good at extracting performances and doing entertainment scenes. However, the screenplay should have been better as some of the vital episodes (birthday misunderstanding before interval, drinking scene in wine compound and hero going to heroine office after drinking) were not convincing enough to create misunderstanding.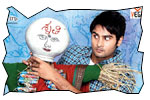 Other departments: Music by Selva Ganesh is good. I liked 'Idi Nijame' and 'Cheliya' personally both on-screen and off-screen. Cheeky Cheeky Baby song is fast and fun. Osey Penki Pilla's picturization is very creative. Photography by Chittibabu is nice. Dialogues of Nandyala Ravi are an asset. There are entertaining dialogues and emotional ones as well. Films of this type will work only when the director make the comedy work and when the hero adds value to his character. It's a risky decision to invest on such a script with new hero and one-film director. The producer Vikram Raju has shown a lot of confidence on both hero and director and it is likely to payoff.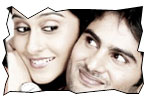 Analysis: First half of the movie is entertaining. Second half is okay, but it's lengthy and redundant due to single orientation. However, the climax of the film is good though extended one. The plus points of the movie are actors performance and entertainment. On the flip side, a better screenplay in the second half would have made a lot of difference. SMS - a film with youth orientation and entertainment makes a decent watch.
SMS links
• Sudheer interview
• Music launch
• Photo gallery
• Wallpapers
• Videos
Jeevi reviews of previous films
• Snehitudu
• Bodyguard
• Businessman
• Rajanna
• Journey
• Panjaa
• Priyudu
• Solo
• Sri Ramarajyam
• Oh My Friend
• Mogudu
• Nuvvila...
• 7th Sense
• Pilla Zamindar



More Reviews