Story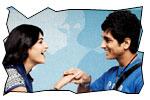 Chandu (Siddharth) is passionate about music and he wants to become a lead singer and guitarist. His father (Tanikella Bharani) is a government employee and wants his son to become a corporate employee. Siri (Shruti Hassan) is Chandu's childhood friend and neighbor. Both of them are extremely close friends. Siri has a boy friend Uday (Navdeep) and Chandu falls in love with Ritu Sharma (Hansika Motwani). The rest of the story is all about the confusions and conflict between and love and friendship.
Artists Performance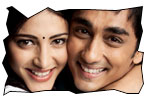 Siddharth looks young and neat as an youngster who protects his friend who is a girl and fall in love with another girl at the same time. Shruti Hassan is fine as a friend. Hansika Motwani suited the character very well and she is very good in traditional dresses. Navdeep should be appreciated for playing a vital role that has limited footage. Tanikella Bharani gave controlled performance as a father. Ali's comedy is a big relief as a server in a Kerala resort. Since the story focuses on the four lead characters, there is not much role for other actors in the movie.
Technical departments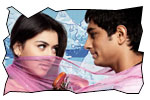 Story - screenplay - direction: The story of the movie discusses the possibility of a guy and girl being close friends without any sexual (boyfriend/girlfriend kind of feelings) feelings between them. It is a delicate subject that deals with 4 prime characters. When you have limited characters in the movie, it is important to create a arresting screenplay and engaging narration. The narration of the film is slow. The screenplay should have been more interesting. Direction is adequate.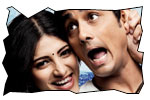 Other departments: Music by the debutant music director Rahul Raj is nice. 'Oh My Friend', 'Sri Chaitanya' and 'Maa Daddy' songs are good. Background music by Mani Sharma is good. Cinematographer Vijay Chakravarthy has chosen a color theme (mostly blue) and stuck with it. Cinematography is good. Most of the costume wore by Siddharth and Shruti are blue. Most of the costumes of Navdeep are red. Dialogues are contemporary. Producer Dil Raju has made the movie with good production values.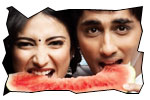 Analysis: First half of the film is okay. The main conflict point is revealed in the second half. Climax has a good point on which the entire film is based on. Producer Dil Raju has made a brave attempt to make a film without any commercial padding (except for a 10 minute Ali's cameo in the second half). Oh My Friend is a kind of film which you either connect or disconnet. It will be liked by the viewers who gets connected. The publicity and package of the film is very good and it has generated excellent openings. We have to wait and see how youth and family crowds like the movie.
Oh My Friend links
• Krishna Vamsi interview
• Music launch
• Photo gallery
• Wallpapers
• Trailers & videos
Jeevi reviews of previous 5 films
• Mogudu
• Nuvvila...
• 7th Sense
• Pilla Zamindar
• Oosaravelli
• Dookudu
• Prema Khaidi
• Kandireega
• Nanna
• Virodhi
• 180
• Badrinath
• Vaishali
• 100% Love
• Mr. Perfect
• Teen Maar
• Shakti
• Aha Naa Pellanta
• Kudirithe Kappu Coffee
• LBW
• Vastadu Naa Raju
• Gaganam
• Jai Bolo Telangana
• Ala Modalaindi
• Golkonda High School
• Anaganaga O Dheerudu
• Mirapakai



More Reviews