Story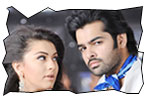 Seenu (Ram) is a street-smart guy who shifts to Hyderabad from Anakapally to complete his degree in a college. He falls in love with Sruthi (Hansika Motwani) who also attends the same college. Sruti is harassed by a goon Bhavani (Sonu Sood) who forces her to love him. Seenu convinces Sruti to love him. Just about when Seenu makes Sruti fall in love with him and teaches a lesson to Bhavani, there seem to be trouble brewing for him from unexpected quarters. The rest of the story is all about comedy of errors.
Artists Performance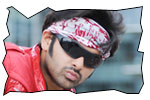 Ram: Ram is known as a bundle of energy right from his debut film Devdas. Since his character is from Amalapuram, he spoke in Godavari accent which added fun flavor to his dialogue delivery. He has performed vigorous steps with ease in songs. Ram is one of the fine actors of Telugu cinema who can bring more to the table with his energy and enhance the effectiveness of scenes. He has worked really hard for this movie and it shows up.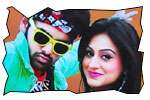 Others: Hansika Motwani is alright as the leading lady. She has put on a bit of weight. Aksha has done the role of an innocent Telangana girl who doesn't know what love is. Sonu Sood sparkles in a gangster lover role who has stuttering issues. Swati did a guest role and she is pretty good. Brahmanandam did a cameo that lasts for 5 minutes and he is good. MS Narayana comedy is decent. Jaya Prakash Reddy who is known for famous Rayalaseema accent tries Telangana dialect in this movie.
Technical departments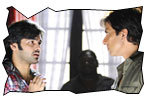 Story - screenplay - direction: Story of the film is okay though it resembles several films that have come in the past like Gudumba Shankar, Ready and Seetarama Kalyanam Lankalo. The director has added a couple of interesting twists to make this film different. The debutant director Santosh Srinivas handled the subject like a veteran and there is no amateurishness in his work. There are a few good entertaining comedy episodes. The screenplay in second half is interesting though becomes redundant towards end. The narration is little slow. There are too many subplots in the movie.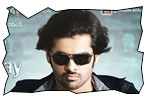 Other departments: Music by Thaman is good in parts. Background music is decent. Dialogues by Rajendra Kumar are nice (There is a funny one: vaadu aavuliste pegulu lekka pedathadu - mari doodaliste?). Cinematography by Andrew is good. The editing is ok. Fights by Stun Siva are effective. Production values are good.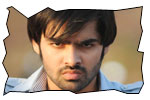 Analysis: Entertainment and mass elements are key for the success of any Telugu film. Kandireega is a kind of script that is prepared to cater to comedy and mass elements. Ram who acted in the blockbuster Ready in the past, has made sure that entertainment and screenplay is not missed in this movie. There are highs and lows in this movie. It has it's comedy moments and high energy supplied by Ram. Plus points of the film are Ram, Sonu Sood, entertainment and screenplay in the second half. On the flip side, the runtime is long and story is not fresh. On a whole Kandireega is a mass masala movie with ample entertainment.
Kandireega Links
• User reviews
• Music launch
• Trailer launch
• Photo gallery
• Wallpapers
• Trailers & videos
Jeevi reviews of previous 5 films
• Nanna
• Virodhi
• 180
• Badrinath
• Vaishali
• 100% Love
• Mr. Perfect
• Teen Maar
• Shakti
• Aha Naa Pellanta
• Kudirithe Kappu Coffee
• LBW
• Vastadu Naa Raju
• Gaganam
• Jai Bolo Telangana
• Ala Modalaindi
• Golkonda High School
• Anaganaga O Dheerudu
• Mirapakai



More Reviews