Story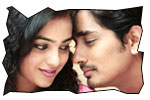 Manu (Siddharth) lands in Hyderabad and starts living in a rented house. He keeps helping the people around and gets noticed by a curious photo journalist (Nitya Menen). He looks mysterious, but she falls for his charm and helpful nature. The rest of the story is all about who Manu is and is about his mysterious past.
Artists Performance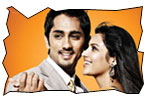 Siddharth comes up with a natural and mature performance in the role that has got multiple shades. Priya Anand surprises you with her looks and acting prowess in this movie. She has a major portion in the movie and the director projected her from the best of the angles. Nitya Menen is natural. Mouli, Tanikella Bharani and Geetha are good in supporting roles.
Technical departments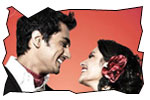 Story - screenplay - direction: The basic story has reference to a couple of Telugu films. Jayendra has a refined sense of humor and it reflects very well in the first half of the movie. If you are a class film lover, you will get impressed with first half despite snail-paced narration. Jayendra has created confusion and redundancy while narrating the last half-an-hour of the movie. The last half-an-hour forms the crux of the movie. The narration and direction of the movie is suave and sophisticated. The screenplay should have been better towards the end of the movie.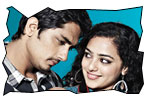 Other departments: Since Jayendra comes from advertising field and technical background (QUBE projection), he made sure that look and feel of the film is superior. Each and every frame in this movie is like a photo frame. Music (songs and background music) by Sharath is very good. Cinematography by Bala Subramaniem is of top notch quality. The RED camera work is as good as any regular camera that is used to shoot feature films. Locations are superb. Dialogues by Anuradha Umarji are nice. The entire film looks slick in terms of visuals and sound.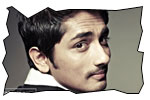 Analysis: The director Jayendra has given a press note to all the reviewers requesting not to reveal the story in the reviews. It is pretty hard to write an analysis without revealing the story. First half of the film is nice with entertainment (though slow-paced and classy). Latter part of the second half dwells into the main story. The romance part of the film is good, but the emotional content should have been effective. The plus points of the film are casting and technical aspects (cinematography, music and postt-production). On the flip side, the narration of the film is very slow and the last half-an-hour of the film is a bit confusing. We have to wait and see how multiplex and 'A' center movie lovers embrace the movie.
180 Links
• User reviews
• Jayendra chitchat
• Music launch
• Press meet
• Photo gallery
• Wallpapers
• Trailers & videos
Jeevi reviews of previous 5 films
• Badrinath
• Vaishali
• 100% Love
• Mr. Perfect
• Teen Maar
• Shakti
• Aha Naa Pellanta
• Kudirithe Kappu Coffee
• LBW
• Vastadu Naa Raju
• Gaganam
• Jai Bolo Telangana
• Ala Modalaindi
• Golkonda High School
• Anaganaga O Dheerudu
• Mirapakai



More Reviews