Story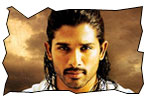 There are hundreds of famous and powerful temples in India. When the law fails to restrict mobs from other religions attacking and ransacking temples, the religious heads decide to take a few willing children and train them into kshetra rakshakulu (temple guards). They are sent to Takshasila (foothills of Himalaya) where an old warrior Bhishma Narayan (Prakash Raj) trains these kids into warriors. Badrinath (Allu Arjun) is born into the family of shepherds. Impressed by Badri's acumen and intent to learn, Bhishma takes him into his group of trainees. Badri develops into a fine warrior and is appointed as temple guard for Badrinath temple.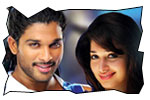 Meanwhile, Alakananda (Tamanna) visits Badrinath along with her ailing grandfather. She gets acquainted with Badri and falls in love with him over a period of time. She has a trouble brewing at her hometown and asks Badri to protect her from the evil forces. There is a glitch to entire episode as Badri should be unmarried throughout the life to be the heir of his guru Bhishma. The rest of the story is all about how Badri saves Alakananda. And which way he chooses - to be loyal to his guru (by being unmarried) or to be loyal to Alakananda (by marrying her).
Artists Performance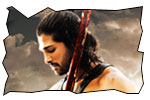 Allu Arjun: Allu Arjun has taken tremendous pain in traveling to Vietnam to learn south-east-Asian martial arts for this movie. All his hard work shows up in the movie where he appears more like a warrior from south-east-Asian regions (Chinese or Japanese) with a pony tail and leather gear (chest belt and shoes). He is amazing with fluid movements in the dances. He is good with fights.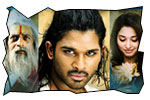 Others: Tamanna is like a regular glamorous commercial Telugu heroine in this movie where she begs hero to come and save her. Prakash Raj also doesn't look like an Indian master warrior with a typical Japanese/Chinese style hairdo. Kelly Dorge makes another grand appearance as a villain in this film. Ashwini Kalsekar (Phoonk fame) looks threatening as Kelly Dorji's wife. Raghu Babu's comedy works partly. The thread of Brahmanandam and Dharmavarapu is inspired (more like a tribute) by their track in Indra film. Krishna Bhagawan and MS Narayana are other comedians. Pragati has a limited role.
Technical departments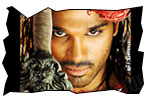 Story - screenplay - direction: Story of the film is about how a boy reacts when he is put in between a guru who taught him all and a girl who is loving him. Chinni Krishna has provided yet another story with a temple backdrop. The story is unrealistic as the concept of kshetra palakulu (like private army without any connection to the government). There are couple of good commercial elements in the story-base like a boy from shepherd family is taken into the pious group of warriors and a non-believer in god turning into a god-worshipper. This story has two dimensions to it. One is guru-sishya relationship another is the love angle between hero and heroine. A film with such a huge visual canvas should concentrate on these two relationships to sustain interest among the audiences. But the director VV Vinayak who is usually good with emotions and mass elements didn't get both action and emotions aspect right in this movie.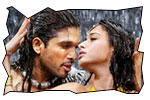 Other departments: Music by Keeravani is good for a couple of songs. Background music is nice. Cinematography by Ravi Varma Ravi Varma is excellent. Locations are picturesque. Art direction by Anand Sai is really good and you can't find difference between set and real location. Editing is fine. Stunt choreography by Peter Heins concentrate more on acrobatics than realistic composition. Production values by Geetha Arts are grand.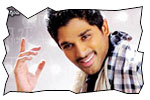 Analysis: The take-off of the film is really interesting. But the unfolding of the story is not gripping. It is a simple love story from girl point of view with a backdrop of Badrinath temple. The bonding between guru-sishya is not exploited. The plus points of the film are Allu Arjun (dances, fights and performance), cinematography and grand production values. On the flip side, narration lacks grip and screenplay should have been better. A film of this grandeur needs emotional support to make it likable. VV Vinayak who proved himself as a highly successful mass director with his earlier films falter this time to handle a subject of such a huge canvas.
Badrinath Links
• Music launch
• Press meet
• Photo gallery
• Wallpapers
• Trailers & videos
Jeevi reviews of previous 5 films
• Vaishali
• 100% Love
• Mr. Perfect
• Teen Maar
• Shakti
• Aha Naa Pellanta
• Kudirithe Kappu Coffee
• LBW
• Vastadu Naa Raju
• Gaganam
• Jai Bolo Telangana
• Ala Modalaindi
• Golkonda High School
• Anaganaga O Dheerudu
• Mirapakai



More Reviews