Story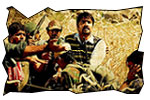 Jayadev (Srikanth) is a honest and courageous journalist. He is kidnapped by a group of extremists led by Gogi (Ajay) when he went to interview a corrupt politician (Ahuti Prasad). Jayadev is used as a protection to save themselves from the attack from cops. Jayadev soon understands the psychology of each of the Gogi gang members. The rest of the story is all about how Jayadev helps him protect himself.
Artists Performance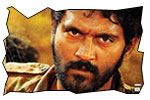 Srikanth's role is just like another character who observes the gang of extremists from the other side. We see a different and performance-oriented Srikanth who exhibits subtle nuances while enacting a complex role. Kamalinee Mukherjee is wasted in a role doesn't even have a screen space of 10 minutes. Ajay is stunning as a leader of an extremist group. Kamal Kamaraju comes up with a neat performance despite sketchy characterization. Sivaji Raja's get-up is good, his son made debut in this movie. Ravi Varma is good in a sensitive role. Casting in this film is good and all actors are natural with their work.
Analysis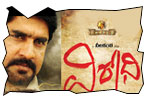 The basic story is about how a journalist who is termed as enemy (virodhi) for an extremist group intelligently exposes and singles out the extremist leader. It is a pretty interesting concept devoid any commercial padding. Subjects of this nature need extremely good narrative skills and gripping screenplay. Director Neelakanta who has come up with engaging screenplay for films like Show and Missamma couldn't handle in this film with interesting screenplay. Since the film runs on a single thread, narration need to be an arresting one. But the narration of the film is slow and flat. One huge question that bothered me throughout the film is the characterization of Kamal Kamaraju. His character looks dumb and unintelligent. Why didn't he desert his leader till the climax since he seems to be aware of whats happening in camp since the beginning of the story. Background music by RP Patnaik is Hollywood'ish. Cinematography looks good in parts. There is no consistency in coloring scheme. Producer Anil Meka is not your typical Tollywood producer. He stuck with the director and believed in the script and promoted it very aggressively. His taste is good and intent is noble. But an interesting screenplay and arresting narration would have made Virodhi truly a good film. Despite its merits and demerits, Virodhi deserves an applause for it's intent.
Virodhi Links
• Neelakanta chitchat
• Music launch
• Press meet
• Photo gallery
• Wallpapers
• Trailers & videos
Jeevi reviews of previous 5 films
• 180
• Badrinath
• Vaishali
• 100% Love
• Mr. Perfect
• Teen Maar
• Shakti
• Aha Naa Pellanta
• Kudirithe Kappu Coffee
• LBW
• Vastadu Naa Raju
• Gaganam
• Jai Bolo Telangana
• Ala Modalaindi
• Golkonda High School
• Anaganaga O Dheerudu
• Mirapakai



More Reviews