Story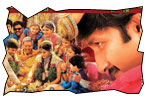 Bujji (Gopichand) is brought up in a joint family and he works in a car showroom. Rajeswari (Tapsee) is the daughter of a female politician (Roja). Both of them fall in love and parents agree to marry them off. They seperate right after the marriage because of a serious issue that takes place between the elders of both families. The rest of the story is all about how Bujji sincerely tries to get his wife back.
Artists Performance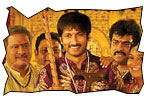 Gopichand has shed his mass image to do a character of a responsible and committed family member. He is pretty good in the climax emotional episode. Tapsee has got a performance-oriented character in the movie and she fits the bill. The big drawback is her own dubbing. Her dubbing sounded sweet and different in the beginning part of the film, and it gets on your nerves as there are heavy and emotional dialogues in the second half. There is a rare bare-back shot of Tapsee in this movie. Shraddha Das oozes oomph as a temptress. Krishna Vamsi reinvents Rajendra Prasad in the character of a father. Rajendra Prasad carries off the role very effectively. He will carve a big niche for himself as a character artist in the years to come. Roja played the role of a politician mother of heroine. Ahuti Prasad sparks in a brief role. Venu Madhav provides some humor.
Technical departments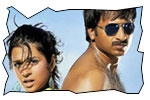 Story - screenplay - direction: The story of the film is about marriage and families of bride/groom. Mogudu film tells that the compatibility of the families of bride/groom is as important as the compatibility between the couple. Krishna Vamsi who has done a lovable and ideal characterization for hero character has shown some bias against heroine character by inducing grey shades. The director who has shown the sweetness and affection of joint families in the first half has shown the ugly side of elders in the second half. The first half of the film has the feel-good factor we had in films like Ninne Pelladatha and Murari. It's natural that the ugly side of a man/woman comes out only after the break-up and Krishna Vamsi tried to show the same in the second half of the movie. The technique used for reunion of couple in Mauritius is predictable and seen in several movies in the past. The reaction of elders (Rajendra Prasad and Roja) in the second half is highly temperamental/dramatic.
Other departments: The melodies scored by the new music director Babu Shankar are good. Cinematography is okay. Dialogues are spontaneous.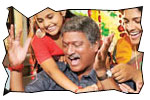 Analysis: First half of the film is entertaining. The crucial second half doesn't live up to the promise shown by the first half. Krishna Vamsi's strength is used well in the first half. Over dramatization and grey streak in heroine's characterization don't go well in the second half. On a whole, Mogudu film is targeted towards family crowds.
Mogudu links
• Krishna Vamsi interview
• Music launch
• Photo gallery
• Wallpapers
• Trailers & videos
Jeevi reviews of previous 5 films
• Nuvvila...
• 7th Sense
• Pilla Zamindar
• Oosaravelli
• Dookudu
• Prema Khaidi
• Kandireega
• Nanna
• Virodhi
• 180
• Badrinath
• Vaishali
• 100% Love
• Mr. Perfect
• Teen Maar
• Shakti
• Aha Naa Pellanta
• Kudirithe Kappu Coffee
• LBW
• Vastadu Naa Raju
• Gaganam
• Jai Bolo Telangana
• Ala Modalaindi
• Golkonda High School
• Anaganaga O Dheerudu
• Mirapakai



More Reviews