Story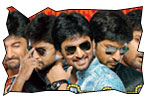 PJ (Nani) is the grandson of a wealthy zamindar. PJ is an irresponsible youngster who is spoilt by the pampering and excessive money. His grandfather writes a will with several conditions before he dies. He writes the will that PJ will inherit his entire wealth only if he completes his graduation as a common man without any luxeries. The rest of the story is all about how PJ learns about values and life as he achieves his goal.
Artists Performance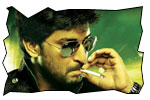 Nani: Nani has the knack of bringing likability to the characters he play. The character of a spoilt kid turning into a responsible youngster is not a new character. But Nani makes sure that he is lovable and admirable with his portrayal. There is a dialogue that refers to his character in the movie when he wears servant's costumes. That dialogues summarizes it all - he is capable of playing both mass and class characters. Scripts like these need a performing hero to get them work and Nani makes sure that he injects life into the script with his work.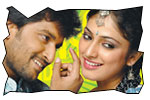 Others: Hari Priya is neat as a girl who is cheated. Bindu Madhavi gets another haughty character. Meghana Naidu does an item song. Rao Ramesh played the dignified character to the tee. Srini Avasarala gets a nice character and does complete justice. All he needs is a good break in a big-cast blockbuster, he will go places. It's is nice to see MS Narayana being given a performance oriented role and he is an excellent actor. Raghu Karumanchi came out of his typical Telangana dialect zone and did a nice character (Vamsi trademark). Friends gang (especially Dhanraj and Thagubothu Ramesh) made their presence felt. Ranadhir is good as an innocent bad guy (character similar to that of Ravi Babu's in Murari film). Dr. Siva Prasad played the role of a lawyer with his typical Nellore dialect.
Technical departments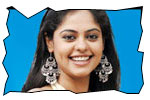 Story - screenplay - direction: The basic story line is taken from a Korean film titled 'A Millionnaire's First Love' (2006). The director has added a bit of nativity. Director Ashok has handled the entertainment scenes well. The sentiment scenes are too dramatized. Screenplay of the movie is alright.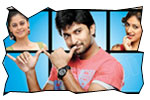 Other departments: Music by Selva Ganesh is average. Background score is good in parts. I liked the way 'ayyayyo dabulu poyene' tune injected at the right moments to make certain scenes more entertaining. Dialogues by Chandra Sekhar are good. Cinematography by Sai Sreeram is alright.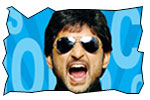 Analysis: First half of the film has sufficient entertainment. Second half has less of entertainment and more of sentiment. Plus points are Nani's performance and entertainment aspect. On the flip side there is too much dramatization in the second half though it was inserted to highlight the human values. On a whole, Pilla Zamindar is not a bad film.
Pilla Zamindar links
• Premiere
• Music launch
• Photo gallery
• Wallpapers
• Trailers & videos
Jeevi reviews of previous 5 films
• Oosaravelli
• Dookudu
• Prema Khaidi
• Kandireega
• Nanna
• Virodhi
• 180
• Badrinath
• Vaishali
• 100% Love
• Mr. Perfect
• Teen Maar
• Shakti
• Aha Naa Pellanta
• Kudirithe Kappu Coffee
• LBW
• Vastadu Naa Raju
• Gaganam
• Jai Bolo Telangana
• Ala Modalaindi
• Golkonda High School
• Anaganaga O Dheerudu
• Mirapakai



More Reviews