Story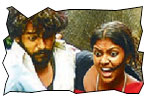 Suri (Vidharth) is a poor kid who helps out a single mother and her daughter Myna (Amala Paul). Suri and Myna fall in love as they grow up. Suri settles as a daily wage labor and pays for the college and maintenance of Myna's family. Suri attempts to kill Myna's mother as she cheats and him and try for a rich alliance for Myna. Suri is arrested and kept in jail. He escapes from the jail when he realises that Myna is forcibly getting engaged to a guy from Dubai. Jailer Bhaskar (Sethu) and constable (Thambi Ramaiah) had to find out where Suri is and get him back to jail in 2 days. The rest of the story is all about how the cops capture Suri and what happens next.
Artists Performance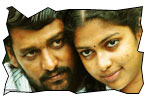 Vidharth looks raw and manly with such a sort of characterization. His emotions and expressions are driven with a raw intensity. He is excellent. Amala Paul has done an unglamorous role without any make-up. She is extremely good. The one actor who impresses you with his wide variety of acting ability is Thambi Ramaiah who has done the role of police constable (dubbing artist should also deserves an equal credit). Sethu is neat as a jailer. The actress who played the pivotal role of jailer's wife deserves a special mention.
Technical departments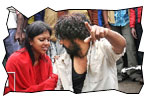 Story - screenplay - direction: The story of the film is simple Screenplay is very good. The director starts off in an excellent way by showing the character of jailer's wife who will turn out to be the story-changing character. Then he introduces a time-limit for the jailer and constable with Diwali festival. The Diwali cut-off time will help in sustaining the interest when Suri escapes. Narration of the story is interesting. The director has done nice characterizations and the way he injects emotions in the scenes is noteworthy. However, the climax portion looks forced.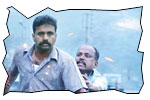 Other departments: Songs scored by D Iman go well with the story. Cinematography by Sukumar exploits the locations of Tamilnadu - Kerala border aptly. Dialogues by Vennelakanti are appropriate. This film is a dubbed version of a runaway small-budget Tamil hit film 'Mynaa'. The producers should be appreciated for dubbing a genuinely different film like this.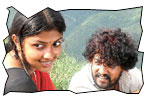 Analysis: Director Prabhu Soloman proves that content is always king with this movie. When you have good script and a clear mind, you don't need any padding in terms of casting and technical departments. He narrated a simple story with an interesting screenplay and emotionally gripping narration. The positive points of the movie are screenplay, direction and actors. On the flip side a hurried/forced climax and raw Tamil nativity might work against the movie. On a whole, Prema Khaidi is a decent film and worth a watch if you don't mind watching raw Tamil films.
Prema Khaidi links
• Photo gallery
Jeevi reviews of previous 5 films
• Kandireega
• Nanna
• Virodhi
• 180
• Badrinath
• Vaishali
• 100% Love
• Mr. Perfect
• Teen Maar
• Shakti
• Aha Naa Pellanta
• Kudirithe Kappu Coffee
• LBW
• Vastadu Naa Raju
• Gaganam
• Jai Bolo Telangana
• Ala Modalaindi
• Golkonda High School
• Anaganaga O Dheerudu
• Mirapakai



More Reviews