Story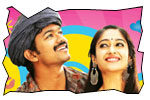 Paani (Vijay), Venkat (Sreeram) and Nikhil (Jiiva) are classmates in a premiere engineering college. They are from different backgrounds (ultra rich, middle class and poor economic background). Dean Virus (Satyaraj) follows a strict regime and believes in putting peer pressure on students. Paani is of opinion that students should never chase grades, but they should chase their passion. The rest of the story is all about how Paani makes a difference to his friends and proves that the dean is wrong.
Artists Performance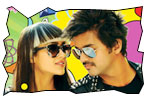 Vijay is good as the guy with different thinking. However, he has repeated the gestures and expressions of Aamir Khan instead of coming up his own interpretation. Jiiva is the perfect choice for the role. Sreeram is nice as a guy who is bogged by the choices of his father. Ileana is alright. Satyaraj is excellent with his get-up as well as the performance. Satyam enacted his part in an entertaining way. Singer Hema Chandra's voice for Vijay is refreshing. Sunil gave voice to Satyam and its different.
Technical departments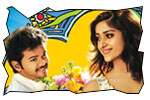 Story - screenplay - direction: Since story and screenplay is completely borrowed from 3 idiots, Shankar's directorial ability in translating the soul/magic of the original is put at test with this film. Though a few scenes are well-conceived and are heart-touching, Shankar couldn't get the magic and fun element right in Snehitudu. Hence, certain sentimental scenes (the thread of 'all is well') are ineffective. Both duets in the film are well-shot and are in Shankar's standard.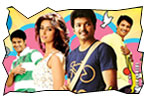 Other departments: Music by Harris Jayraj is alright. Background music is fine. Ileana song is shot really well. Cinematography by Manoj Paramahamsa is good. Dialogues by Abburi Ravi are ok, but lip sync is missing for a few dialogues. Editing by Anthony is fine, but the movie needs a lot of trimming.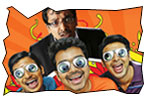 Analysis: I have seen 3 idiots movie and I remember it pretty well (read Jeevi review). When that movie is made in Tamil, then dubbed in Telugu, there are so many constraints. We watch Tamil movies for fresh treatment and innovative concepts. All one can look at when we watch Snehitudu is whether Shankar has succeeded in making it right for the local audiences. If you haven't watched 3 Idiots movies, Snehitudu could be interesting. If you have already watched 3 Idiots, you definitely expect much more than just true translation from a director of Shankar's caliber. The magic of 3 Idiots is missing.
Snehitudu links
• Music launch
• Photo gallery
• Wallpapers
• Videos
Jeevi reviews of previous films
• Bodyguard
• Businessman
• Rajanna
• Journey
• Panjaa
• Priyudu
• Solo
• Sri Ramarajyam
• Oh My Friend
• Mogudu
• Nuvvila...
• 7th Sense
• Pilla Zamindar
• Oosaravelli
• Dookudu
• Prema Khaidi
• Kandireega
• Nanna
• Virodhi
• 180
• Badrinath
• Vaishali
• 100% Love
• Mr. Perfect
• Teen Maar
• Shakti
• Aha Naa Pellanta
• Kudirithe Kappu Coffee
• LBW
• Vastadu Naa Raju
• Gaganam
• Jai Bolo Telangana
• Ala Modalaindi
• Golkonda High School
• Anaganaga O Dheerudu
• Mirapakai



More Reviews