Story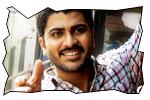 Amrita (Ananya) is a town girl who comes to Hyderabad to attend a job interview. She takes the help of a stranger Gowtam (Sharwanand) to reach her interview place from the bus-stand. She is naive as well as suspicious of city guys. They travel together for a day, but doesn't exchange their numbers though they started liking each other. Krishna (Jai) works in a metal shop and he falls in love with a neighbor Madhumati (Anjali). Anjali is a dominating girl who keeps Jai in constant tests to approve his love. Amrita realizes her love after coming back to her town and want to meet Gowtam. A bus starts from Vijayawada and another bus starts from Hyderabad. The rest of the story is all about what happens when these two buses traveling in opposite directions collide head-on (these buses carry these four principle characters).
Artists Performance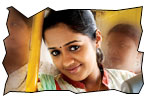 Sharwanand comes up with natural performance as a good Samaritan and a nonchalant youngster who helps out a girl in need. Sharwanand is becoming a brand name these days for good/sensible cinema as most of his recent flicks (Gamyam, Prasthanam, Andari Bandhuvaya etc) are appreciated well as good films. Jai is good as a plain hearted lover who does anything for his love. In a few angles, he resembles Tamil actor Vijay. Anjali is the scene-stealer in this movie for her terrific characterization. She did extremely well as a dominant girl who cares for her guy. Ananya may not look impressive in the photos/posters. But she wins you over with her performance. Thanks to her characterization as well.
Technical departments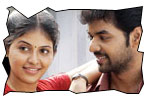 Story - screenplay - direction: The director Saravanan who has directed 'Ganesh' with Ram in the past has come up with a sensible story this time. Journey is about the love story of two couples that involve in a tragic accident. And the accident happen just about when an important thing is going to take place in their lives. The director has come up with an interesting back and forth narration by opening the movie with the ghastly accident. There is some confusion about establishing that two buses, routes and introducing passengers. As the flashbacks of two love stories unfold, the movie gets interesting. I really liked the characterization of two girls (one dominant and one subservient/innocent). These two characters are pretty realistic and we find those sort of girls in real life as well. The intelligence of the director lies in inducing entertainment and engaging love stories in a film that ends with a tragic incident.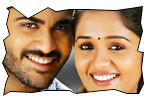 Other departments: All the songs are good and they breath life into the narration. I personally liked Govinda, Meghama and Chitti Chitti songs. I loved the choreography of Meghama song (that particular step of shaking a single shoulder). Chitti Chitti song's beat and rendition reminds me of some popular Tamil song. Cinematography is raw and realistic. Dialogues are nice. Produer Santosham Suresh is surely becoming a brand for dubbing good Tamil films in Telugu (Premiste, Shopping Mall, Nanna and now Journey).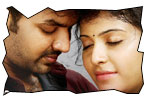 Analysis: This film starts with the most vital scene - the accident. The introduction of journey of lead couples and characters is not interesting. But the movie starts getting engaging after the flashbacks of two love tracks are opened. The scenes involving the accident are unpleasant and raw. On a whole, Journey is a heart-touching film which has engaging love stories and nice entertainment. You may watch it at your leisure.
Journey links
• Music launch
• Photo gallery
• Wallpapers
• Videos
Jeevi reviews of previous 5 films
• Panjaa
• Priyudu
• Solo
• Sri Ramarajyam
• Oh My Friend
• Mogudu
• Nuvvila...
• 7th Sense
• Pilla Zamindar
• Oosaravelli
• Dookudu
• Prema Khaidi
• Kandireega
• Nanna
• Virodhi
• 180
• Badrinath
• Vaishali
• 100% Love
• Mr. Perfect
• Teen Maar
• Shakti
• Aha Naa Pellanta
• Kudirithe Kappu Coffee
• LBW
• Vastadu Naa Raju
• Gaganam
• Jai Bolo Telangana
• Ala Modalaindi
• Golkonda High School
• Anaganaga O Dheerudu
• Mirapakai



More Reviews