Story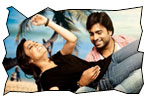 Gowtam (Nara Rohit) is an orphan who works as a software engineer. Since he is an orphan, it's been his dream to get married to a girl from a joint family. He falls in love with a medical student Vaishnavi (Nisha Agarwal) and comes to know that she has a big family. She is extremely attached to her doting father (Prakash Raj). But he has bad experiences with his sister's marriage, hence wants to marry off his daughter only to a boy from any big joint family. The rest of the story is all about what happens when he comes to know that his daughter is in love with a solo (no family) guy.
Artists Performance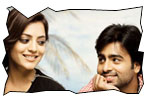 Nara Rohit has got an opportunity to portray a role of wide variety of emotions. His voice and diction helped in getting dialogues work in the movie. However, he should have been more instantaneous and spontaneous in fun scenes. Nisha Agarwal is fine as a girl who is emotionally torn between father and lover. Prakash Raj and Jayasudha bring dignity to the film with their presence. Srinivasa Reddy steals the show with entertainment. Ali's role as a settler is good (expecially the tequila shot). Swapnika as a rowdy friend of heroine shines in the first half. Ravi Prakash is an obvious choice for the character he played. Mumaith Khan did an item song. It's an usual role for Sayaji Shinde. Narasimha, Praveen, Subhash, Sri Vishnu etc are fine.
Technical departments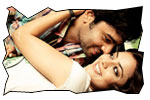 Story - screenplay - direction: The arch of the story is pretty good. The entire first half is dealt with romance and fun episodes. The second half has more of sentiment and emotional orientation. Parasuram who has done youth and mass oriented films in the past has changed his route and attempted a family oriented subject with Solo. The hero character has Puri Jagan's brand characterization in the first half and behaves like Venkatesh in the second half. Though the central story point is good, the way second half is dealt looks completely predictable. However, Parasuram got the emotions right in the climax episodes. The negative shades in Prakash Raj character who is supposed to be a good father are not convincing enough.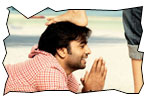 Other departments: Songs by Mani Sharma are good in parts. Marumallela Vaana song is very good. Dialogues by Parasu Ram are well written and lot of thoughts have gone into writing. There are pretty good fun liners as well as thought-provoking emotional dialogues (especially the way he defines Sukham (body) and Santosham (heart)). Cinematography is alright. Editing is fine. Production values are good.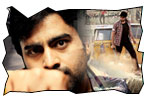 Analysis: First half is fun and good. Second half has emotions. The director Parasuram has succeeded in setting up the stage right by the interval. The screenplay in second half is little predictable though the emotions in the climax episode are genuine. The plus points are story orientation and dialogues by Parasuram. On the flip side, a swift and unpredictable second half would have made this movie a special one. On a whole, Solo is a genuine attempt by the director and makes a decent watch if you ignore the lag in second half.
Solo links
• Music launch
• Photo gallery
• Working stills
• Wallpapers
• Trailers & videos
Jeevi reviews of previous 5 films
• Sri Ramarajyam
• Oh My Friend
• Mogudu
• Nuvvila...
• 7th Sense
• Pilla Zamindar
• Oosaravelli
• Dookudu
• Prema Khaidi
• Kandireega
• Nanna
• Virodhi
• 180
• Badrinath
• Vaishali
• 100% Love
• Mr. Perfect
• Teen Maar
• Shakti
• Aha Naa Pellanta
• Kudirithe Kappu Coffee
• LBW
• Vastadu Naa Raju
• Gaganam
• Jai Bolo Telangana
• Ala Modalaindi
• Golkonda High School
• Anaganaga O Dheerudu
• Mirapakai



More Reviews