28th October 2005

Srikanth Chinnamatur's short film, THE LAKE is premiering in New York Intl. Independent Film Festival this weekend on 11/12/2005 at New York.

http://www.nyfilmvideo.com/2005/nynov2005/thelake/
If anyone living in NJ/NY wishes to attend the premier, please write to Srikanth at [email protected]. He has a few VIP passes which he can pass on."
Back ground (educational, career)
I belong to Kurnool. I did my schooling and engineering in Kurnool. I moved to Hyderabad after my MBA. I worked in Hyderabad for sometime before coming to US.
How you got interested in films?
I am a movie buff right from my school days. I watch lot of movies and always thought of making a movie myself. But due to the time constraints, I could not pursue my very favorite hobby.
The journey to the New York International Film and Video Festival? All the hard work involved. how did this film come along?
I got this idea while driving home from work one night. I stopped at a traffic signal and when I looked at the next car, I felt as though it was me in the other car. Before I could react, that car vanished. As soon as I went home, I started writing and added some fictional characters around that plot and after working and re working for a few days, I was ready with THE LAKE script. I got my script registered with the Writers Guild Of America http://www.wgaeast.org/ . I called my friends and told them that I got this idea and want to make the film. Everyone was excited and readily agreed. But I had only a weekend to shoot. So we started early in the morning and shot till evening and the next day we just had about 4 hours. I was so bent on making this film so I got all the footage to work with. I shot on a Hi 8 Sony Camera which is a very low end camera. I did not use any boom mikes or lighting. We shot in friend's houses and used our vehicles and Halloween make up. But it all turned out very well.
The specialty of this movie is that though there are 7 characters and a killer, none of the characters talk to each other. There are no dialogs. The narration is done by the news cast. The festival officer, Eric told me that the concept was very good and innovative.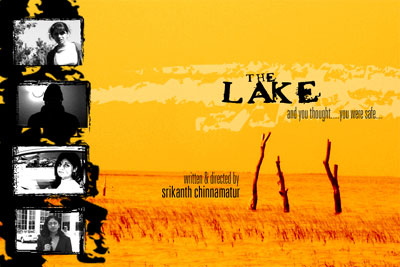 What is your short film all about and what kind of feedback you got for it.
In this film, I wanted to highlight the fear in human beings. Fear is a complex human emotion, which stays even after death. We have fears like "what if someone is standing in front of the door when you open"? "what if someone is hiding below the cot when you are alone at home?" "what if someone breaks open into your house" "what if someone comes right in front of your car". I tried to show glimpses of some of these fears that we have.
The film featured on the most happening film festival of India, SHORTCUTS, www.shortcuts.in earlier this month. I got a very good feedback from the people who watched the movie and the media. They all appreciated me for the innovative concept.
Favorites:
I grew up watching Telugu movies. I watch almost every movie. Mayabazar is like an encyclopedia to me. I watch MAYABAZAR every now and then and try to absorb the screen flow. Each time I see I learn a new thing from that. The other movies that fall in this category are Sholay and Godfather.
I never miss a K. Vishwanath and Bapu gari movies. Sagarasangamam and Muthyalamuggu top my list. Abhilasha is another movie which I relish each time I watch. I dream to make one full length silent movie like Pushpakavimanam one day.
I watch all kinds of movies. I enjoy mix of comedy, action and films which highlight human relations. I would love to make movies which would have universal acceptance. I love Ram Gopal Verma's movies too. Shiva is still the best of RGV's movie. I love Trivikram's one liners.
Do you plan to do commercial films?
I think movie making is a creative business. I would surely love to make meaningful commercial films. I do not intend to do message oriented and preaching movies. I would like to make movies which would have right mix of emotions. I am sure there would be lot of like minded Telugu people here in US. I would love to hear from them and get associated with my new projects. One thing I observed is post production work is very effective and economical back home. We have loads of talent there.
You can reach Srikanth Chinnamatur at [email protected]. visit official website at www.thelake-movie.com
More chitchats
Prabhas 2
Satya Krishnanan
Prabhas 1
MRV Prasad
PG Vinda
Jaya
Devi Sri Prasad
AM Ratnam 2
Sonu Sood
Ram Gopal Varma 3
Mahesh Babu 2
Shankar
Vikram
Mohan Babu
KS Rama Rao
Dil Raju
Manyam Ramesh
Tarun
Raghu Babu
Krishna Vamsi
Posani Krishna Murali
AS Ravi Kumar Chowdary
Sravanthi Ravi Kishore
MS Raju
AM Ratnam
Nagarjuna
Ram Gopal Varma 2
SS Rajamouli
Venkatesh
Mahesh Babu
Ram Gopal Varma
Vanisri