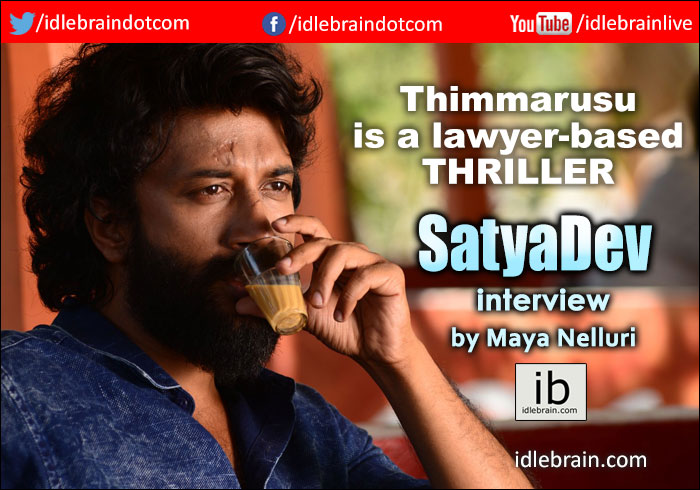 29 July 2020
Hyderabad
Film enthusiasts are excited! The reason? Thimmarusu is up for release in theaters this weekend! Hero Satyadev is all set to break Telugu audience's COVID-induced dry spell. This multi-faceted powerhouse of talent speaks exclusively to Idlebrain. He is as straight shooting as they come. Equal parts conviction, conscientiousness, and charisma make him invincible in the face of adversity. He's the poster child of inspiration. He is the man on the side of justice. He is Satyadev in Thimmarusu as Ramachandra. Read on.
What prompted you to take on Thimmarusu?
I've always wanted to do diverse roles so while I was looking for something different this came up. The character makeover, story, it had everything I wanted. Also, there's usually cop based investigative films but lawyer based crime thrillers are rare so that hooked me. It was also a 180 from my last release UMUR so I immediately said yes.
Are there any similarities between your character in Thimmarusu and the real you?
Ya there are a few similarities. The most pronounced would be that I have a tendency to fight for what is right. Ramachandra, my character in the film, does that but he does it to an extreme. He ends up putting up his own money and everything to fight for justice. I always stand for what is right because that's the least I can do as a human. And it happens a lot in my life. I've been faced with many instances where I've had to take sides. It doesn't matter if it's my family, friends, acquaintances, I stick to the side of justice.
You said you directed the first short film you acted in. Tell us about that and where we can find it.
You can't find it anymore because we used a lot of western music, there were copy right infringement notices so it was taken down. It's been a while since that happened. The reason I directed back then was because I wanted to prove myself. Vizag didn't have the film circles or the resources. The production houses were in Hyderabad so I used what I could to make it and present myself.
A lot has changed since then. Are you now used to being a celebrity?
*Laughs* It's all in our head. Who doesn't want to be a celebrity? Even I want to be one. It's great to be loved by everyone. When the audience loves and supports you, that's what a celebrity is. If you think about it, everyone is a celebrity in their own life, with your own family or friends. When you become an artist it's just on a larger scale. It's all perspective. I still have a lot to achieve and conquer. It's a great feeling.
Your recent song release has you grooving with ease. Did you train in dance?
I'm a megastar fan so we don't have to learn dance. You grow up watching him and without your knowledge you will develop rhythm.
Speaking of megastar, you paid tribute to him via dance - do you also try mimicking him or others for fun?
*Laughs* Ya, everyone one of us does that. I do that with not just him but other actors like Kamal Hassan sir as well. That's part of our culture I feel. Even now I do it!
You act, write, direct, dance and sing! Is there anything you can't do?
*Laughs* There's so much I can't do. I'm enjoying acting right now. I love film making. I grew up watching films so it could be where the pull towards creating my own content comes from. When the time comes I'll make the shift. There's still so much I have to learn so maybe in another 15-20 years I'll be ready to direct again.
If you had to pick a character from your films to live in real life, which would it be?
None. They are meant to be only on reel. It's better off that way. We can't bring them to life anyway, the world doesn't let you do that.
Do you have a dream role in mind?
I have dream stories; not exactly dream roles. I want to be part of stories like Swayam Krushi, Aapadbandhavudu, Nayakudu, Kanjeevaram, Bahubali. I'd love to do such films. Those are the kind of stories I'd love to reprise if I get a chance. Daniel Day-Lewis's role in There Will Be Blood is another that I'd like to do as well.
What is the most common compliment you receive?
I often get told that I'm very relatable in my characters, that I look the part effortlessly. I feel very fortunate to get such comments from my supporters and loved ones. Another is about how versatile I am when it comes to picking scripts.
What do you do to relax?
I work.
What's your biggest fear?
Darkness.
What do you absolutely love?
Films and filmmaking - my work! I love everything I do. If I do it I love it. I don't touch it if I don't like it. Trying doesn't work with me. I do it with love or I won't do it at all.
What or who is your fashion inspiration?
*Laughs* I dress up once in a blue moon. After constant complaints from my team and my wife I do it sometimes. My wife always says I don't dress like a celebrity. In fact I usually wear white. I'm wearing white right now. Earlier my entire wardrobe was black now it's shifted to white because I feel I look nice in it.
What do you wish people asked you in interviews?
They could ask me something creative or witty instead of talking only about the film and co-stars. It would help with interacting more.
Do you prefer your projects release on OTT or in theater?
Anyone would want to see themselves on the big screen. But as long it's helpful for my producers, I'm happy. I always go with what the producer prefers. They're the ones who put the money in so if they think that it'll be better to release on OTT then it's their call. I'm happy to see it out anywhere.
Which of your upcoming projects are you most excited about?
I'm excited about everything. There's no way I can pick a single project because if I didn't like it, I wouldn't do it. For now I'm excited about Thimmarusu since it's about to release.
-Maya NELLURI