Bommarillu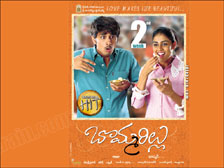 Oh my God!! Its been 3 days that I have returned from the movie and I am still engrossed in the movie and all the 20 family members I went to the movie with are in the same " Hang Over..". First point of joy being the movie being so clean and entertaining and peaceful When Tollywood was being flooded with movies full of violence and obscene songs and dialogues. For an ardent follower of idlebrain.com like me, a Jeevi rating of 4.5 to a film is certainly a sharp driving force to take me to the movie. Unfortunately movie wasn't screened the city i was in. I traveled to Andhra on some work and immediately watched the movie not alone but with 20 members from my family was not worried about their reaction as I know for sure that film would be entertaining, flawless and clean. The best part was that all 20 members were so thankful after watching such a good movie.
The best point was that everyone in a family who would watch the movie can certainly identify themselves with anyone of the characters in the movie. If i had to illustrate the effect , the next morning after we returned from the movie, I ordered for an idli for a tiffin and when my uncle said " hey go for dosa, why idly!", immediately there came an answer from my bro who said No let him have what he wants, that keeps me happier!!!!
Siddardh has once again proved his conviction that He wants to make it big in Tollywood in his own unique style. If learning Telugu was itself a great step , then singing "Appudu .." so mellifluously was another feather in his cap of achievements.
Genelia who had no great shows in the recent past , was a great revelation in this movie. She was no way lesser than an ANGEL as she is called in the movie. The bubbliness she exudes in the movie with substantial innocence added to it with a pinch of sensuality makes her role unforgettable.
I am both short of words and caliber to write about the acting of a legend like Prakash Raj. I had become an passionate, ardent (looking for still stronger words..)fan of him after his breathtaking performance in Nuvve Nuvve. He had come up with one more inexplicable performance.
The above list of positives is all just the tip of the iceberg, as the climax comes as a fitting replacement for all the burst of laughter as it is very moving and thought provoking. I was not at all surprised when few from the audience were crying while few were commending it with applause.
Another excellent pt if any one of u had observed was that the movie didn't take any stance regarding the parent-child conflict on these love affairs. While Youngsters have to realize that Their parents do give a lot of taught for their kid's betterment and future and rarely take decisions hastily that are detrimental to their kids future, Parents also have to realize that youngsters do have the maturity to differentiate good and bad and expect their parents to examine their choice of partner than ruling it out at the outset. Who knows they may like our choice!!!
Last but not Least Kudos to Dil Raju for coming up with such a wonderful movie again and I hope hatrick wont be the measure for his success from now on.
Harsha Prakash Navduri
[email protected]
More My Movie experiences:
Bommarillu - Lalitha Spoorthi
LRMB - Shravan
Bommarillu - Anirudh
LRMB - Srinivas
LRMB - Darsakudu
LRMB - S Sridhar
Bommarillu - Shridevi
Bommarillu - Vasudev
Bommarillu - Roopa
Sriram - Godavari
Sarath - Bangaram
Bala - Pokiri
Srinadh - Allari Pidugu
Sudheer Allari Pidugu
Anu - Athadu
Shyam Krishna - Iqbal
Purnesh - Grahanam
Sudhindra - Super
Vijay - Aparichitudu
Madhav - Aparichitudu
Hazaraon Kwaishein Aisi
Swades
Shyam - Black
Sai - Anand
Rohit - Anand & Veer Zaara
Jaya Prakash - 7GBC
Raj - Anand
Purnesh - Anand
Purnesh - The Village
Sriram - Gudumba Shankar
Purnesh - Gharshana
Purnesh - Lakshya
Purnesh - Yuva
Leenesh - Yuva
Kis - Lakshmi Narasimha
Indian Pride - Tagore
Raj - Boys
Phani - Gangotri
Phani - Khadgam
Vikram - CKR
BKR - Indra (Singapore)
Ram - Indra (Dubai)
Ranjeet - Idiot
Rahul - Indra
King Koduri - Indra
Srilakshmi Katragadda - Mitr: My Friend