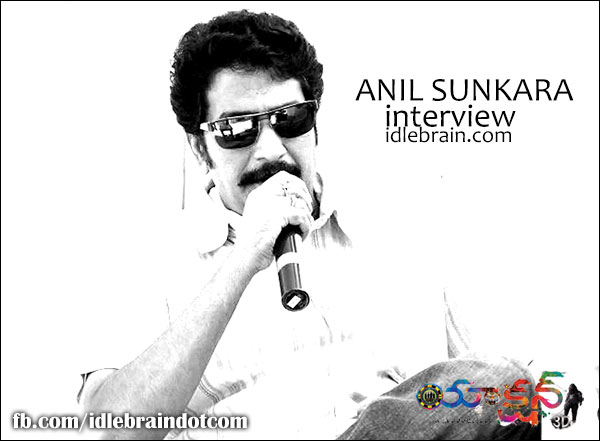 20 June 2013
Hyderabad
Being in the right place at the right time! That's possible only for few people. Anil Sunkara who has been obsessed with films took a long time to fulfil his long-cherished dream of directing films, but he is doing at the right time. After producing two hit films (Bindaas and Aha Naa Pellanta) and jointly producing a record-breaking Dookudu, Anil Sunkara has directed Action 3D which is hitting theaters on 21 June. Here is an exclusive interview for idlebrain.com -

Background:
I am interested in films since childhood. Sreenu Vaitla was my roommate in 1990 when I was in Chennai. Sreenu Vaitla was looking for opportunities in films. I went to USA to do my masters in 1994. I met Ram Achanta in 1996 and we became very good friends. I have started a consultancy firm 'Advansoft'. I was following it up with Sreenu Vaitla since then. I wanted to produce a film even before Anandam was release. But Sreenu Vaitla kept saying that he will do a film for me when he is in a commanding position. That's how Namo Venkatesa in the direction of Sreenu Vaitla happened. Getting Venkatesh as hero for a producer who is not familiar with intricacies of production is possible only because of Sreenu Vaitla. Mahesh Babu gave us dates for Dookudu and rest is history.

idlebrain.com is helpful for us in USA
Movies is something I am passionate about and I visit idlebrain.com regularly. I read reviews and liked the technical analysis in them. There were times when we got hurt if our favorite hero didn't get good rating. Nonetheless, idlebrain.com is an influencial site for NRIs when it comes to making a decision to watch new released films on the weekend.
Tell us about Action 3D?
Action 3D is a story about four guys from different walks of life and how a journey changed them all. It's a complete entertainer.
Why did you want to make a film in 3D format?
I and Shyam Prasad Reddy attended an expo on 3D films. I had a gut feeling that 3D is going to be the format for the future.
3D format is effective for horror films and action oriented films. What is the reason behind using it for a comedy film?
Action 3D is not a comedy film. It's an entertainer. I feel that my forte is entertainment. I might not be good at action films. I am confident that people will enjoy entertainment in 3D format. The first comic 3D film was made in Hollywood and it was called 'A Very Harold & Kumar 3D Christmas (2011)' and it made a decent money.
Watching colorful songs in 3D format will be an enjoyable experience. There is grandeur in visuals when you watch it in 3D format.
Did your budget shot up because of 3D format?
Yes. Initially we planned to shoot the film in 70-80 working days. But ended up shooting for 130 days which means the production cost has gone up by almost 100%. We finished the first half in 70% of time as we had teething problems, but took only 30% of time to shoot remaining half. I saw the output and what we spent is very less compared to what we got. There might be a couple of glitches, but everything else is smooth.
How many 3D screens Action 3D is going to get released?
There are two types of 3D experiences available for AP audiences now. One is stereoscopic 3D format which is meant for A & B centers. We are going to release stereoscopic 3D format in 50 screens. The other format is Anaglyph 3D screens. It's a basic 3D format where they use red and cyan glasses and it costs less. We use this format for 100 screens in C centers.
The release is going to be a massive one for the kind of actors we have in the film. It's going to be released in 160 screens in Nizam itself. A solo week also helping us in getting maximum theaters to screen Action 3D.
How is the experience of directing a film?
I enjoyed the entire process of directing a film. However, I must confess that producing is a film is very easy than directing a film for me. My bread and butter comes from my consulting company and that is where my heart stays. As a producer I can manage film production and running my company. But if you are directing, you need to put your 100% time and energy with film.
Dookudu was released at the right time and changed the dynamics. How do you feel about it?
We have done our math and research before releasing Dookudu. We had observed that a bad film of a big hero has collected highest openings because it was released in highest number of theaters. We knew that we had a safe content and all we need was maximum reach. We had to convince our own employees regarding massive release. Everybody opposed us and termed us mad. It was not just our gut feel, but the decision was backed up with maths. For the first time a film was released in 216 theaters in Nizam.
If you look at the dynamics of Dookudu or any huge hits there after, the first 2 weeks share goes to the investor (producer/distributor). Third week onwards it is going to be an exhibitor film with no/minimal returns to the investor. If we release in less number of theaters and look for 50 days and 100 days run, the investor will get very less and all the efforts of producer goes into feeding theaters to run a film for 100 days.
Tell us about movies on 14 Reels banners?
Mahesh Babu's 1 (Nenokkadine) shoot is currently going in Belfast. This film will be shot extensively in UK and Ireland for 2 months. Later on, the unit will go to Thailand to shoot a chase. We will release the film at right time as we don't want to compromise on quality and content.
Mahesh Babu's next film Aagadu in Sreenu Vaitla direction will start after 1 work is completed.
We are producing Bala Krishna's latest film in association with Vaarahi banner (Sai Korrapati). This film is being directed by Boyapati Seenu. Contrary to all the speculation, this film has nothing to do with politics and 2014 elections. It's going to be a out and out mass entertainer with no political agenda.
What is the next venture on AK Entertainments banner?
My next production will have Allari Naresh as hero. It will be 3rd consecutive film for our banner in which Allari Naresh is the hero. It will be directed by Sai who assisted Sreenu Vaitla in the past.