22nd November 2005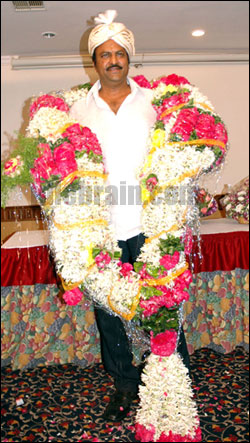 Tell us about how you got introduced in films?
I was walking on the street near Pondy Bazaar and a car stopped by. The people in the car informed me to go and meet Dasari. Prior to it I worked as an apprentice in the direction department of a film in which Dasari was a co-director. When I met Dasari, he asked me to get into the bus to Vijayawada. Around 15 people were auditioned for the role in Swargam Narakam. Mrs Padma Dasari opined that I would be the right choice for the role and informed her husband. Dasari selected me for the role and rechristened me as Mohan Babu. I went to Kanaka Durga Temple immediately and when priest asked for my name I told it as Mohan Babu. It was Dasari who gave me birth as an actor and made me a perfect actor. Directors like K Raghavendra Rao, KSR Das, Doondy, Lakshmi Deepak, Hemambar Rao, Babji, Bapu - Ramana etc helped me in my career flying.
Did you ever expect that you would become such a big star?
I never dreamt of it. During my initial years, I used to pray that I should stay in industry for five more years. After completing 25 years I wanted to celebrate it, but did not happen. I have produced silver jubilees and golden jubilees on my home banner. But recently I have produced few flops. My children approached me now and told me that they would celebrate my 30-year career in film industry by holding a public function in 3 months. It would happen before March 2006.
What was your experience in these 30 years?
I had gone through every phase of an actor. I was cheated at times, especially in politics.
What about politics? Do you want to returns to politics?
People have asked me to float a party. I was asked to float a party whenever a film of mine like Allari Mogudu, Assembly Rowdy, Pedarayudu became hits. I told them that floating a political party is not as easy as hosting a Tea party. Politics are beyond caste and creed. Heroes would not become chief ministers if they get hits. People like MGR and NTR has lots of history behind them. That history made them CMs. When NTR decided to float a party, he went with his instincts and won the elections. He did not do any dillydallying about winning chances and probabilities.
I still feel that film is my bread and butter. I entered politics earlier. Now I am taking a temporary break from politics. I may enter politics. But I can't say when and how I would enter politics. When I enter politics I would encourage youth. 90% of elders in the politics are corrupted. 100% of youth are totally inspiring people.
My father was a head master of an elementary school. I worked as PD (physical director or drill master). My roots are in middle class families. I came from farmer's family. I would enter politics one day.
Tell us about Vidya Niketan?
25% of the total seats are given to needy students irrespective of caste and creeds. Around 6000 students study in Vidya Niketan from LKG to PG.
How did you feel on the morning on 22nd Nov. 1975 when your debut film Swargam Narakam was released?
I was in lot of tension because if film fails I may have to go back because I had no backing in film industry and I came from a middle class family. Fortunately, that film has become a hit and I never had to look back.
I should tell you the comments of producer Raghava after watching the dialogue 'Vachanu. Choosanu. Telusukunnanu. Vellipothunnanu' from Turpu Padamara. He said that Telugu film industry would never reject you. In fact, you would be rejecting the industry once you get tired.
Who are your favorite heroes?
NTR, ANR and Sivaji Ganesan
Who are your favorite heroines?
Savitri, Jaya Sudha & Soundarya.
Did you notice any actor who had given terrific performance as hero when you acted as villain?
Yes. It was NTR in Kondaveeti Simhasanam and Sardar Papa Rayudu.
Did you notice any actor who had given terrific performance as villain when you acted as hero?
Nobody!
What is your next project as an actor?
Political Rowdy obtained great openings with massive crowds for the first 4 days. After a week, we realized that the film was flop as they did not like the subject. These openings tell me that public wants to see my films. You would get the details very soon about my next project.
Would you consider doing villain role now?
Amitab Bachchan did the roles of father. NTR did the role of Brihannala and Duryodhana. These kinds of roles give performance orientation to any actor. I had been successful as a hero, villain, character artist and producer. I do not mind doing the role of a villain in films.
Any plans to direct films?
I have plans to direct a film. I worked in direction department for 7 years before becoming an actor. Let my daughter Lakshmi Prasanna who did her direction course in LA direct Telugu films first. I would also direct films later.
What are your predictions for Vishnu and Manoj as heroes?
I can't predict any thing. It is the public who will have to decide.
More chitchats
Sania Mirza
Suresh Kondeti
KV Ramana IAS
Raja
Surya
Vikram 2
Srikanth Chinnamatur
Prabhas 2
Satya Krishnanan
Prabhas 1
MRV Prasad
PG Vinda
Jaya
Devi Sri Prasad
AM Ratnam 2
Sonu Sood
Ram Gopal Varma 3
Mahesh Babu 2
Shankar
Vikram 1
Mohan Babu 1
KS Rama Rao
Dil Raju
Manyam Ramesh
Tarun
Raghu Babu
Krishna Vamsi
Posani Krishna Murali
AS Ravi Kumar Chowdary
Sravanthi Ravi Kishore
MS Raju
AM Ratnam
Nagarjuna
Ram Gopal Varma 2
SS Rajamouli
Venkatesh
Mahesh Babu
Ram Gopal Varma
Vanisri