Boss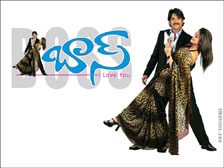 I depend on Jeevi reviews to watch a movie like all other software professionals do overseas and I feel his reviews match the audience pulse closely. His review for BOSS created curiosity to watch this movie on the first day. Well you might think it has a rating of 3.25 so what's special in it. I look at his analysis rather than rating before making a decision to watch the movie since rating is based on many factors like art work to craft work and many departments are involving in film production. He praised the comedy in the movie a lot and that is what excited me as I watch movies for entertainment and relaxation.
The presentation is simple in its own unique style and makes you feel like you are watching a Bollywood flick with lavishness. I know for sure that this film would be an entertaining, class and multiplex crowd movie. I enjoyed the entire first half to the core. In most of the movies when we talk about comedy, one comedy scene may last a minute or might be limited to one dialogue. But what is so special in this movie is all the comedy episodes run in length for few minutes.They are not side tracks but are nicely mixed with the flow of the story. It's a stylishly made awesome clean family entertainer. The movie had good situational comedy, which I enjoyed with my family and friends.
All the songs are good ,very well picturized and are delightful. The timing for the last song is not so good but that is the best song in the movie in terms of picturization, music and is a visual treat. I liked that song a lot. Though it comes in between the emotional scenes, we can excuse it.
These are the few comedy episodes I enjoyed utmost in the first half:
1. Ali asking for business tips in his first visit to G.K office – Nag, Ali, Nayana Tara and Dharma varapu involved in this episode.
2. Ali second visit to G.K office – Episode involving Ali, Sunil and Dharmavarapu.
3. Air bus episode with Nag, Nayana Tara and Bramhanandam
4. Scenes among Bramhanandam, Nag and Nayana Tara in shopping mall at Malaysia.
5. Bramhanandam pub episode with Nag and Nayana Tara.
There are many other scenes that I liked a lot and I really cannot write in particular. Chintapally Ramana made sure dialogues are as realistic as possible and plenty of punch in comedy dialogues.
Nagarjuna is charming and impeccable as BOSS. As he is getting older he looks younger and energetic. He already proved that he is the only Telugu actor who can portray these kind of roles. Although Nag played a boss in Manmadhudu, he manages to bring freshness to the role of GK and there are no similarities between the two roles. He did great in comedy department as well. He simply rocked in songs.
Nayanatara needs a special mention in this movie for her appearance and performance. In Lakshmi she is OK as a glamour doll but her terrific performance in Boss comes as a surprise package and she looks fabulous in sarees. She wins acclaims in scenes when she tries to impress Nag with her work and yet tries to maintain self respect at high esteem.
Bramhanandam, Sunil and Ali once again prove that they are the best in comedy. The rest of the cast were ok! in their respective roles.
Chintapally Ramana did brilliant work. We can see Trivikram's kind of punch in comedy dialogues. Just for a sample the dialogue uttered by Poonam Bajwa to Nayanatara on ego is simply awesome and some are even heart touching.
Second half of the movie kicks off with a good comedy scene and sequence of episodes involving Nag, Nayanatara and Poonam tickles the audience. Scenes that Sunil translates to GK (Nag) laughs for Nayanatara and others are hilarious.
I watched the movie before it was trimmed. V.N Aditya was exceedingly successful to hold the audience in for first 2 hrs of the movie. So what went wrong after that? In the last 25 mins he tried to satisfy all kinds of audience by putting one fight for masses and emotional scene for family crowds and a song for music lovers while climax twist turned out predictable. Provided that he would have handled climax scenes with proper treatment and right emotion, it would have been a blockbuster.
Last but not the least, it has some good tips for how to be a smart and successful business man.
To cut it short: Lunch is served with all delicious recipes (biryani, gutti vankaya, gongura pachhadi, gulab jamun and etc) and at the end to finish off with a 'killi'. Everything is yummy but at the end 'killi' is filled with too many ingredients.
You will get more than what you paid for in first half it self and the rest is bonus. Go, have a bite and sure you will be entertained and forget the last 20 mins.
Thanks to idlebrain.com for providing the platform to express our views.
Yours Sincerely,
Hrithik Verma
[email protected]
More My Movie experiences:
Stalin - Bala
Bommarillu - Nandini
Bommarillu - Darsakudu
Bommarillu - Vasu
Bommarillu - Harsha Prakash
Bommarillu - Lalitha Spoorthi
LRMB - Shravan
Bommarillu - Anirudh
LRMB - Srinivas
LRMB - Darsakudu
LRMB - S Sridhar
Bommarillu - Shridevi
Bommarillu - Vasudev
Bommarillu - Roopa
Sriram - Godavari
Sarath - Bangaram
Bala - Pokiri
Srinadh - Allari Pidugu
Sudheer Allari Pidugu
Anu - Athadu
Shyam Krishna - Iqbal
Purnesh - Grahanam
Sudhindra - Super
Vijay - Aparichitudu
Madhav - Aparichitudu
Hazaraon Kwaishein Aisi
Swades
Shyam - Black
Sai - Anand
Rohit - Anand & Veer Zaara
Jaya Prakash - 7GBC
Raj - Anand
Purnesh - Anand
Purnesh - The Village
Sriram - Gudumba Shankar
Purnesh - Gharshana
Purnesh - Lakshya
Purnesh - Yuva
Leenesh - Yuva
Kis - Lakshmi Narasimha
Indian Pride - Tagore
Raj - Boys
Phani - Gangotri
Phani - Khadgam
Vikram - CKR
BKR - Indra (Singapore)
Ram - Indra (Dubai)
Ranjeet - Idiot
Rahul - Indra
King Koduri - Indra
Srilakshmi Katragadda - Mitr: My Friend