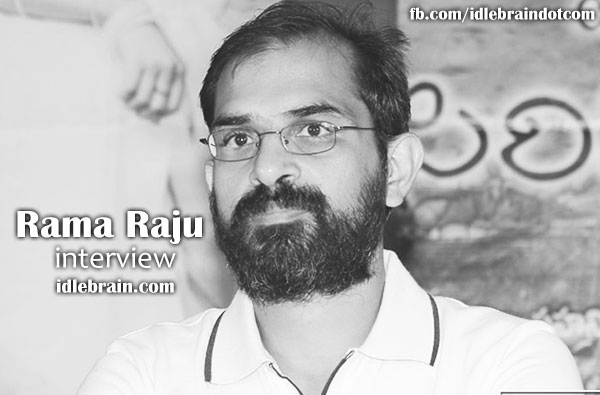 06 July 2013
Hyderabad
Ramaraju's passion for cinema is undying. He has gone through many professions and processes and came right back to the work he has aspired to do. That is to make a film - in a honest way with heart-touching content. He didn't bother about economics, calculations, pulses of moviegoer and made a film 'Mallela Theeramlo Sirimalle Puvvu' the way he wanted to see. Mallela Theeram film is releasing on 6 July. Here are the excerpts of idlebrain.com exclusive interview with Ramaraju -

Background:
I am basically from Bhimavaram and just a graduate. After my graduation, I have prepared for civils exams. I had gone to the interview as well. Dr. S Rao has suggested that I can't handle bureaucracy and asked me to explore in other fields. Ram Gopal Varma is a distant relative of me and I went and joined him in direction department and worked for films like Deyyam. RGV told me that the work of AD (assistant director) is more of a labor work and has very less creativity and script orientation attached to it. He asked me to concentrate on creativity and work on script. There was a gap after that.
Then I joined IT field and worked on Oracle database. I realized that it was not my cup of tea. I decided that I should discover myself and cinema should be a self-discovery for me. My life is more like discovering myself. Then I went back to cinema and joined the team of Nivas for Shool film. Anurag Kashyap is also a part of Shool team. I bonded well with Anurag and worked with him for films like Black Friday, Paanch etc. Then there was a mysterious gap.
After making a name for himself in Bollywood as a director with different vision, Anurag Kashyap suggested that I should make a small film in Telugu with different and niche content and make them commercially appealing. Makes film that connect well with moviegoers and at the same time, they should also be contenders at film festivals. That's a trend started by Anurag Kashyap in Bollywood and it worked tremendously well for him. Mallela Theeram is such an attempt to make a honest and decent film without looking at what people like in a film. There are no calculations in Mallela Theeram, I just kept my heart's content.
What's the content of Mallela Theeramlo Sirimalle Puvvu?
Mallela Theeramlo Sirimalle Puvvu is nothing but my reflections. Love can happen at any point of time. Most of our films end the moment the lead pair gets married. But story of Mallela Theeram deals with after marriage. This film is narrated from woman's point of view who has dignity and voice. She wants to fall in love with her husband after the arranged marriage. It's about she exploring another option when she finds her husband to be materialistic and unreciprocated to love.
What's the economics of the movie?
We have shot the film using Red MX camera and the budget is under one crore.
You made an honest film. Getting people to watch it is very difficult for such films?
Yes. I must thank my friends in media for going out of their way to promote the film. Mallela Theeram is the love of labor for many people.
I always believe that 'commerciality=connectivity'. Irrespective of the genre of the film, connectivity drives the economics. I must thank Sekhar Kammula who offered to buy the film and promote it as he has gone through similar struggles when he had to release Anand film. He watched the film twice as it made him nostalgic. He arranged a special screening for himself by paying theater rent at Prasad labs preview theater.
You look like a honest guy with integrity. How did you end up joining Ram Gopal Varma?
Ram Gopal Varma is a distant relative and he is the only connection to film industry for me. But personally I am not a fan of Ram Gopal Varma. You will be surprised if I say that I hated Shiva film. But I like Ram Gopal Varma as a businessman. My most favorite director is Balachandar. You can see integrity in the characters of Balachandar's film. I tried bringing such integrity in Mallela Theeram film. I like Bapu films to certain extent like Muthyala Muggu, Gorantha Deepam and Vamsavruksham. I have a lot of respect for K Viswanath.
What is your next film?
I want to make a true romance film with a unique flavor.