Story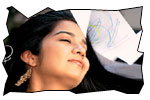 Sreya (Swati) is a youngster who stays with her single and sick mother. Sreya does two jobs in shifts to support her family. She is an aspiring singer and her goal in life is to sing for AR Rehman. When everybody appreciates her work, an old man Rao (Vikram Gokhale) tells her on face that she is a bad singer with a good voice. That remark ignites her to learn music properly. After a few futile attempts, she joins Rao as a student. She also fascinated towards an NRI Seenu (Kamal Kamaraju) who is on a short trip to India. Seenu supports her morally. The rest of the story is all about how she achieved her goal and in the process how she became a better person.
Artists Performance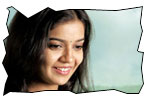 Swati: This film belongs to Swati. She can be seen in 90% of the footage in the film. And she enlivened in her character and she brought the much needed verve to her character with brilliant portrayal. She is extremely casual and is herself in the movie and it worked well. Her dialogue delivery is cute. However, it is little hard on our ears listen to her calling hero seenu/srinu as 'sheenoo'.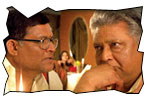 Others: Kamal Kamaraju did a supporting role of a guy who lends moral support to heroine. He is good, but he should try to change expressions. Otherwise he may become monotonous over a period of time. Vikram Gokhale is competent and SP Balu's dubbing voice helped his character. Tanikella Bharani is perfect. Pragati is extremely beautiful in this film. But there is no sync with the dubbing. Delhi Rajeswari is adequate. The kids (especially Komali sisters) are good.
Technical departments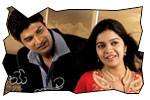 Story: Story of the movie has three aspects – family bonding, romance and guru-sishya relationship. One could see the inspiration of K Viswanath movies in the story line of this movie. It is not a good idea to attempt a classical-music story in this era where K Viswanath himself had failed to strike a chord with the common movie lover with his last movie Swarabhishekam.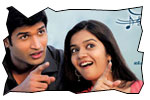 Screenplay – direction: To have three threads (romance, music and family) and write an interesting screenplay intertwining them is very difficult. Satish Kasetty could able to pull it off in the first half with convincing narration. But fails to sustain viewer's interest in the latter part of the second half where the crux of the movie lies. The example of Pandit Hari Prasad Chaurasia is very good.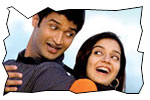 Other departments: Songs scored by Sarath Vasudevan are pretty good. However, we expect a better background music for a film of music background. Cinematography of the film is just average. Lighting is inconsistent. Dialogues are good in parts. Editing is not good. Not much care is taken in the postproduction work of this film and it shows up. The production values should have been better.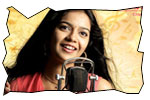 Analysis: First half of the film is ok. Second half falters. The graph of the movie goes down after the start of flashback episode in the second half. Plus points of the movie are Swati and music. On the flip side second half and the screenplay plays spoilsport. On a whole, Kalavaramaye Madilo is a well-intended effort that fails to grab your attention.
Kalavaramaye Madilo links
• Music review
• KVM unit at Prasads
• Satish Kasetty blogs: 1 | 2 | 3
• Music launch
• Press meet 2
• Press meet 1
• Logo launch
• Photo gallery
• Wallpapers
• Trailers
• Video songs
Jeevi reviews of previous 5 films
• Gopi Gopika Godavari
• Oy!
• Evaraina Epudaina
• Current
• Raju Maharaju
• Boni
• Kavya's Diary
• Ride
• Aa Okkadu
• Diary
• Pista
• Prayanam
• Kick
• Veedokkade
• Mitrudu
• Circus Circus
• Adhineta
• Punnam Naagu
• Ananda Tandavam
• Billa
• Bheebatsam
• Manorama
• Aakasamantha
• Sontha Vooru
• Malli Malli
• Mesthri
• Naa girlfriend baga rich
• Drona
• 16 Days
• Satyameva Jayathe
• Siddham
• Nenu Devudni
• Konchem Istam Konchem Kastam
• Shh...
• Arundhati

More Reviews