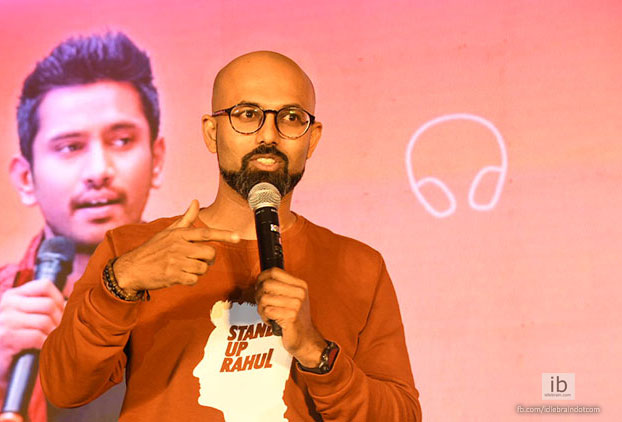 18 March 2022
Hyderabad
Santo who is making his directorial debut at the age of 39 has a fascinating backstory. He saw his first film in a theater at the age of 24. He left his lucrative 10-years-career as aeronautical engineer at Airbus UK and moved to Hyderabad to make films. Read on -
Background
I was born and brought up in Pune. I was from a lower middle class Telugu family. I never had money to go to cinemas. We didn't have television either. Books were my favorite pastime. I was a bookworm. I went to the UK at the age of 24 and worked as an aerospace engineer in Airbus, UK. I watched my first movie in a theater at the age of 24. I was mesmerized by it. I guess it's in our Telugu DNA to watch cinemas and connect with them. I watched a lot of movies in 3-4 years. Being a geek, I thought I should do more than watch movies. I bought a DSLR camera. I started to learn photography. Then I learnt shooting and editing. I started making short films. I was the only Indian guy in my circle at Bristol, UK. I was not a social guy. All my actors were my Airbus colleagues. I learnt the art of directing actors. All my short films are in the horror genre with a lot of action/violence/gore. I wrote and directed around 12 short films in Bristol. Apart from acting and music, I did learn all aspects of the filmmaking.
We formed a club called SPANCO (initials of our names) and started making short films. We made around 52 short films (12 were mine). There used to be an Indian website called Passion for Cinema where film aficionados meet and discuss. Satish Kasetti and Anish Kuruvilla used to blog over there from Telugu cinema. Till then I saw only one Telugu film - Happy Days as the UK Telugu Association screened it over there. I added them on Facebook and started communicating. Satish Kasetty has responded very well. I started writing for him. I worked for him and contributed to his film Terror.
I wanted to become a filmmaker. I was having a good life in the UK (car, house and backpacking). Being from a lower middle class, it took a lot of time and courage to give that good life up. It took me 4 years to make that decision. The tipping point was 'Terror' film. It got funded when I was backpacking in South America. I still remember the date (6th September 2014). I was completing 10 years of working for Airbus. My dream was always to be a storyteller. Filmmaking was a part of it. I made my resignation and came straight to Hyderabad on 13th September, 2014. It was very kind of Satish to let me stay in his house after coming from the UK. I was more like an intern for Terror film.
I wanted to live an experiential existence. I got rid of my stage fear, and built a storytellers club called 'Tale Terrors Troupe India'. It's India's 2nd biggest club as of now. I ran a film club for 4 years in Hyderabad. We used to curate films from a particular country (Mexican, Spanish, Indonesian, Armenian etc). We used to screen in Lamakan and Phoenix Arena. We used to give context before the film and have an appreciation discussion about it after watching it.
All the short films I made were of the horror or the action genre. But I never experienced those emotions in real life. I was never married and I was going through a live-in relationship when I was writing the script. I was not standing up for that relationship either. I never had a spine to stand up for the things in my life. I started writing about all these things in the story. The flaws of the hero's character are from my life. I wanted the character of a storyteller as the hero. But the Tamasha film was already made. That's when I decided to use the Stand Up Comedy backdrop. Once the Stand Up Comedy idea came, it took me just 2 months to write the script.
Casting process
Siddu Mudda was one of the guys I met. He liked the idea. He had asked me to write a list of 10 actors for the hero role. I was not knowledgeable about Telugu film actors. I started googling young Telugu heroes and I found the name of Raj Tharun. I met Raj Tarun the next day. I asked him about his favorite film and he said 'Rudy'. I thought that he would name a mass film from Telugu. But I was surprised by his taste. He was not bluffing as he named his dog Rudy. When I asked about his hobbies, he told me - Stand Up Comedy. Narration went very well and he was like a sponge. He got connected to the story.
I saw Varsha Bollamma at the preview screen of Choosi Choodangane film. She was very casual with a tiny backpack. She was like a college girl. I made up my mind to cast her at that point of time. I am a firm believer in auditions. I auditioned both Raj Taraun and Varsha before casting them. Raj Tharun and Varsha have done 13 and 12 films respectively prior to Stand Up Rahul film.
Story
It's about a man child called Rahul who never stands up for his life. His parents are separated. He wants them together, but he doesn't take a stand for them. Though he works for a startup in Hyderabad, his passion is stand up comedy. He doesn't take a stand for his passion either. This film is not just about stand up comedy. He meets a girl and goes through a live-in relationship. But he never takes a stand for his love. Stand up comedy backdrop is there for just 15 minutes in the film. The rest is a rom com and a family drama.
Tell us about the technicians
Sweekar Agasti is the music director who gave soulful music for films like ℅ Kancherlapalem and Middle Class Melodies. He is an odd choice for the film. Everybody in the unit wanted a music director like Vivek Sagar, but I went in the completely opposite direction. He has given 2 years of his life for this film.
I wrote dialogues in English. The Telugu version of dialogues were done by Nanda Kishore. He is an aspiring filmmaker. I saw a Kannada film titled Katheyondu Shuruvagide on Amazon. I loved the cinematography in that film. This is Sreeraj Raveendran's Telugu debut. He is an editor turned cameraman.
Research on Stand Up Comedy
Right now the stand-up scene is booming in India and in Hyderabad too. In fact the best selling comics in India are not English speaking comics but regional comics (Hindi, Tamil, Marathi etc). We have 2 open mics happening every single weekday at various venues in Hyderabad. It won't be long before we will have more Telugu stand up comics. Infact given our natural affinity towards comedy, I strongly believe that the next pan Indian Stand Up Comic superstar is going to be from the Telugu states.
To develop stand up sets for Stand Up Rahul, we organised Telugu Stand Up Open mics where Raj Tarun used to perform his sets. We also used this platform to scout younger aspiring comics and involved them in the stand up sets writing process. The core of the sets was developed by Samay Raina (Comicstaan Season 2 winner). Samay, Hriday Ranjan, Sandesh Johny, Raj Tarun and some of the younger comics used to have weekly jamming sessions - where we used to take a topic from Stand Up Rahul script and brainstorm jokes for it and how to seamlessly incorporate them into an organic set. This process took us nearly 8 months. To give a fair idea of the developing time, it took me 6 months to write the 120 page script but nearly 8 months to develop 10 pages of stand up sets. But we really had a ball during this process and learnt a lot about the art and craft of stand up comedy.
You had seen the final product. Tell me your gut feel?
For me, everything in the film works. I am proud of the film. I loved the emotion in the film, especially the last 30 minutes.