October 5, 2006
Boss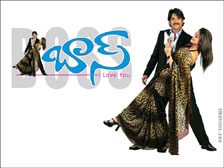 I got a chance to watch BOSS movie last Friday in Dallas and it was crowded, so I had to watch it from front rows. Now a day's we are getting rare chance to watch family entertainers. I was thrilled to watch another family entertainer in short period of time after Bommarillu. Here are my feelings about the movie.
First we should appreciate Nagarjuna for choosing to act in clean family entertainer filled with plenty of humor. He is extremely handsome as BOSS and his mannerisms are simply awesome. Ever since Santosham he started off giving the wholesome family entertainers. He continued the streak with this movie.
Nagarjuna interview for secretary post is pretty hilarious. The comedy by Ali, Bramhanandam, Sunil and Dharmavarapu is marvelous and every dialogue in these scenes had good punch. The air bus scenes between Nagarjuna and Bramhanandam generated huge laughter among the crowds and I joined with them. I could say every frame in the first half is filled with humor and I am filled with joy.
I didn't even blink my eyes in the entire first half (I mean it's too good), it is an extraordinary entertainer and evoked utmost laughter from the audience.
Soon after the ego clashes between G.K(Nagarjuna) and Anuradha (Nayanatara), post interval scenes with Poonam make her jealous and they are very funny. The scenes among Nagarjuna, Nayana tara and Poonam at G.K's office are excellent with good one-liners.
Nayana tara who steals the show of entire film as she looks gorgeous and her histrionics are at top notch as loyal secretary to G.K. I am surprised to see her striking performance coming as a fresh breeze. I can not even think about any other hero playing in Idiot other than Ravi Teja and Prince in POKIRI after watching those movies. Similarly after watching Nayana tara in BOSS, you can not even assume any other Tollywood heroine in that role. Her characterization was too good.
The dialogue uttered by Anuradha to her friend over phone about G.K "Konchem Geera and Kovvu.." and later G.K's witty retort to it is superior. There are plenty like this in the movie. Hats off! to Chintapally Ramana. It's Abburi Ravi who came to limelight after Bommarillu and now its Chintapally Ramana's turn with this gritty entertainer. I go blindly to watch movies for which Trivikram Srinivas penned the dialogues. Now Chintapally Ramana joined the club and I will do the same for all upcoming Chintapally Ramana movies.
Ali asking for business tips, Bramhanandam as Abhay and Nayantara's shopping scene in Malaysia makes you laugh…laugh…laugh. All the comedians (Ali, Bramhanandam, Sunil and Dharmavarapu) excelled in this movie.
The good things about this movie are:
Hilarious comedy with plenty of one-liners.
No violence and blood shed.
Superb music and beautiful picturization.
Presence of Nayana tara and her performance is on par with Nagarjuna.
It won't make you think other than entertaining and every scene is logically justified.
Usually I go out for at least couple of songs in a movie. But I couldn't get out of my seat in this movie as all the songs are extremely well canned and backdrops are beautiful. 'Andagadu Muttukunte', 'Hello Baasu', 'Edo Tamashaga', 'Jeeley Jeeley' and 'Anaganaga' are exceptionally good. Hello Basu song that shot on sea back drop is pleasant and cool and I don't have words to explain "Anaganaga" song. It stands out as a best.
Director V.N Aditya strengths are the way he handles the comedy and emotional scenes even since his debut as director and I like these two aspects in his movies. He filled almost every scene before climax with humor and plenty of one-liners. There is no doubt he is 200% successful in presenting the comedy scenes and there isn't much scope for emotion as most of the movie runs on comedy plot. The emotional thread starts just before the simple straight forward climax and his directional capabilities in emotional scenes are just ok!. The love is single sided from Anu and director did not include any scenes to lift G.K feelings towards Anu at personal front. Hence the climax emotion thread is not elevated as expected. The climax goes like a passing cloud and wouldn't make its own mark. Climax is very short, may be I watched trimmed version of climax.
It is a fun packed entertainer takes you through colorful hilarious world for two hours. In one simple word it's an awesome entertainer.
I sincerely thank my favorite website idlebrain.com for giving this opportunity.
Thank you,
Anand S
[email protected]
More My Movie experiences:
Boss - Hrithik
Stalin - Bala
Bommarillu - Nandini
Bommarillu - Darsakudu
Bommarillu - Vasu
Bommarillu - Harsha Prakash
Bommarillu - Lalitha Spoorthi
LRMB - Shravan
Bommarillu - Anirudh
LRMB - Srinivas
LRMB - Darsakudu
LRMB - S Sridhar
Bommarillu - Shridevi
Bommarillu - Vasudev
Bommarillu - Roopa
Sriram - Godavari
Sarath - Bangaram
Bala - Pokiri
Srinadh - Allari Pidugu
Sudheer Allari Pidugu
Anu - Athadu
Shyam Krishna - Iqbal
Purnesh - Grahanam
Sudhindra - Super
Vijay - Aparichitudu
Madhav - Aparichitudu
Hazaraon Kwaishein Aisi
Swades
Shyam - Black
Sai - Anand
Rohit - Anand & Veer Zaara
Jaya Prakash - 7GBC
Raj - Anand
Purnesh - Anand
Purnesh - The Village
Sriram - Gudumba Shankar
Purnesh - Gharshana
Purnesh - Lakshya
Purnesh - Yuva
Leenesh - Yuva
Kis - Lakshmi Narasimha
Indian Pride - Tagore
Raj - Boys
Phani - Gangotri
Phani - Khadgam
Vikram - CKR
BKR - Indra (Singapore)
Ram - Indra (Dubai)
Ranjeet - Idiot
Rahul - Indra
King Koduri - Indra
Srilakshmi Katragadda - Mitr: My Friend