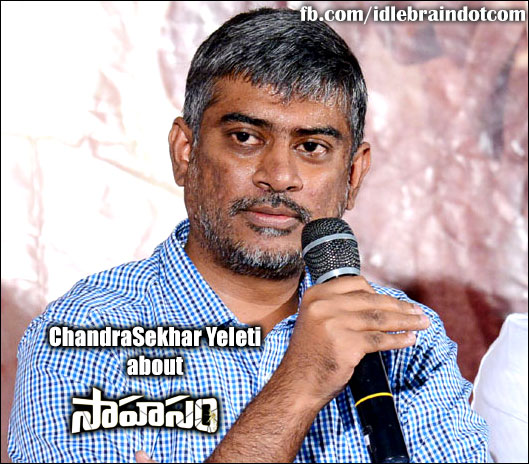 11 July 2013
Hyderabad
Chandra Sekhar Yeleti has an impeccable track record of making films in different genres and got appreciated a lot. His latest film Sahasam is of adventurous genre. It's been more than a decade since we have seen a film in Telugu in this genre. Sahasam is releasing on 12 July 2013. Here are the excerpts of an exclusive chit chat -

What went wrong/right with your last film Prayanam?
There are certain flaws in the script side. I wanted to make that film in an amateurish way. It was a film of amatuer genre. Digital technology was not consolidated in Telugu film industry then. Climax should have been more engrossing. Akshay Kumar has bought Hindi rights of the film and I am willing to help in ironing that script for Bollywood version.
Why is there a four years gap between Prayanam and Sahasam?
I have worked on some other project for 1 and half years. It didn't materialize. Hence shifted to Sahasam film.
Tell us about Sahasam?
Sahasam is one man's quest for his own inheritance. A poor man suddenly finds out that he has ancestral property in Pakistan. The adventure is about how he gets his property back.
Adventure films are associated with Indiana Jones. Can we expect Sahasam in that genre?
We have so many chandamama kathalu, ramayana and maha bharatha which serve ample inspirations for penning adventurous stories. But, films like Indiana Jones and National Treasure have become landmarks. Hence people start comparing any film with action adventure genre to that of Indiana Jones.
Your films are known for intelligent screenplay. Can we expect nice screenplay in Sahasam?
I have chosen a simple and straight narration by keeping Gopichand's target audiences in mind. However, it will be entertaining and gripping till the last minute.
This film has Pakistan angle. Did you try to add patriotic aspect to the story?
No. The basic story of the film happens in partition time when hero's ancestors migrate to India from Pakistan. There is a connection with Leela Devi Temple in Hinglaj part of Pakistan.
Will there be proper logic and explanation about how hero crosses the border and lands in Pakistan?
Yes. There is a bus going from India to Pakistan everyday on the pretext of cultural exchange.
Whats the runtime of the movie?
The runtime of the movie is around 2 hours and 20 minutes. We have shot the film in 100 working days out of which we shot Sahasam in Ladakh for 30 days. We could do some of the best action sequences in Ladakh due to the action choreographer Selva and his team.There will be visual effects for more than 35 minutes in movie. And most of the visual effects come in the climax of Sahasam.
We are having 90% of commercial hits coming in 'entertainment' category. Do you think film industry is going in the wrong direction?
I don't want to comment on the direction towards which film industry is traveling. But I feel that the government should encourage films with different genres. In the old days, kings used to gift all the artists to encourage them irrespective of whether their works are popular with masses or not. Once the business orientation entered in arts department, it has become a consumer product. And the customer is the king for a consumer product. I feel that Government should play an active and sincere role in recognizing good films and encouraging them irrespective of the box office performance. Currently entertainment genre films are being made because market demands such subjects.
Tell us about your future projects?
I have three subjects ready now. One love story, one story on human emotions and another script on ESP (extra sensory perception).
What happened to the 'out of body experience' script you told us in an interview few years back?
It's still there with me. Incidentally, I have come across a similar incident recently. An old building collapsed in Bangladesh and a small girl who was trapped inside for 20 days came alive. She rationed her few biscuit packets and water bottles for these 20 days to survive.