Story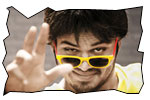 Mr. Nokia (Manoj Manchu) is an orphan and a cellphone thief. Anu (Kriti Kharbanda) is a bank manager who is married to Kiran (Raja). Kiran is kidnapped just a day after their marriage. Anu needs to pay a ransom of 2 crores. She steals bank money and on her way to handover the money to the kidnapper. Meanwhile Mr. Nokia needs big cash to marry his girlfriend (Sana Khan). The rest of the story is all about what happens when the paths of Mr. Nokia and Anu converge.
Artists Performance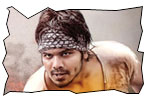 Manoj Manchu who is known for selecting hatke story lines has chosen another different story in this movie. Manoj Manchu looks muscular. He is extremely good in action sequences and dialogue delivery. Kriti Kharbanda has a meaty role in this movie and she does justice. Sana Khan is okay as a material girl. Raja is a surprise in the movie and he has put on a bit of weight. Vennela Kishore entertains in the first half. Brahmanandam's 'uncle' cameo is good and different. Murali Sharma is pretty good as a menacing kidnapper. Ahuti Prasad is entertaining as a politician.
Technical departments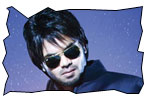 Story - screenplay - direction: The basic story line (kidnap thread) seems to be borrowed from a Mexican film titled Lucia Lucia (La hija del caníbal). The story has two threads - one is hero's experience with love and heroine's husband kidnap. Screenplay is partly good. The narration is little slow. The director Ani who dillydallied with the setting of the plot in the first half, could able to get it reasonably well in the second half road episodes. However, the orientation and characterizations are over the top.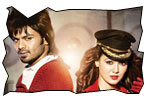 Other departments: Songs scored by Yuvan Shankar Raja are good, especially Pista and Oke Oka Jeevitam. Background music should have been better. Cinematography by B Rajasekhar is partly good. The chase sequences and songs are shot well. The action sequences composed by Manoj Manchu are realistic and believable. Dialogues by Lakshmi Bhoopal are okay, but at time crosses the border. Editing cuts are good in songs and fights, but should have been more traditional during the narration of the story.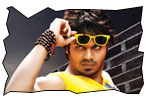 Analysis: Plus points of the film are Manoj's action sequences and the screenplay in the second half. On the flipside, the direction should have been more compact and the plot should have been effectively set-up in the first half. The entertainment is good in parts. On a whole, Mr. Nookayya is a hatke film that targets people who like different films.
Mr. Nookayya links
• Manoj interview
• Music launch
• Disc function
• Photo gallery
• Wallpapers
• Videos
Jeevi reviews of previous films
• Ishq
• Poola Rangadu
• Love Failure
• SMS
• Snehitudu
• Bodyguard
• Businessman
• Rajanna
• Journey
• Panjaa
• Priyudu
• Solo
• Sri Ramarajyam
• Oh My Friend
• Mogudu
• Nuvvila...
• 7th Sense
• Pilla Zamindar



More Reviews