Story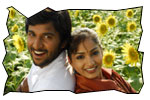 Sai (Nani) is an orphan who has a strange style of living. He stays in unattended houses and leaves when the landlords return. In the process, he comes across a girl Savitri (Madhavi Latha). She takes him for a ride and does mysterious things. Later on he realises that Savitri is a runaway girl from a strict family that disowned her. The rest of the story is all about how Sai enters Savitri's home and make Savitri a part of their household.
Artists Performance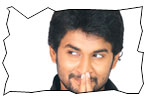 Nani: Nani proves himself to be an extremely gifted actor from film to film. He is excellent in the role and brings life to scenes that are inane with his histrionics. He seems to have imitated the body language, dialogues and expressions of Venkatesh in the second half of the movie where he tries to play the role of Good Samaritan. On the flip side, there seem to be too much of carelessness (vetakaram) in the way he speaks with the other characters (especially elder and pivotal character like that of Nassar). I don't know if it is the instruction from director or his own improvisation.
Others: Madhavi Latha suited the role well. Nassar did the role of head of household and he is good. Brahmanandam is partly entertaining. MS Narayana did another drunkard role. Kinnera is adequate. Apoorva had an interesting role.
Technical departments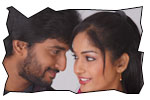 Story - screenplay - directon: The concept hero staying in unattended homes is inspired by a 2004 Korean film Bin-Jin (3-Iron in English). This idea was earlier adapted for Charmme's character in 16 days movie which in turn is a remake of 'Lucky Number Slevin'. The entire set-up for the second half is inspired by Athadu movie. This movie has a flimsy premise in the first half and it was handled rather poorly. And the director concentrated Venky's type family drama in the second half. The Nassar-Apoorva thread with sirimalle puvva track is entertaining. Debutant director could able to do a few episodes well. But he couldn't knit the screenplay well. And takes the story in a beaten path in the second half.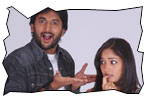 Other departments: Songs scored by Shiva Shakar are good. Cinematography by Vasu is neat. Dialogues by Bhasha Sree are average. The producer has spent a good amount of time and effort in postproduction. Production values are adequate.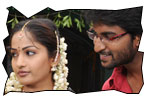 Analysis: First half of the movie is little disappointing. The second half holds good commercial angle as it is dealt with the family backdrop. The plus point of the movie is Nani who carried the movie on his shoulders. The negative point is poor screenplay. On a whole, Snehituda is has a promising plot, but is marred by bad and uninteresting narration.
Snehituda links
• Music launch
• Photo gallery
• Wallpapers
• Trailers
Jeevi reviews of previous 5 films
• Magadheera
• Kalavaramaye Madilo
• Gopi Gopika Godavari
• Oy!
• Evaraina Epudaina
• Current
• Raju Maharaju
• Boni
• Kavya's Diary
• Ride
• Aa Okkadu
• Diary
• Pista
• Prayanam
• Kick
• Veedokkade
• Mitrudu
• Circus Circus
• Adhineta
• Punnam Naagu
• Ananda Tandavam
• Billa
• Bheebatsam
• Manorama
• Aakasamantha
• Sontha Vooru
• Malli Malli
• Mesthri
• Naa girlfriend baga rich
• Drona
• 16 Days
• Satyameva Jayathe
• Siddham
• Nenu Devudni
• Konchem Istam Konchem Kastam
• Shh...
• Arundhati

More Reviews