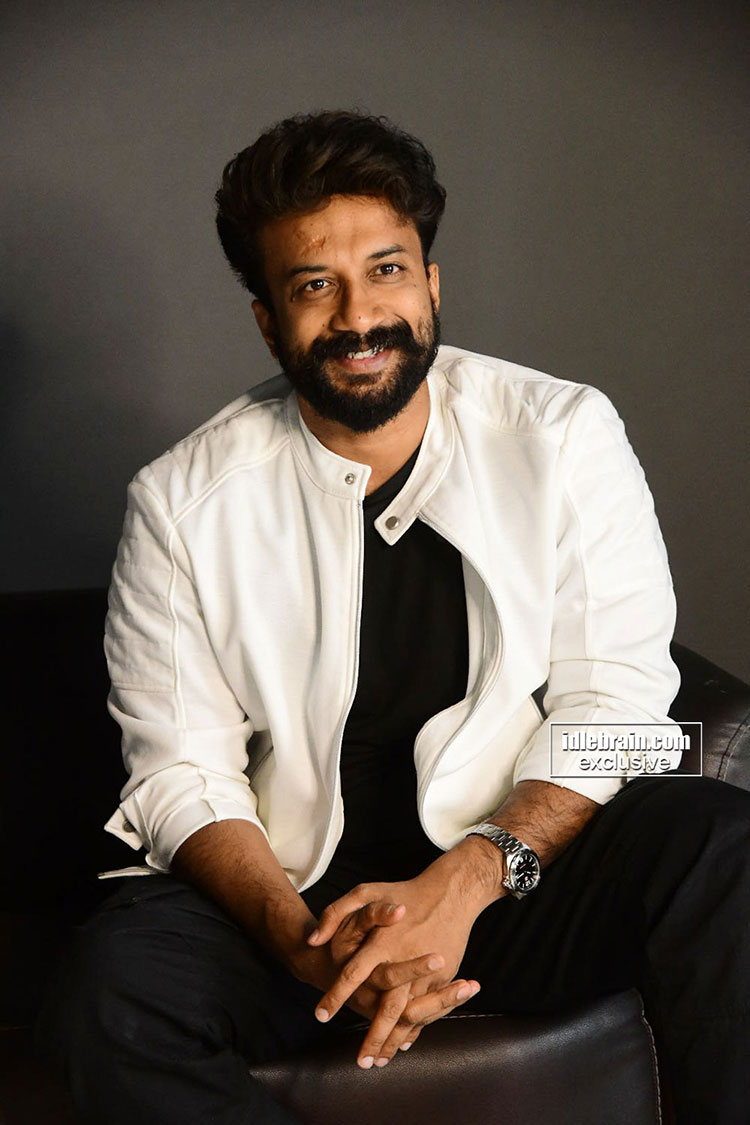 16 June 2022
Hyderabad
In an exclusive conversation with idlebrain, Satya Dev talks about joining forces with Gopiganesh again after their first venture, Bluff Master, flubbed at the box-office, the message of Godse, how he handles failures and sharing screen space with his idol megastar Chiranjeevi in Godfather
For Satya Dev, who is in the process of establishing himself as a lead actor, he didn't feel it was a risk to give another shot to Gopiganesh Pattabhi with Godse, which he headlined. They've earlier teamed up for Bluff Master (2018). Although it didn't do well theatrically, it did find enormous love on YouTube. "When Bluff Master was being made Gopi anna was asked 'is it not risky giving a newcomer opportunity?' But he went ahead and followed his heart. Here, I feel the same. Yes, I have a lot of gratitude for him. At the same time, I felt Godse script was something which would connect with the viewers. On top of it, I know Gopi anna's capabilities as a director, so I thought I could go for the kill," the lanky actor tells us.
So, what is it about the script that spoke to him besides Gopiganesh's factor? The actor insists it is about a problem which is prevalent in society but we are kind of ignorant about it. "If you look at it from a broader perspective, it appeals to 95 percent of the underemployed youth. It discusses youngsters doing jobs, which they don't pursue academically in the first place. We see delivery guys, Ola and Uber guys speak in good English. When I converse with them, I could make out that they come from a good educational background but there is no system to meet their fitting job criteria. Which is why, 95 percent are doing something which they haven't pursued academically. 22 years of your education should help you to do something which you will love until your retirement. That's the balance we are addressing in the film," he maintains.
The name Godse reminds everyone of Mahatma Gandhi's assassin. On the question of choosing such a controversial title, the actor responds, "There is a strong reason why my character Viswanath Ramachandra is called Godse and for that you have to watch the film. If you see the trailer, you can spot a boy not willing to take up a toy gun on the stage to kill Mahatma. He flees from the spot, saying he can't kill Mahatma. The same person turns into a vigilante with weapons in his both hands. It is his story— the story of a businessman who turns into Godse. At the end of the day, if it is called Viswanath Ramachandra it wouldn't create curiosity in the minds of the audience or grab their attention. Luckily, it was a win-win situation for me. The title connected with the story and it would be talked about as well."
Satya informs that it wasn't a tough part to pull off, saying he loves what he does. "I've signed knowing what I'm going to do, but before making the final call, I was worried whether I was the right person to 'question' and wanted to know whether it reaches the right people when I'm voicing it. I even asked Gopi anna wouldn't it be good if a big star shoulders it? He, however, believed that if the question is intriguing and if it can connect with people, it doesn't matter who voices it. He felt I was the right actor, so I took up the challenge," he points out, adding that the last 40 minutes of the film will leave the audience captivated. "Godse film starts once you finish watching it. The questions he asked will be in your head for some time."
The theatre-going audience has shrunk big time after the pandemic. Their current mood seems to be patronizing only event cinema. Even Ante Sundaraniki, which opened last week to positive word-of-mouth, couldn't cut the mustard at the box-office. Does it concern Satya? "No, not at all. I'll give you a simple logic. We sleep happily at night and get up in the morning. If we are told that we won't wake up the next morning if we sleep in the night, nobody will go to sleep. You do a film with a lot of confidence, thinking it will connect to the people. The confidence is always there. If they like it, they'll accept it. If not, you have to do something else. Right now, I'm in a space that believes Godse will definitely resonate with viewers. I agree there are concerns, but I don't want to look at them. I feel my film is different and it will work," the actor asserts.
Satya's last release was Skylab, which couldn't set the cash registers ringing. How does he handle failures? "Failures motivate me. If I face a problem, the first thing I say to myself is that I don't want to be in the same position again. And I strive hard for it. I go into a self-motivation zone, else we can't survive," he avers.
Satya, who idolized megastar Chiranjeevi growing up, will be seen playing a key role in the latter's Godfather, which is the official remake of Malayalam box-office smash Lucifer. Speaking about his experience of sharing screen space with the megastar, he reveals, "He is someone who motivated me to become an actor. I can never forget rubbing shoulders with him. He saw Bluff Master, Brochevarevarura and Raagala 24 Ghantalalo in a space of one week and invited me to his home and congratulated me. This happened in 2020. After some days, he rang me, saying it will be nice of you if you do a role in this film (Godfather). When he was explaining the film's story to me, the experience was surreal. I was like, 'Look, who's talking what? Is he narrating the story to me? Who am I?' When an actor who you loved all your life was pitching a story, I felt a mad rush of blood," he reminisces devotedly.
In terms of opportunity, diversity and variety available, Satya believes right now the phase is his most fulfilling. Besides Ram Setu with Akshay Kumar and Godfather, he has completed filming two projects—one, Gurthunda Seethakalam and another untitled one with producers Vaishno Krishna and Koratala Siva. He is presently shooting for Full Bottle, which is in the middle of its first schedule. "In view of not only the ones I've completed but also the ones I'm going to do, it's the most fulfilling phase. I'm excited about them. In Full Bottle, I'm doing a mass comedy role, and I'm going for a makeover for it. It's coming out well. Then there is an out-and-out action film I've green-lit," he ends.
-NAGARAJ GOUD.