December 6, 2006
Dhoom 2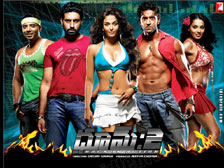 Think"chori ke bhi kuch usool hote hain,aur chori jiske naam se ki jaati hain ...maal usika hota hain",and you have the perfect thief Mr.A, using enviable technologies to steal and collect trinkets from all over the world.Throw in an irresistable challenge by a beautiful thief Sunehri and it is enough to befuddle 2 cops who prefer dancing to investigating.
Dhoom -2 promised to be bigger and better than its prequel but this improvement was totally unexpected. Abhishek and Uday reprise roles as the cop and his chela along with Rimi Sen (who manages to eat all through her 15-minute cameo as Jai's pregnant wife)!! Bipasha plays a very sexy ACP in the first half who does nothing but point her gun at Ali (Uday saving the show with some cute one-liners) every 5 min. Her role as the beach beauty Monali in the second half suits her better.
Hrithik, looking more like a sculpted Adonis than ever, steals the show and carries the entire film on his perfect shoulders. He (surprisingly) makes a good pair with Aishwarya (looking great despite her age in teeny minis). He has a way of conveying emotions through his eyes and this makes his performance all the more endearing. The 'smooch scene' is very aesthetically shot and shouldn't cause any discomfort to viewers.
His dances transport u into a world of ecstasy and make u want to jump up and start jiving. The music and pumping beats add to the effect. The title song is the pick of the lot followed by 'Crazy Kiya Re'.
Writing any more would surely reveal the plot and spoil the suspense. So all you fans of Abhishek -sorry to disappoint u but i didn't see him anywhere in the movie and he doesn't even leave his mark once the movie is over.
And if u r a fan of Hrithik-go for it guys it's a perfect sweep. Don't like either of these still watch it for the made over Aish, Abhi and Bips and in the process get prepared to fall in love with Aryan....
Seriously, a fun movie to watch and let ur hair down as far as it would go in all those exotic locations Brazil,Amsterdam mmmm.....
So-"are u like checkin it out????"
R.Lalitha Spoorthi
[email protected]
More My Movie experiences:
Dhoom 2 by ASK
Don - Syam
Boss - Anand
Boss - Hrithik
Stalin - Bala
Bommarillu - Nandini
Bommarillu - Darsakudu
Bommarillu - Vasu
Bommarillu - Harsha Prakash
Bommarillu - Lalitha Spoorthi
LRMB - Shravan
Bommarillu - Anirudh
LRMB - Srinivas
LRMB - Darsakudu
LRMB - S Sridhar
Bommarillu - Shridevi
Bommarillu - Vasudev
Bommarillu - Roopa
Sriram - Godavari
Sarath - Bangaram
Bala - Pokiri
Srinadh - Allari Pidugu
Sudheer Allari Pidugu
Anu - Athadu
Shyam Krishna - Iqbal
Purnesh - Grahanam
Sudhindra - Super
Vijay - Aparichitudu
Madhav - Aparichitudu
Hazaraon Kwaishein Aisi
Swades
Shyam - Black
Sai - Anand
Rohit - Anand & Veer Zaara
Jaya Prakash - 7GBC
Raj - Anand
Purnesh - Anand
Purnesh - The Village
Sriram - Gudumba Shankar
Purnesh - Gharshana
Purnesh - Lakshya
Purnesh - Yuva
Leenesh - Yuva
Kis - Lakshmi Narasimha
Indian Pride - Tagore
Raj - Boys
Phani - Gangotri
Phani - Khadgam
Vikram - CKR
BKR - Indra (Singapore)
Ram - Indra (Dubai)
Ranjeet - Idiot
Rahul - Indra
King Koduri - Indra
Srilakshmi Katragadda - Mitr: My Friend