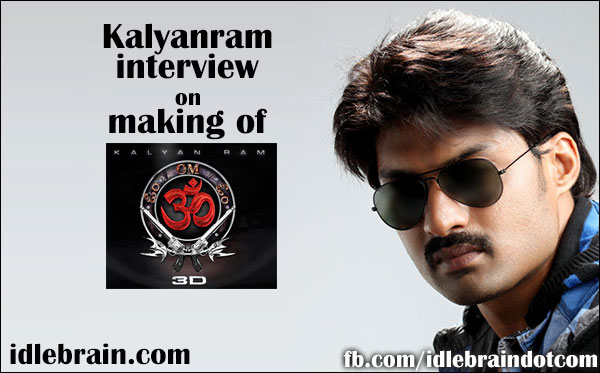 17 July 2013
Hyderabad
Here is idlebrain.com's exclusive interview with Kalyan Ram who is the actor and producer of first action 3D film in India - Om 3D. Here we have concentrated on the 3D aspect of the film and the struggles the team had to go through to learn and implement an unprecedented 3D technology in India. You will surely end up respecting team of Om 3D after reading this interview -

What's the reason for selecting 3D format?
After doing Jayeebhava and Kathi, I have realised people don't accept my films if they are regular and formulaic. My image and brand value of NTR arts has gone down because of these two films. My strength has always been novel storyline with different screenplay aided by good technical values. Fly Cam was first used in Telugu for Hareram film. Athanokkade and Hareram are examples. Hence I have decided to come up with a film of good screenplay. That is when director Sunil Reddy has narrated me the story of Om.
That is when a Bollywood film titled Haunted 3D was released. I went to that movie for 11 pm show after a week and was surprised to see the theater filled with families and kids. Most of them came for the experience of stereoscopic 3D. This film was made in 9 crores budget and Reliance has bought it for 18 crores and it ended up collecting 36 crores. This film has prompted me to add 3D edge to Om script.
Local companies gave fancy budget
I approached a local company that handled 3D equipment for a few Indian 3D films and they quoted a fancy price. We have asked them to give us a demo as Haunted 3D is a film where camera is mostly static. Since we are doing an action film, we require a camera that handles rapidly moving techniques that are generally performed by Jimmy Jib and SteadyCam. We have decided that the technology offered by the most qualified company is not enough.
Hongkong trip cost us 20 lacs
Lots of 3D films are being made in Hong Kong now. Generally we go to bangkok for shopping for our films as it's offers high quality stuff in cheap price. I have decided to change the shopping destination from Bangkok to Hong Kong so that we can also study and negotiate 3D equipment companies in HK. After going through the 3D cameras in Hong Kong, we found out that lens changing time is around 45 minutes. It takes so much time because it has to set convergence point between these two lenses. We have also felt that the smoothness is missing. Hence we decided not to use HK equipment as we need to do 30 shots to 40 shots a day.
Then we heard of Amazing Spidermen being shot in 3D
That's when we came to know about 3D version of Amazing Spiderman being shot in Hollywood. They are using a rig called TS5 3D that is manufactured by 3ality technica company. This rig is widely used in shooting sports for 3D sports channels in abroad. Since shooting sports require rapid movements, we decided that this rig can be used to Om 3D which is primarily an action based film. I went to LA and did the test demo. We have hired the camera and rig. We have also hired Hollywood technicians to help us out to get shooting started in Hyderabad. The combination is red epic camera with TS5 3D rig.
3D equipment freezed by customs at Hyderabad airport
To do a 3D film, we should have three important people stereographer, Digital Management Technician (DMT) and Digital Intermediate Technician (DIT). David Miller Taylor (worked for Final Destination 5) is our stereographer. Jai Patel (worked for Prometheus 3D) is our DMT. Maza Zdownski (worked for Resident Evil) and Paul Amand are our DIT.
They were bringing the camera and rig equipment and they entered the green channel (nothing to declare) of customs at Hyderabad airport instead of red channel (to declare). They are caught by customs officers and were taken away. The next day was saturday. We had to work hard to get them a bail the next day.
3 week testing for equipment
We were told to get hold of lenses from the local suppliers. We had to get two lenses from the same manufacturer with closest manufacturing date. We thought that we can start shooting immediately. Then we were told that it takes around 3 weeks for testing the camera and rig.
....to be continued