Story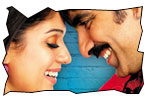 Anjaneyulu (Ravi Teja) works for a TV channel as a reporter. Anjali (Nayana Tara) works for a mobile services company. Bada (Sonu Sood) is a mafia leader in Hyderabad. Surya (Brahmaji)- a honest reporter from the same TV channels unearths a murder motive which is linked to Bada. The rest of the story is all about how Anjaneyulu infiltrates the gang of mafia to get the proofs.
Artists Performance
Ravi Teja: It amazes me how Ravi Teja can come up with such a fresh and extraordinary performance for the similar roles in each and every movie. He has been playing similar kind of roles and similar characterizations for over 7 years since Idiot and he manages to look fresh and agile with different portrayal of the same character. Ravi Teja is simply superb and he carried the entire movie on his shoulders.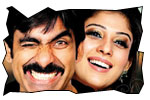 Others: Nayana Tara is adequate. She didn't have an important role in this movie except for appearing five minutes before songs. Her make-up and styling is not good. Sonu Sood is perfect as the gangster. Prakash Raj did a guest role in an impressive character. Brahmaji gets an author-backed role and he is excellent. Brahmanandam does another hilarious character of Prabha (creative head of TV) and he is very good. Kota Srinivasa Rao excelled as a senior mafia kingpin. MS Narayana did the side-splitting comedy as a producer who makes 2-week movies and wants them to promote as 100-days films on TV channels. Srinivasa Reddy, Nassar and Sana are good. Tarzan got a meaty role and he performs well. Raja Ravindra got a lengthy role after a long gap. Kim Sharma did an item song.
Technical departments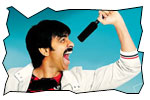 Story - screenplay - directon: Director Parasuram (Bujji) seems to have taken a leaf out of his guru Puri Jagan's Pokiri to have the theme of infiltration in this movie. The basic story of the movie only happens in the second half. Parasuram succeeded in getting the entertainment part right in the movie by making Ravi Teja deliver the right output. He handled the entertainment part and action sequences well. He also has good grip over the commercial aspect of movie making. However, he couldn't get the right feel in sentiment and romance episodes. He should have handled the second half better. Parasuram has penned very good dialogues. His comedy dialogues are good and his serious dialogues are strong (ex: vetagaadu weak aithe jinka kaletthi edo choopinchindanta). There are a couple of disturbing scenes (hospital episode where hero speaks with parents and the fight of bones coming out).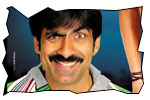 Other departments: Music scored by Thaman is adequate. Cinematography by Ravindra Babu is ok. Dialogues by Parasuram are very good. Editing is satisfactory. Fights composed by Ram Lakshman are good, but second half fight in which bones come out is little disturbing to watch.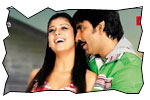 Analysis: First half of the movie is entertaining though there is a bit of double meaning comedy. The second half should have been handled better. The plus points of the movie are entertainment provided by Ravi Teja and good dialogues. On a whole, Anjaneyulu has entertainment and good commercial ingredients. Being Ravi Teja's highest-print release, Anjaneyulu has chances to become a winner at box office.
Anjaneyulu links
• Music launch
• Photo gallery
• Wallpapers
• Trailers
• Video Songs
Jeevi reviews of previous 5 films
• Snehituda
• Magadheera
• Kalavaramaye Madilo
• Gopi Gopika Godavari
• Oy!
• Evaraina Epudaina
• Current
• Raju Maharaju
• Boni
• Kavya's Diary
• Ride
• Aa Okkadu
• Diary
• Pista
• Prayanam
• Kick
• Veedokkade
• Mitrudu
• Circus Circus
• Adhineta
• Punnam Naagu
• Ananda Tandavam
• Billa
• Bheebatsam
• Manorama
• Aakasamantha
• Sontha Vooru
• Malli Malli
• Mesthri
• Naa girlfriend baga rich
• Drona
• 16 Days
• Satyameva Jayathe
• Siddham
• Nenu Devudni
• Konchem Istam Konchem Kastam
• Shh...
• Arundhati

More Reviews