Story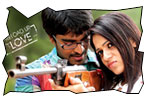 Srinivas (Srinivas) is a gullible lover who gets used by girlfriends for his money. Shreya (Reshma) is fed up with guys who wants to take their friendship to next level in order to have a physical relationship. They happen to meet each other when they decided to not to fall in love. They relationship starts with hatred and lies. The rest of the story is all about how Srinivas and Shreya unite after many twists and turns.
Artists Performance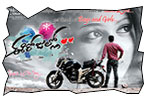 95% of the actors in the film are new faces. Hence we see characters and follow the characters instead of actors. Srinivas fits the role well and does a decent job. Reshma has Trisha's features and the director has succeeded in shooting her in right angles in order to make her appear more like Trisha. She is a nice actress. Sai, who did the stuttering friend role is superb and a big credit should go to the director Maruti for the characterization. MS Narayana's 5-minutes cameo is entertaining. Ambati Srinivas (Vaddu Saroja fame) is good as a watchman. Bhargavi is spontaneous as a rebel friend of heroine. All other actors have performed with ease.
Technical departments
Story - screenplay - direction: The story is about a right couple who had bitter experiences with wrong counterparts in this contemporary set-up. The entire first half is a satire on current day's youth and their materialistic attitude. The second half dwells on the real conflict point. Director Maruthi has directed this film like an experienced one without compromising on freshness and contemporary feel. He has studied the attitude and decision-making style of current youth well and shown it in the movie. You would definitely come across such a few characters in real life. He has shown the darker side of love/relationship in an entertaining way. The second half should have been more crisp. I liked the way he inserted 'ring tring' song with masked faces of Telugu stars at key points of the film.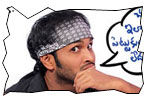 Other departments: Music by JB is very good. He has used certain familiar beats to popularize music. Ninna Monna is pretty good melodious song. But, it's Ring Tring that makes you fall in love with it. Cinematographer J Prabhakar Reddy does a fine job with Canon 5D Mark II camera. He used the flexibility of compact camera selectively (in scenes like carrying chai glass) and stuck mostly with regular shots. The quality of the digital camera is as good as a regular camera. Dialogues penned by Maruti are contemporary and catchy though there is obscenity in certain dialogues. Editing is fine. The 'Good Cinema Group' should be appreciated for putting content first irrespective of shoe-string-budget constraints.
Analysis: First half of the film is fun and second half has story. The plus points of the film are freshness and contemporary feel. The second half should have been more compact and the obscene dialogues/gestures should have been moderated. This film might not find a place for the people who may find certain dialogues and references to be offensive. But will go well with youth and masses. You may watch it.
Trade: Ram Gopal Varma has made a film titled Dongala Mutha using still cameras (Canon 5D) to show the world that you don't need a big set-up to make a feature film and it can be made in shoe-string budget. But unfortunately it was not liked by the people as the content was not up to the mark. Maruthi has used the same technique and made Ee Rojullo with a decent content and in an appalling budget of 75 lacs (big filmmakers spend more than this for a single song set). The seeds of Ram Gopal Varma are helping makers like Maruthi in bearing fruit with decent content. This film is carrying hit talk and is poised to make break-even in days (one or two) and will encourage new filmmakers to come up with many more under-1-crore film projects. But it is always the content that matters irrespective of budget.
Mr. Nookayya links
• Music launch
• Photo gallery
• Wallpapers
• Videos
Jeevi reviews of previous films
• Mr. Nookayya
• Ishq
• Poola Rangadu
• Love Failure
• SMS
• Snehitudu
• Bodyguard
• Businessman
• Rajanna
• Journey
• Panjaa
• Priyudu
• Solo
• Sri Ramarajyam
• Oh My Friend
• Mogudu
• Nuvvila...
• 7th Sense
• Pilla Zamindar



More Reviews