February 14, 2007
Black Friday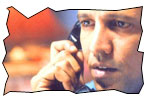 here are certain movies which go beyond all the usual parameters. Box office success, stars, locations, nothing matters. You come out of the movie hall, totally affected by it. You just cannot ignore the sledge hammer impact it makes. You are least bothered about whether this will be a hit or flop, you don't want to degrade the movie by measuring against such parameters. What you have known, is that you have seen a masterpiece, a movie that defies description. You cannot slot this as art, commercial or multiplex movies, because that would do a grave injustice. And such a movie is Black Friday by Anurag Kashyap. While I do often get emotionally involved while watching a movie, nothing prepared me for what I saw. I knew about the Mumbai blasts in 1993. Though I am not from Mumbai, some of my best friends in college and at work place were from there. They took a lot of pride in their city, and the 1993 blasts were something which hurt them very much. I recall having long talks with some of my Mumbai buddies on this. I often followed the investigation, and knew about Tiger Memon and Dawood Ibrahim, the principal perpetrators of the blasts. But nothing, I repeat, nothing, prepared me for what I saw on the screen. It was shocking, terrifying and frighteningly real. Take the scene of the first blast at the Bombay Stock Exchange itself. You are stunned by the explosion on screen, but what follows next will just leave you speechless. No sounds, nothing, just silence, and blood soaked victims lying helplessly looking around. No music, no words, nothing, just a deathly silence which terrifies you. Brilliant and yet terrifying. And then comes the movie, with a totally different narrative structure. We see the various perspectives of people involved. The cops led by Inspector Rakesh Maria( Kay Kay Menon), the conspirators led by Tiger Memon( Pawan Malhotra) and the foot soldiers to carry out the blasts like Badshah Khan( Aditya Srivastava).
We see the brutal interrogation sequences, we see the planning that went behind the blasts, we see how corrupt excise officials looked the other way as large quantities of RDX are smuggled into the country, we see how the Mumbai police never took the threat seriously, we see how ordinary Muslims who were hurt by the 1993 riots, being used and exploited by the likes of Tiger Memon for their own selfish purposes. In fact what we see is a mirror, that shows up a not so pretty picture of our society. We want to turn away from it, but we cannot, because the truth it shows is too compelling. We can pretend that we do not care, but that would be a false bravado, because deep down we know it's a terrifying truth. Hats off to Anurag Kashyap for making a movie, that jolts us out of our slumber and makes us think.
Some of the scenes in the movie are top class
1) The interrogation sequences are bone chillingly real, you are thankful for not being there.
2) The scenes of the blasts are awesome, just too realistic.
3) Badshah Khan's journey all around the country to escape from the police, is brilliantly executed.
4) The dialogue exchange between Inspector Rakesh Maria and Badshah Khan is superb.
5) The scenes where the terrorists are trained to bomb in Pakistan, sends a chill up your spine.
Black Friday works because it doesn't camouflage reality. And it looks at every perspective. It's straight, no nonsense film making. And the fact that it doesn't shy away from using the character's real names. No one is hero or villain in this movie. What we see are just characters, caught in circumstances.
And technically the movie is world class. The use of different color sequences for various moods is excellently done by cameraman Natarajan. Especially the grimy red used in the prison scenes. Also the razor sharp editing and the haunting background music by Indian Ocean.
The movie does not dramatize the sequences. There was no need to, because the real life events were so dramatic, that no Ludlum or Forsyth, could have even visualized them. And yet the movie grips you from start to end. Because there are so many twists, turns and angles involved, that at the end of it, you are just left stunned.
Excellent performances by Kay Kay as the cop, Pawan Malhotra as Tiger Memon and Aditya Shrivastava as Badshah Khan, as well as a whole host of supporting characters, push up the standard of the movie further.
Black Friday is a movie that every Indian needs to see. Its not a movie that digs up the past, because what is happening on the screen is very much the present. Coimbatore, Malegaon, Varanasi, Akshardham, IISc, Bangalore, Parliament, New Delhi, Gauhati, Jammu the names just keep on cropping up to remind us of the insecure times we live in. If we close our eyes and pretend this will never happen to me, we are only cheating ourselves. The movie does not reopen any old wounds, because the wounds have never healed in the first place. We did not care to heal them at all, ignored them, and now are pretending that those wounds were closed. We have not learnt our lessons from Mumbai, 93 or Gujarat,2002. And so we have hitherto peaceful places like Mangalore, holy places like Gorakhpur, and commercial centers like Indore falling prey to the virus. The threat of communal polarization and terrorism are alive and kicking, and its not going to go away very soon. I walk into a message board or comments on some article, and am just appalled to see the amount of abuse we heap on each other in the name of religion, caste, region, community, we seem to forget we are Indians first. Black Friday is a slap on our face, waking us up from the deep slumber we are in. We can shut our eyes to this reality and live in our feel good world, unfortunately, that bubble will burst soon. I am making a sincere request to every one , please watch this movie. Its not just about Mumbai, its about India itself. It can happen to you at any stage and any place. Ignore this message, and we can be sure of more Black Fridays to come.
ratnakar sadasya
[email protected]
More My Movie experiences:
Desamuduru by Krishna Prasad
Guru by It's opinion
Dhoom 2 by Lalitha Spoorthi
Dhoom 2 by ASK
Don - Syam
Boss - Anand
Boss - Hrithik
Stalin - Bala
Bommarillu - Nandini
Bommarillu - Darsakudu
Bommarillu - Vasu
Bommarillu - Harsha Prakash
Bommarillu - Lalitha Spoorthi
LRMB - Shravan
Bommarillu - Anirudh
LRMB - Srinivas
LRMB - Darsakudu
LRMB - S Sridhar
Bommarillu - Shridevi
Bommarillu - Vasudev
Bommarillu - Roopa
Sriram - Godavari
Sarath - Bangaram
Bala - Pokiri
Srinadh - Allari Pidugu
Sudheer Allari Pidugu
Anu - Athadu
Shyam Krishna - Iqbal
Purnesh - Grahanam
Sudhindra - Super
Vijay - Aparichitudu
Madhav - Aparichitudu
Hazaraon Kwaishein Aisi
Swades
Shyam - Black
Sai - Anand
Rohit - Anand & Veer Zaara
Jaya Prakash - 7GBC
Raj - Anand
Purnesh - Anand
Purnesh - The Village
Sriram - Gudumba Shankar
Purnesh - Gharshana
Purnesh - Lakshya
Purnesh - Yuva
Leenesh - Yuva
Kis - Lakshmi Narasimha
Indian Pride - Tagore
Raj - Boys
Phani - Gangotri
Phani - Khadgam
Vikram - CKR
BKR - Indra (Singapore)
Ram - Indra (Dubai)
Ranjeet - Idiot
Rahul - Indra
King Koduri - Indra
Srilakshmi Katragadda - Mitr: My Friend