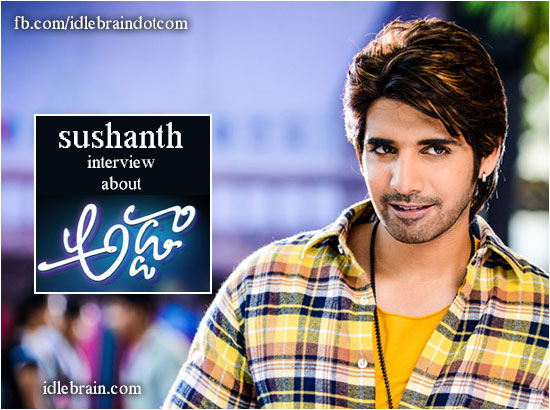 14 August 2013
Hyderabad
Sushanth has done a mass film (Kalidasu) and a youth film (Current) in the past. His 3rd movie Adda is all set to release on 15 August. Sushanth is willing to prove that he is here to stay with Adda film. Here are the excerpts of an exclusive interview -

It's been 4 years since your last film Current was released. What's the reason for delay?
It's complicated. I wanted to groom myself better. I am not here to survive. Hence there was no urgency to accept whatever script that comes to me. I wanted to do a better film and a quality film. I am thankful for all the producers who came up with scripts. I wanted to do a film that excites me. Then a nice proposal came and I was supposed to a film with Mohan Krishna Indraganti. During that time, I got the script of Adda. Mohan Krishna observed my enthusiasm towards Adda script and asked me to do this project. We had split in an amicable way. I might do a film with Mohan Krishna soon.
Director Sai Kathik came up with an interesting script. I got excited by my characterization, My character in this film has different shades. We took around 7 months to work on the script. We went for shoot only after getting a bound script. We started the movie in June 2012 and releasing it in August 2013.
Tell us about Adda?
Adda has a unique characterization which has never come in any Telugu film in the past. He stays and works at a place called Adda. There is entertainment, action, romance and emotional depth. But none of it is a forced one. It's a script in which scenes progress naturally and story evolves in the most believable fashion.
On the budget front, Adda cost the producers double the budget of Current. Adda film will have high production values. We have taken our time to shoot the film and corrected it as and when necessary. Our editor Gowtam Raju has guided us in this aspect. We are releasing the film only after we are completely satisfied with the film.
You have done two films in the same banner in the past. How differently is this film made compared to earlier outings?
We committed mistakes while making earlier films and we corrected this time and made sure that those mistakes are averted. This movie has a good script and universal subject.
Tell us about your new look in this movie?
We have hired the professional stylist Ashwin Ash who has been doing all big films. My hairstyle is also different in this film, thanks to hair stylist Ram. There are different shades to the character and you can see my looks changing as the movie progresses.
Lot of effort seems to have gone into making of promo song? (link)
Yes. I had a lot of free time after production. I had the creative satisfaction of making this video. With the help of co-director Seenu, we went to various places like GVK One, SVM 36 mall, Metro lorry shed and shot the video. We had a lot of footage and selected best shots to make this promo song of 4:20 minutes duration.
Did you analyze yourself as an actor. What are your shortcomings and how did you overcame them?
Yes. You can see a lot of improvement in my performance and dialogue delivery in Adda. I am a confident actor after doing Adda. I have observed and participated in pre and post-production of Adda. It gave a 360 degree knowledge about filmmaking.
Are you confident about success of Adda?
I am proud of Adda film and my work in it irrespective of how it is going to fare at box office. I am satisfied with the final product. I am eagerly looking forward to the verdict. My film is releasing in USA for the first time.
What is your next film?
I am waiting for Adda to release. I think my work in this movie will make a lot of difference and directors will approach me with better scripts. I am in no hurry and wait for a good script.