Story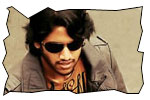 Satya (Naga Chaitanya) is a student who discontinues his college in Vizag and comes to Hyderabad to stay with his uncle (Sunil). He observes that a small time politician called JD (JD Chakri) manipulates two student gangs in a college to serve his interests. Satya joins the same college and tries to unite students and reform them. The rest of the story is all about why he discontinued his studies in Vizag and joined college in Hyderabad.
Artists Performance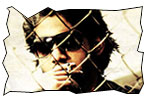 Naga Chaitanya: It's a big challenge to do a character that is underplayed for a debutant like Naga Chaitanya. And Naga Chaitanya passes it with flying colors. He is extremely good in emotional scenes. And he is a very good actor when it comes to scenes that require histrionics. However, he looked little shy in romantic scenes with heroine. He needs to be more casual in general scenes. His voice is good. With better modulation he can deliver any kind of Telugu dialogues efficiently. And he has got the same charming eyes and screen presence like Nagarjuna. If he gets the right scripts with apt commercial elements, he will become a huge star in the days to come. ANR and Nagarjuna are known for having tremendous female following and Naga Chaitanya inherits that legacy now right with his first movie.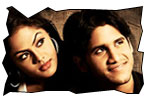 Others: Karthika is adequate in the acting department. However, she didn't suit the character. This type character is tailor-made for actresses like Genelia/Asin who have tremendous mischievous screen presence. Dubbing done by Savita Reddy suited the character, but didn't match with the actress (Karthika). Prakash Raj has a relatively small role, but has a vital part to play in the film and he is extremely effective as the principal who brings change in hero's outlook. It's a sleep walk for JD Chakri to play this role and he is extremely casual. Brahmanandam entertains in a limited role. The guy who did the role of a student leader Guna is talented. Sreya D suited the role well. Two cute kids who follow the heroine have performed well. Sunil provides some comic relief. Surya, Hema and Sitara are adequate. All the new cast in the movie could able to bring freshness.
Technical departments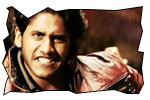 Story - screenplay - directon: The basic story of the movie is about a student's redemption. He does a mistake and he want to redeem himself of that sin by achieving a goal. It looks quite different and noble when we read it on paper. However, the director Vasu Varma failed to come up with right screenplay and interesting subplots. There are certain vital scenes that demand a commendable job. Direction is good in parts. But he fails when it come to connecting the entire story and narrating it convincingly.
The following scenes are good
1. Hero going to the brink of fighting goons, but withdrawing at the last moment (tea stall where he hands over money to the canteen owner instead of fighting goons)
2. Police station incident (realistic with dramatic impact)
3. Speech of hero on the dais in flashback episode
The screenplay glitches
1. Motive: The entire film is based on a 20 minute flashback episode. The flashback should be very powerful enough to give good motivation for hero to do something. Though the flashback episode is alright, it doesn't give enough motivation to hero to rectify the attitude of fellow students. The flashback episode indicates that hero has made a terrible mistake and he needs to rectify it. Treatment for redemption oriented movie story should be different from what director has done in Josh movie.

2. Conflict point: Audiences will follow the story more intently if there is a proper conflict in the movie throughout. Conflict point is missing in this movie because hero and villain have no direct conflict between then. Hero, heroine or hero's friend doesn't get affected by villain in the film. Hence, the required emotion goes missing when hero confronts villain in the final parts of the movie.

3. Scenic order: It would have been more efficient if the film is narrated in a linear format instead of flashback format.

4. Unnecessary scenes: A tight screenplay doesn't allow any scenes that wouldn't make any difference to the movie if they were edited from the movie. For example, there is an eve teasing scene by rowdy students gang which lasts for 2-3 minutes. This scene would have been useful for the movie, if there is another eve teasing scene at a later point of time during which hero shows a remedy. There are a few scenes like these which added to the runtime of the movie.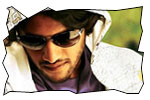 Other departments: Songs scored by Sandeep Chowta are neat. Title song makes an impact in the theater. Background music and mixing dominates the scenes at times. Cinematography by Sameer Reddy is nice. Dialogues written by Vasu Varma deserves applause (naa mundu nee paita jarchaku (hero to JD) and school paaTalu cheppi pariksha pedutundi, jeevitam pariksha petti paataalu nerputundi. etc). The location of college shot in Amritsir is aesthetic. Fights are good and bike races are shot slickly. Editing should have been crisper as there quite a few unnecessary scenes in the movie.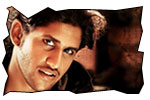 Analysis: First half of the movie is inadequate. Second half is better. This movie can be made in two ways. One way is to insert commercial elements and make it a masala movie. The other way is to stick to story and stay away from commercial gimmicks. Producer Dil Raju should be commended for sticking to the basics though it is a risky proposition. But films like these need a tight screenplay and gripping narration. The narration and screenplay given by Vasu Varma diluted the main point. Naga Chaitanya proves to be a prospective super star with his debut. All he needs to do is to select right scripts. The fans of Dil Raju will be disappointed with this movie. On a whole Josh movie lacks the much needed Josh. We have to wait and see how people receive it.
Josh links
• Music launch
• Photo gallery
• Wallpapers
• Trailers
Jeevi reviews of previous 5 films
• Mallanna
• Anjaneyulu
• Snehituda
• Magadheera
• Kalavaramaye Madilo
• Gopi Gopika Godavari
• Oy!
• Evaraina Epudaina
• Current
• Raju Maharaju
• Boni
• Kavya's Diary
• Ride
• Aa Okkadu
• Diary
• Pista
• Prayanam
• Kick
• Veedokkade
• Mitrudu
• Circus Circus
• Adhineta
• Punnam Naagu
• Ananda Tandavam
• Billa
• Bheebatsam
• Manorama
• Aakasamantha
• Sontha Vooru
• Malli Malli
• Mesthri
• Naa girlfriend baga rich
• Drona
• 16 Days
• Satyameva Jayathe
• Siddham
• Nenu Devudni
• Konchem Istam Konchem Kastam
• Shh...
• Arundhati

More Reviews