May 2, 2007
AMAV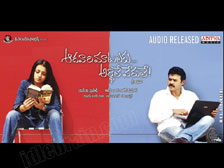 Whenever Venky turns to family drama, the movies have become huge hits and his box-office stamina increase with each movie. AMAV is another such film from Venky and though many reviews on the web claim it to be no different than many of his previous films and other big family entertainers, AMAV in its own way is a different movie all together and "Adavari matalaku ardaale verule" in one sentence is a complete family entertainer. After watching the film, I could not understand in which way this film is similar to Murari and some other films mentioned by a couple of websites. Similarities are bound to occur; especially in Telugu films. We rely heavily on Hollywood (and unfortunately on Bollywood too who themselves copy scripts) and when it comes to copying, this movie is not a total rip-off. It is different in its own way and there are few similarities.
I always wondered how Tamil directors handled Telugu films. I am not sure if they understand the script thoroughly and besides, if they knew our sentiments and that is to an extent in a positive way evident in a couple of dialogues but Selva Raghavan handled the script very well. A Telugu director, probably, would not have handled some of the scenes like SR did. Not getting in to too much detail, couple of scenes involving Kota and the climax scenes (especially the dialogues how venky compares Sriram's mother and Trisha trying to explain him the truth) were handled in a very good way. I did not like 7GB Colony, mainly because of the hero and his attitude which in a way is quite real and also misleading at times to the youth. However, these are two different films and a comparison cannot be made. On the whole the direction is very good and the screenplay smooth.
Another big asset to the film is the music. Music by Yuvan Shankar Raja is a big plus to the film. Venky's films usually have great scenic backgrounds and most of the times are shot in foreign locales, this seems to be missing in this film. However, the director has compensated that with great picturization. All the songs are situational and very entertaining and if I had to pick one that seemed a bit out of place then it probably would be the song in which Meghananaidu appeared, however the scenes following the song make it all look in place.
Coming to the performances, it is Venky all the way. This is a perfect script for him. He is one hero who seems to think the right way. The artist in Venky has dominated the star in him. There are many scenes in the film which other heroes might not have done, but Venky has done them with ease and for us as audience, it is just awesome entertainment. This is one of Venky's best performances, he never disappoints you throughout the film. A MUST watch for venky's fans and for all others it is a must watch!
Trisha, I am not sure if she is adequate, but is good in her role. She gave a controlled performance. 'Colors' Swathi is natural in the role of Trisha's sister. The way she shows her possessiveness is wonderful. Sriram is okay and Sunil has a very small role, but is extremely good in the scene where he calls Trisha when Venky forces him. Kota is good in his role as Venky's father. All other performances are good.The direction overall is good, but some scenes do not patch up well. The scene where Sriram asks Venky to sing a song on his(Sriram's) fiance's beauty is ridiculous, but the song that follows that scene is melodious. Venky's awesome action, good direction, great music and natural dialogues make AMAV a treat to watch. This is another good film after Bommirillu that is a must watch. My only regret for watching this film is the back pain that I got by sitting in the third row from front.
Darsakudu
[email protected]
More My Movie experiences:
5 in March by Sashidhar
Okkadunnadu by Anand
Black Friday by Ratnakar
Desamuduru by Krishna Prasad
Guru by It's opinion
Dhoom 2 by Lalitha Spoorthi
Dhoom 2 by ASK
Don - Syam
Boss - Anand
Boss - Hrithik
Stalin - Bala
Bommarillu - Nandini
Bommarillu - Darsakudu
Bommarillu - Vasu
Bommarillu - Harsha Prakash
Bommarillu - Lalitha Spoorthi
LRMB - Shravan
Bommarillu - Anirudh
LRMB - Srinivas
LRMB - Darsakudu
LRMB - S Sridhar
Bommarillu - Shridevi
Bommarillu - Vasudev
Bommarillu - Roopa
Sriram - Godavari
Sarath - Bangaram
Bala - Pokiri
Srinadh - Allari Pidugu
Sudheer Allari Pidugu
Anu - Athadu
Shyam Krishna - Iqbal
Purnesh - Grahanam
Sudhindra - Super
Vijay - Aparichitudu
Madhav - Aparichitudu
Hazaraon Kwaishein Aisi
Swades
Shyam - Black
Sai - Anand
Rohit - Anand & Veer Zaara
Jaya Prakash - 7GBC
Raj - Anand
Purnesh - Anand
Purnesh - The Village
Sriram - Gudumba Shankar
Purnesh - Gharshana
Purnesh - Lakshya
Purnesh - Yuva
Leenesh - Yuva
Kis - Lakshmi Narasimha
Indian Pride - Tagore
Raj - Boys
Phani - Gangotri
Phani - Khadgam
Vikram - CKR
BKR - Indra (Singapore)
Ram - Indra (Dubai)
Ranjeet - Idiot
Rahul - Indra
King Koduri - Indra
Srilakshmi Katragadda - Mitr: My Friend