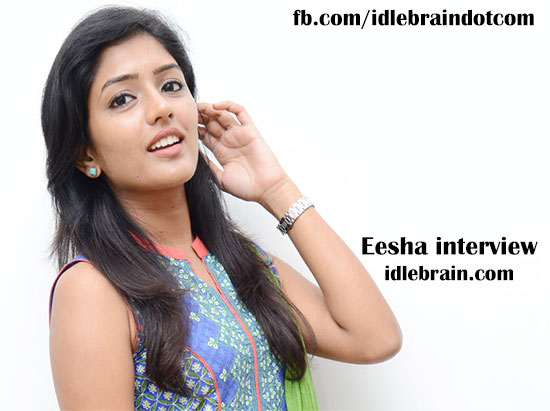 20 August 2013
Hyderabad
Eesha belongs to the rare breed of born-as-Telugu actresses we currently have in Telugu film industry. Mohana Krishna Indraganti who is very specific to have only Telugu actresses in his films (except for Bhumika Chawla in Mayabazaar) has cast another Telugu girl for his mature love story Anthaka Mundu Aa Tharvatha (AMAT). Here is an exclusive interview with this model turned actress -

Background
I have completed my MBA and had been working as a model while studying. A few of my modelling assignments include Ambika Darbar Batthi and Aparna Constructions. I saw the casting call in facebook account of Mohana Krishna Indraganti and approached him. He wanted me to understand the character before casting me in the film. He gave me the script and asked me to read it. I spent 2 weeks preparing for the role and then we had a photo session with Sumanth Ashwin. He has signed after photo session. Then we had a workshop for 2 months before going into regular shoot.
Ananya in AMAT
I am doing the role of Ananya who is an independent girl who is a painter by profession. She is very confident and makes decisions for herself. She is also very romantic. I am just like Ananya in real life. Hence it helped me play Ananya character better.
Acting in AMAT
The story of AMAT and scenes in the film are very realistic. I have observed so many friends going through such situations. Hence my observation helped me in understanding and portraying role better. The story of the film will be identified by the people in the age group of 18-30.
Real life love
I had a few crushes while I was at college. But I was never into any relationship and never had a boyfriend.
favorite heroes
I am a kind of girl who falls in love with characters. So the heroes who did those roles will become my obvious favorites. Ranbir Kapoor (Wake Up Sid) and Robert Downey Jr (Iron Man) are such favorites to me.
Understood complexities of relationships by doing AMAT
AMAT has given me the experiencing the complexities of relationships. It's rosy in the beginning when love is just started and it becomes more of a duty/responsibility once we commit ourselves.
What's your future projects?
I am awaiting the release of AMAT before accepting my second project.
Director Mohana Krishna Indraganti about Eesha
Eesha is a genuine talent with excellent voice. She is a director-dependent actress in a good way. I could get a result with every directorial trick I play on her. She has absolute confidence of the director. There is a couple of bold and intimate scenes (not vulgar ones) in AMAT and she trusted me.