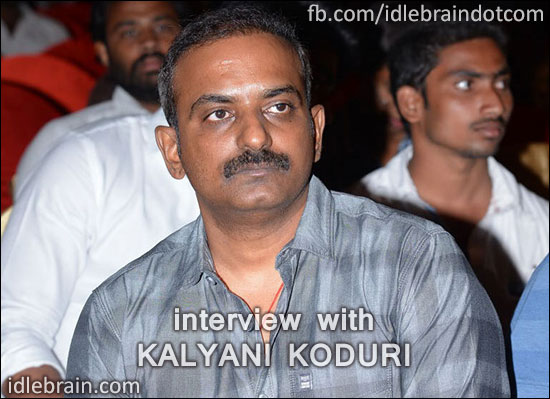 22 August 2013
Hyderabad
Kalyani Malik has rechristened his name to Kalyani Koduri and Anthaka Mundu Aa Tharvatha is his first film as Kalyani Koduri. He is also one of the most unusually frank people we come across in film industry. Here is another honest interview by Kalyani Koduri -

How is your career going?
My career follows Karma philosophy. My career is unaffected by the success/failure of the film. I I didn't get more films after delivering a success. Film offers never stopped coming after delivering a failure. I didn't get offers after delivering successful films like Ashta Chemma and Ala Modalaindi. My successful films failed in improving my career growth. I am bad at PR (Public Relations), not that I hate doing PR. My film offers come irrespective of my PR with the people.
Tell us about Anthaka Mundu Aa Tharvatha (AMAT) music and songs? What are your personal favorites?
There are seven songs in the film. Gammathuga Vunnadi and Thenemullula are my personal favorites. Most complicate song to compose was Thene Mullula. It's an erotic song that leads to sexual act. I have to be artistic and be true to the content. The tune, lyrics and singer's rendition is very artistic in that song. I give complete credit to Sirivennela.
All songs were composed in Chennai using live orchestra. We have mostly used Sitara, Veena, Group Violins, Electric guitar, Tabla and few more indian instruments.
Music directors have the habit of singing a few songs in their films. You sang 3 songs in this film. What is the reason?
I always prefer making professional playback singers sing in my albums. I prefer youngsters. There is a bit song (Naa Anuragam) in this film for which I had no choice but to sing it. The two full songs I sung turned out to be good at track level. I am introducing two female playback singers Prasanthi and Deepthi Koganti who have done a fabulous job. I got their voice clips when they contacted me on Facebook.
How much time do you take to compose a song?
I usually take an hour to compose a song. I neither need special location nor luxury to compose a song. All I need is a bit of last minute pressure to get a tune out of me. Perkinson's Law demonstrate my working style completely - Work expands so as to fill the time available for its completion. I keep waiting for the last day to compose the song. I have composes all tunes of AMAT by sitting in the balcony of Sri Ranjith Movies office.
Why are your songs different from the regular Telugu film music directors?
There are two types of songs - songs that excite heart and songs that excite body. I prefer to do and am capable of doing songs that excite heart. These are nothing but melodies. They take time to sink in and it has got few appreciators compared to songs that excite body. I have nothing against songs that excite body. I do enjoy listening to them too.
What are the compliments and criticism you get for your music?
The biggest complaint I get is that I do a lot of melodies. I take it as a compliment. There is one occasion which made me feel very happy when I visited Pochamma temple in Vijayanagaram after the release of Andhrudu film. Four teenagers who came to temple recognized me and told that they loved 'Pranamlo Pranamga' melody from Andhrudu. I felt really happy as it was a compliment made without expecting anything in return in a remote place. It gave a lot of energy.
Some people are able to compose music using softwares on computer? What do you think about it?
A few micro-budgeted films have a budget of lacs for music. A huge budgeted film can allocate up to 2 crores for the music. There is nothing wrong in using softwares to compose music for a micro-budgeted film. Music directors take contracts for composing music where producer allocates a certain amount and it is the responsibility of music director complete music (composing music, hiring singers - lyricists - musicians, doing re-recording, paying for studio rent and other expenses). I was paid 18 lacs, 20 lacs, 25 lacs and 27 lacs for the music of Ashta Chemma, Golkonda Highschool, Ala Modalaindi and AMAT respectively.
What are your future projects?
I am scoring music for Srinivas Avasarala's debut as director. Ananth Sreeram is penning all lyrics. It will have new actors and this film is being produced by Sai Korrapati.