Story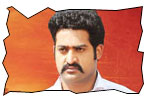 Ramachandra (NTR) - an orphan wants to helps out people and make enough bank balance so that he can settle in life by marrying a girl of his choice. He falls in love with Ashwini (Trisha) at the first sight. He comes to know that a royal family from a distant village are looking to adopt a youngster. Ramachandra approaches them and gets adopted. He goes to a village where there are faction fights between the royals of the two village. It is the turn of Ramachandra to kill the enemies so that his village gets justice and peace. The rest of the story is all about how differently Ramachandra achieves it.
Artists Performance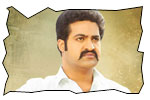 NTR: NTR played the role of an youngster who doesn' believe in killing. His trasformation from a guy who hates killing to the heir of a dynasty that survives only if it kills is smooth. NTR is slowing making himself very comfortable in casual scenes. He is excellent with mannerisms and in fight sequences.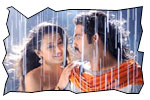 Others: Trisha is alright in a role that has not much of footage. Karthika is good with dances. Nassar comes up with an interesting mustache as villain. Kota has a pivotal role. Suman and Bhanu Priya plays the parents role. Abhinaya (Sabho Siva Sambho) is good as sister of hero. Brahmanandam and Ali are okay. Thottempudi Venu is nice.
Technical departments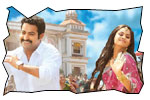 Story - screenplay - direction: Story is the film is about war between two zamindari families who represents a set of villages. Story is an age-old one with a message orientation. Like any other high-voltage faction film, this film too professes that killing is inhumane at the climax after showing thousands of killings. Director Boyapati Seenu succeeded in mounting the fight sequences and build-up scenes well. But didn't get the balance right in the script. Too much emphasis on violence and sentiment and too little emphasis on entertainment made this film a one-sided one.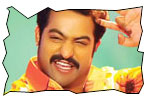 Other departments: Songs and background music by Keeravani is an asset. Cinematography by Arthur Wilson is very good and aesthetic. Dialogues by AM Ratnam are bit lengthy at times. Art direction by Anand Sai is excellent. Fights composed by Ram - Lakshman deserves an appreciation. Eiditng by Kotagiri Venkateswara Rao is okay. Producer KA Vallabha made sure that the film is mounted on a grand scale as you see the entire film is rich in visuals with nice sets.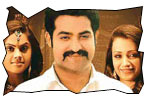 Analysis: First half of the film is nice with a grand interval fight. Second half is okay. The soft climax after excessive killing in pre-climax may water down the expectations of the fans. But it is needed to maintain the consistency the character of hero who believes in non-violence. However, the sudden change of mind of villain doesn't look believable. Plus points of the film are NTR, rich technical values (music, fights, cinematography & sets) and grand production values. On the flip side, reduction of violence and a better doctoring of the second half would make it a perfect mass entertainer. Dhammu has started off with extraordinary openings and if it clicks with the masses, this film will break first week records.
Tailpiece: Director appears in the 1st frame of movie and kick-start it. The publicity angle of few of the directors is going to peaks these days.
Dhammu links
• Music launch
• Photo gallery
• Wallpapers
• Videos
Jeevi reviews of previous films
• Racha
• Lovely
• Ee Rojullo
• Mr. Nookayya
• Ishq
• Poola Rangadu
• Love Failure
• SMS
• Snehitudu
• Bodyguard
• Businessman
• Rajanna
• Journey
• Panjaa
• Priyudu
• Solo
• Sri Ramarajyam
• Oh My Friend
• Mogudu
• Nuvvila...
• 7th Sense
• Pilla Zamindar



More Reviews