Story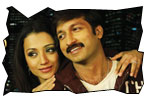 Chandu (Gopichand) is brought up by his uncle (Chandra Mohan) in Australia. Mahalakshmi (Trisha) stays in Australia along with her uncle. Chandu is fond of martial arts and he never gets a chance to exhibit them in real situations. Mahalakshmi is another martial arts freak. After a few misunderstandings they fall in love. Mahalakshmi is forced to come back to her home town in Rayalaseema. Chandu comes in search of her. Meanwhile Sivaiah (Satyaraj) and his opponent Pasupathi (Kota Srinivasa Rao) belong to two neighboring villages. They have longtime enemity. The crux of the movie is how Chandu and Mahalakshmi are related to Siavaiah and Pasupathi.
Artists Performance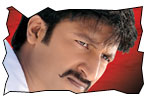 Gopichand is pretty good as Chandu. He has lighter vein characterization in the first half and heavy-duty emotions in the second half. Gopichand seem to be content doing movies that cater to the sensibilities of B and C center audiences. It's hightime for him to change his profile and do films that cater to family crowds and universal audiences. It's an ordinary role for Trisha with no sensibilities in her characterization. Ali provides comic relief as 'Saif Ali Khan'. Srinivasa Reddy is good as the friend of hero. Satyaraj is adequate in a pivotal role with controlled performance. Kota is seen the role of main villain. Chandra Mohan, Venu Madhav and Telangana Sakuntala are given routine characters.
Technical departments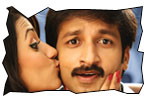 Story - screenplay - directon: Story of Sankham is an amalgamation of various movies like Jayam Manadera, Okkadu, Wanted (English), Sarkar (Hindi), Pedarayudu, Aadi, Chatrapati etc. The entire script is devised to cater to class audiences in the first half and mass lovers in the second half. However, the cliched orientation in the second half mars the quality of the movie. Director Siva who came up with a decent movie Souryam as his debut, tried to stick to formula again. But this time, he couldn't infuse soul into the movie. He just kept the entire script in formula mode and delivered it. The second half has got too much of mass emotions and some of the scenes have heavy Tamil flavor. There is a bit of vulgarity and double meaning dialogues as well.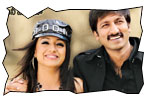 Other departments: Music by Thaman is adequate. The tunes appeal to the masses. Dialogues are just ok. We expect better cinematography for a film that is directed by a cinematographer turned director. Action sequences are good. Lots of sumos and other utility vehicles are blasted into the air.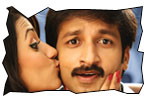 Analysis: First half of the movie is uninteresting as most of the scenes have nothing to do with the main story line. Second half has heavy duty emotions with a bit of Tamil flavor. The plus points of the movie are Gopichand and fight sequences. The nagative points are cliched narration and lack of sensibility. One doesn't understand why this movie is titled as Sankham. Gopichand seem to be content with the selection of this type of projects, he should change the genres to have wider appeal in the future. Though this movie has very little to offer to the class audiences, it might hit the chord with the masses of B and C Centers.
Sankham links
• User Reviews
• Music launch
• Photo gallery
• Wallpapers
• Trailers
• Video songs
Jeevi reviews of previous 5 films
• Josh
• Mallanna
• Anjaneyulu
• Snehituda
• Magadheera
• Kalavaramaye Madilo
• Gopi Gopika Godavari
• Oy!
• Evaraina Epudaina
• Current
• Raju Maharaju
• Boni
• Kavya's Diary
• Ride
• Aa Okkadu
• Diary
• Pista
• Prayanam
• Kick
• Veedokkade
• Mitrudu
• Circus Circus
• Adhineta
• Punnam Naagu
• Ananda Tandavam
• Billa
• Bheebatsam
• Manorama
• Aakasamantha
• Sontha Vooru
• Malli Malli
• Mesthri
• Naa girlfriend baga rich
• Drona
• 16 Days
• Satyameva Jayathe
• Siddham
• Nenu Devudni
• Konchem Istam Konchem Kastam
• Shh...
• Arundhati

More Reviews