October 7 , 2007
Happy Days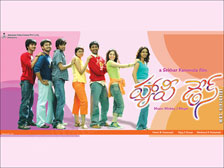 Myself Krishna Sastry working for Texas Instruments Bangalore and a regular visitor of Idlebrain and Jeevi reviews.
I watched Happy Days movie with my B.E. college friends last friday, in PVR cinemas Bangalore, which had left a pleasant feeling in me.I would like to share my feelings with you.
First a big Hats off to sekhar... I felt this is one of the best of sekhar's work and on par with his earlier movies Anand and Godavari...wonderful movie...People are kept in a happy world for about 2 and half hours in the theatres and it has been wonderful to see everyone whole heartedly joining me for a big applause to Sekhar once the movie was over...for the first time I felt it would have been great had the movie been extended for some more time...
The movie is about a group of 8 friends in an engineering college...The movie touches almost everything in the engineering life...right from the very first day to the college, ragging, cursing the seniors(:)), new friendships, engineering subjects, N.D.Bhat, Drafters( for me drafter was a gun... During Ragging i was asked by my seniors to hijack a local city bus with my drafter as a gun... :) and i did it...:)), long wait for freshers day in the college,strict professors, internal exams, juniors becoming seniors...some people forming relationships for a life time, some misunderstandings, whole hearted friends,some of them are selfish some times.. tours...studies...support from seniors...guidance to juniors...careers...life...Fun...in the end a farewell to friends with heavy hearts, part of which filled with a great hope for a bright future...what not? almost everything that happens in the four years span of college life...
Sekhars selection of people has been wonderful... everyone performed fantastically well...Chandu-Madhu, Tyson-Sravanthi, Rajesh-Appu, Shankar-Sangeetha..and of course Kamalini... Gave fabulous performance...Tysons attitude, Chandu-madhu love, Rajesh's innocent confusion and comedy...touches every one's heart...very sensible movie and most of it is realistic...
No words to describe the music about how good it has been...It is in resonance with every one's heart...a master piece... Another star music director is here...arere arere song will stand as the best song forever...karthik has been outstanding with his singing... Micky J mayer has a very bright future...
This is the best telugu movie i have watched in the recent past, no where in the movie i felt bored. Also this is the first movie i thought of booking a ticket for the next day, unfortunately could not get it though, but definitely will watch it once again. My heart filled with a wonderful feeling when i am out of the theatre... yesterday has been really a happy day for me... Thanks to Sekhar for such a fabulous entertainment...
Krishna Sastry
[email protected]
More My Movie experiences:
Chirutha by Phani Kumar
Chak De India by Ravi
Yamadonga by Lalitha
Chak De India by Shyam
AMAV by Darsakudu
5 in March by Sashidhar
Okkadunnadu by Anand
Black Friday by Ratnakar
Desamuduru by Krishna Prasad
Guru by It's opinion
Dhoom 2 by Lalitha Spoorthi
Dhoom 2 by ASK
Don - Syam
Boss - Anand
Boss - Hrithik
Stalin - Bala
Bommarillu - Nandini
Bommarillu - Darsakudu
Bommarillu - Vasu
Bommarillu - Harsha Prakash
Bommarillu - Lalitha Spoorthi
LRMB - Shravan
Bommarillu - Anirudh
LRMB - Srinivas
LRMB - Darsakudu
LRMB - S Sridhar
Bommarillu - Shridevi
Bommarillu - Vasudev
Bommarillu - Roopa
Sriram - Godavari
Sarath - Bangaram
Bala - Pokiri
Srinadh - Allari Pidugu
Sudheer Allari Pidugu
Anu - Athadu
Shyam Krishna - Iqbal
Purnesh - Grahanam
Sudhindra - Super
Vijay - Aparichitudu
Madhav - Aparichitudu
Hazaraon Kwaishein Aisi
Swades
Shyam - Black
Sai - Anand
Rohit - Anand & Veer Zaara
Jaya Prakash - 7GBC
Raj - Anand
Purnesh - Anand
Purnesh - The Village
Sriram - Gudumba Shankar
Purnesh - Gharshana
Purnesh - Lakshya
Purnesh - Yuva
Leenesh - Yuva
Kis - Lakshmi Narasimha
Indian Pride - Tagore
Raj - Boys
Phani - Gangotri
Phani - Khadgam
Vikram - CKR
BKR - Indra (Singapore)
Ram - Indra (Dubai)
Ranjeet - Idiot
Rahul - Indra
King Koduri - Indra
Srilakshmi Katragadda - Mitr: My Friend