Story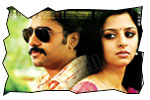 The story of the movie happens in the year of 1989. Bhagat Panigrahi (Nara Rohit) is a son of ex-maoist Chandra Sekhar Panigrahi (Sayaji Shinde). He is a man of principles and he always thinks about solutions within the system. His goal is to become an IPS officer. Sakthi Sahu (Ranadhir) is a dreadful mafia guy in the same area. They cross each other's path in an incident. It becomes a personal issue for Sakthi. But Bhagat treats it as a failure of system. The rest of the story is about how he corrects the issue while becoming the IPS officer.
Artists Performance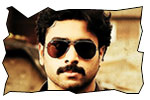 Nara Rohit delivers what is needed for the character. His voice is an asset. He looks pretty good in close up shots. He has got adequate screen presence. He need to shed a little more weight look leaner on the screen. He also need to acquire flexibility in his body language. At this juncture, Nara Rohit seems to be perfect fit for author backed roles. Vedika did the role of a traditional Brahmin girl and she is apt. Sunitha dubbed her voice. Ranadhir is perfect as the villain. Sayaji Shinde gets another noteworthy character in this movie after Arundhati film. Rajiv Kanakala does his character with panache. His get-up and mannerisms are realistic. Bhanu Chandar is good. This movie sports mostly new faces and all of them did well.
Technical departments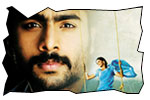 Story - screenplay - directon: Story of the movie is about how a righteous guy tries to be morally correct while wiping out the evil forces in the society by adhering the rules and regulations of the system. Chaitanya Dantuluri makes a honest and sincere attempt to narrate the story without deviating from the content. He was able to present whatever he wanted to tell in a clear and lucid manner. The way he has avoided showing action sequences in a couple of fights in the first half is very creative. Screenplay of the movie is nice. And this movie reflects realism. However, I expected a better narration in the movie after hero employs four officers. He should have shown how these four officers eliminated faults in the system in more effective way. Nonetheless, Chaitanya Dantuluri should be commended for making a honest movie without falling prey to the so-called commercial elements. Watching Baanam is like watching one of those Vishal Bharadwaj's realistic Hindi movies. The director also devised the movie into three chapters (Quentin Tarantino style).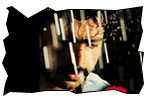 Other departments: Mani Sharma gave apt songs in the movie. They are like a part of the background music. In my opinion, the background music given by Mani Sharma for Baanam is the best in his career. It infused life into the movie. Cinematography Anil Bhandari is excellent. The framing and execution of camera is very untypical of regular Telugu cinema. Dialogues by Nagarju Gandham are seamlessly integrated into the script. No dialogues are written just for the heck of it. Editing by Marthand K Vanekatesh is crisp and the movie's runtime is around 2 hours. Art direction is nice and fights are realistic. The locations are good in the movie. Proper care is taken to suit 1989 era by the art director. Lyrics of the songs make an impact. Seshu Priyanka Chalasani should be appreciated for coming forward to make a movie that has no typical commercial elements. These kind of films work only if the content is good in the final product. And it is highly difficult to judge if a new director could pull it off at the time of script approval. It is nice to see Vyjayanthi banner that is known for commercial films is trying to enter the futuristic arena by producing realistic films..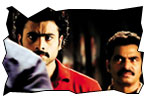 Analysis: I can't divide this movie into first half and second half to tell how it is. The entire movie is realistic and honest. It is a well handled movie with technical work complementing the content. I feel that director could have devised a better way of showing pre-climax (cleaning/correcting the system) with more mind play so that it would take the graph of the emotions to the peak. There are also little bit of slowness in the film regarding heroine's thread. The plus points are honest direction, brilliant music and nice camera work. After Gamyam movie, I have seen another honest and path breaking movie. Let's hope that the audience will also like it and make it a hit. Success of films like these will infuse novelty and honesty in Telugu filmmaking standards. Otherwise, we end up watching the same formulaic films dished out mercilessly week after the week.
Baanam Links:
• User Reviews
• CBN interview
• Chaitanya chitchat
• Rohit interview
• Music launch
• Photo gallery
• Wallpapers
• Trailers
• USA schedules
Jeevi reviews of previous 5 films
• Sankham
• Josh
• Mallanna
• Anjaneyulu
• Snehituda
• Magadheera
• Kalavaramaye Madilo
• Gopi Gopika Godavari
• Oy!
• Evaraina Epudaina
• Current
• Raju Maharaju
• Boni
• Kavya's Diary
• Ride
• Aa Okkadu
• Diary
• Pista
• Prayanam
• Kick
• Veedokkade
• Mitrudu
• Circus Circus
• Adhineta
• Punnam Naagu
• Ananda Tandavam
• Billa
• Bheebatsam
• Manorama
• Aakasamantha
• Sontha Vooru
• Malli Malli
• Mesthri
• Naa girlfriend baga rich
• Drona
• 16 Days
• Satyameva Jayathe
• Siddham
• Nenu Devudni
• Konchem Istam Konchem Kastam
• Shh...
• Arundhati

More Reviews