Note: I haven't seen Dabangg film. Hence I am no position to compare this film with the original. I watched this film as a straight one and wrote a review.
Story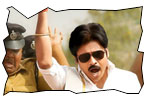 Gabbar Singh (Pawan Kalyan) runs away from home at an early age and become a police officer and gets transferred to his village. He likes his mother (Suhasini) and dislikes his foster father (Nagineedu). Siddhappa Naidu (Abhimanyu Singh) is the big rowdy of the village who has aspirations to become a politician. Gabbar Singh cuts Siddhappa to his size and Siddhappa wants to take revenge. The rest of the story is about how Gabbar Singh executes everything in his style.
Artists Performance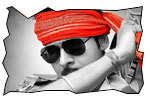 Pawan Kalyan: It took almost 12 years and a director called Harish Shankar to bring out the character in Pawan Kalyan onto the screen the way people want to see it. Pawan Kalyan scorches the screen with his performance. Pawan Kalyan's attitude, body language and josh (some may call it over-acting) is perfectly extracted by the director. Pawan Kalyan has shown it again how an actor can own and carry it on when the right character is offered.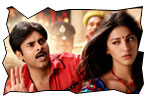 Others: Shruti Hassan is adequate as lady love of Gabbar Singh. Abhimanyu Singh is fine. Ali is hilarious (or the way Pawan tells him 'samba raasuko'). Brahmanandam is okay in the first half and hilarious in Pawan Kalyan cutout scene in the second half. Suhasini and Nagineedu are good as parents. Tanikella Bharani has been properly utilized in this movie as the mentor of villain. Kota Srinivasa Rao has a short yet important role as heroine's father. Rao Ramesh played the role of a politician. Ajay is apt for the character of step brother. Gayatri Rao (Happy Days fame) has done the character of heroine's friend. The rowdy batch (headed by Fish Venkat) is hilarious in Antakshari scene in Police Station.
Technical departments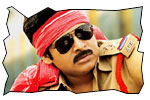 Story - screenplay - direction: The story of the film is an old-fashioned, but a workable one. What makes the difference to such an old-type story is the 'thikka' characterization by Harish Shankar. There are certain antics of Pawan Kalyan which appear like 'overr-acting' if not used well by the director. Harish Shankar has used them excellently to bring out hilariously entertaining episodes. His direction is good, but should have worked more on tight screenplay towards second half. The following scenes are true entertainers
1. When Gabbar Singh introduces himself to the village men after the intro fight.
2. 'Samba raasuko' episodes
3. 'Are Gabbar Singh Ka Fauzia' episodes
4. Episode before and after Pelli Choopulu failure
5. Antakshari Episode. This is probably the highlight of the film.
6. Brahmanandam cutout buildup episode
7. References episodes (Kushi, Muta Mesthri and Jalsa)
8. Kota Thagubothu song scene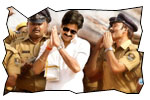 Other departments: Dialogues are the second most important technical aspect of the movie after characterization. Harish Shankar has come up with entertaining dialogues that suit Pawan Kalyan to a T. Background music is good and songs scored by Devi Sri Prasad are excellent. Cinematography is neat, but properly care should have been taken white shooting the slow-motion shots of hero introduction scene. Editing is fine and production values are okay.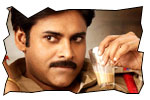 Analysis: First half of the film is highly entertaining. Second half has some story. Looks like this film is made with the sole purpose of entertainment with a workable script. Pawan Kalyan's inbuilt mannerism and attitude and merged perfectly by the character written for him. The film has 80% Pawan Kalyan and 20% rest of the cast. Plus points of the film are Pawan Kalyan's never-before entertainment, Harish Shankar's dialogues and characterization. The negative points are hurried climax and inadequate screenplay in the second half. The hero is more powerful than villain, hence the hero vs villain thread is weak. On a whole, Gabbar Singh is a good mass entertainer and will satisfy fans and general crowds alike who have been expecting a good entertainer from Pawan Kalyan over a decade.
Tailpiece: I haven't liked Pawan Kalyan's movies post Kushi as he didn't try to do appealing films to general crowds (Jalsa was a slight abberation). Gabbar Singh is one film I liked after Kushi. It doesn't mean that I am completely satisfied, but it's good. There are a few drawbacks in the movie, but Pawan Kalyan made sure that he is the sole reason for you to watch the movie and get entertained.
Gabbar Singh links
• Music launch
• Photo gallery
• Wallpapers
• Videos
Jeevi reviews of previous films
• Dhammu
• Racha
• Lovely
• Ee Rojullo
• Mr. Nookayya
• Ishq
• Poola Rangadu
• Love Failure
• SMS
• Snehitudu
• Bodyguard
• Businessman
• Rajanna
• Journey
• Panjaa
• Priyudu
• Solo
• Sri Ramarajyam
• Oh My Friend
• Mogudu
• Nuvvila...
• 7th Sense
• Pilla Zamindar



More Reviews