March 21, 2008
Gamyam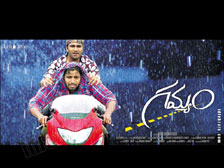 Gamyam
I was hesitant to go to Gamyam in the first week of its release due to the star cast, when my friends planned for this movie.They came back from movie with full of Joy and appreciated the movie in such a way that i decided that i would watch this movie in the weekend and i did watch this movie on Saturday here in Dallas.I am a big movie buff, i watch almost 98% of pictures released in Telugu.I have been really vexed with the typical commercial movies that have been releasing with in our Telugu film industry with same old stereotype stories , huge budgets spent on casting and shooting locations.
Gamyam proved this time again as some of the low budget all time hits, that it is the story and the way it is told that makes a movie hit but not the huge star cast.I was really touched by the way Krish narrated the journey of a human being transforming himself from an arrogant, spoiled youngster to a sensible , altruistic ,good Samaritan. Abhiram's character was the one where his lifestyle reflected his upbringing and family circumstances that made him a person what he was today at the start of the film. And it took him his love to realise what is reality of a life .In his journey of realizing what is important in life he has lost a good friend who is guileless , happy go lucky type personified human being and helped a lady in giving birth to a new child.We as human beings most of the time just ignore the fact that the reason that you can be happy is through helping the needful who are in need. I don't always believe that a movie has to give social message to the society.But in this movie it had both entertainment and a social message.I could feel the sense of the message at the end of the movie when i was leaving the cinema hall.I have read some posts on the scene where the director introduced the forest scene with Naxals leader was not necessary .But I personally feel that the link between the guy who rescues Abhiram and his link to the naxalism was very well linked together.Till that scene i was wondering who is this guy and how could he very well handle a gun . And once this scene appeared it made a total sense to me.And the scene that followed this forest scene where Seenu dies , i think this was the most touching part of the movie.I was enjoying the humour portrayed by gaali seenu so much that I was literally in tears when i saw this frame where seenu leaves his last breath in Abhiram's arms.
Overall a very good movie that i would recommend to Telugu film lovers to watch. Very good direction and screenplay by Krish. Sharwanand and Naresh have done very good acting.I felt like Kamalinee's role was not much elevated although the story revolves around her.Nice background music blended with humour , sentiment and social message.Something that could have been better was the editing part, i personally felt that in some parts of the movie the frames did not sync in properly.Looking at the new potential i m sure that in the coming years we can definitely witness some nice movies from these talented young directors.All the best Krish.
Thanks
Sridhar Aemalla
More My Movie experiences:
Gamyam by Sreekanth D
Gamyam by Sanjay
Halla Bol by Purnesh
Taare Zameen Par by Ashok Varma
Taare Zameen Par by Raja Simha
Happy Days by Krishna Sastry
Chirutha by Phani Kumar
Chak De India by Ravi
Yamadonga by Lalitha
Chak De India by Shyam
AMAV by Darsakudu
5 in March by Sashidhar
Okkadunnadu by Anand
Black Friday by Ratnakar
Desamuduru by Krishna Prasad
Guru by It's opinion
Dhoom 2 by Lalitha Spoorthi
Dhoom 2 by ASK
Don - Syam
Boss - Anand
Boss - Hrithik
Stalin - Bala
Bommarillu - Nandini
Bommarillu - Darsakudu
Bommarillu - Vasu
Bommarillu - Harsha Prakash
Bommarillu - Lalitha Spoorthi
LRMB - Shravan
Bommarillu - Anirudh
LRMB - Srinivas
LRMB - Darsakudu
LRMB - S Sridhar
Bommarillu - Shridevi
Bommarillu - Vasudev
Bommarillu - Roopa
Sriram - Godavari
Sarath - Bangaram
Bala - Pokiri
Srinadh - Allari Pidugu
Sudheer Allari Pidugu
Anu - Athadu
Shyam Krishna - Iqbal
Purnesh - Grahanam
Sudhindra - Super
Vijay - Aparichitudu
Madhav - Aparichitudu
Hazaraon Kwaishein Aisi
Swades
Shyam - Black
Sai - Anand
Rohit - Anand & Veer Zaara
Jaya Prakash - 7GBC
Raj - Anand
Purnesh - Anand
Purnesh - The Village
Sriram - Gudumba Shankar
Purnesh - Gharshana
Purnesh - Lakshya
Purnesh - Yuva
Leenesh - Yuva
Kis - Lakshmi Narasimha
Indian Pride - Tagore
Raj - Boys
Phani - Gangotri
Phani - Khadgam
Vikram - CKR
BKR - Indra (Singapore)
Ram - Indra (Dubai)
Ranjeet - Idiot
Rahul - Indra
King Koduri - Indra
Srilakshmi Katragadda - Mitr: My Friend