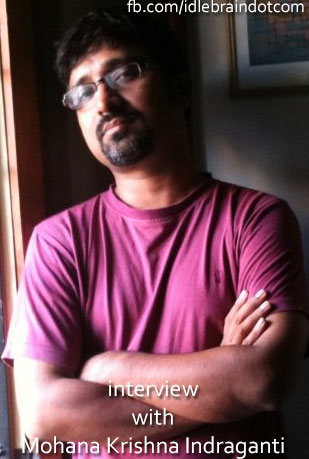 24 August 2013
Hyderabad
Mohana Krishna Indraganti is a director who carved a niche for himself as an acha Telugu director. All his films have sensibilities and Telugu values. His latest film Anthaka Mundu Aa Tarvatha was released on 23 August and opened to encouraging reviews. Here are the excerpts of the interview -

What went wrong with your last movie Golkonda High School?
I took a leap from a fun film like Ashta Chemma to a sports genre film Golkonda High School. The movie was not publicized well and released during Sankranthi festival which usually caters to big star films. We didn't prepare the audiences about the content as it's a niche film. However, this film has got good reviews though.
Why there is a gap of 2 and half years between the releases of GHS and Anthaka Mundu Aa Tarvatha (AMAT)?
I was supposed to do a movie with Sushanth as hero and things didn't work out. KL Damodar Prasad has expressed interest in working with me during the making of GHS and we met again. I have finished the script by January 2012. Then we ran casting call and trained the leads. We have started the shoot in December of 2012 and completed it by 27 June.
What is AMAT all about?
AMAT is about verbal commitment between a couple. It's not a 'cut to chase' film. Most of the story delves on romance. Marriage is an institutional framework. But the couple should have an emotional bond between them to make it work. I have touches a few specific issues that crop up between couples. Though it discusses about love and relationships, I made sure that it's coated with fun.
AMAT is my first original screenplay. Don't misinterpret this statement to copying other films in my earlier movies. All my previous films are either adaptations of literary works. AMAT is like a big autobiographical film for me. Lot of it is inspired by my own experiences. Some of the content in this film is shocking, bold and of adult nature.
You seems to be adamant about having a Telugu-born girl as heroine in your films?
Cultural specificity is as important as language for a heroine. If I cast a Telugu girl as heroine, she contributes a lot to the performance of co-star. It's unfortunate that very few Telugu girls choose acting as their career. I get a high when I introduce new actors.
Producer KL Damodar Prasad is known to be an involving producer? Is it a problem?
When there is a problem in script, he gives suggestions. He questions me in a constructive way. That's just a feedback. I have the option to take it or leave. He is a good collaborator for the director. It helps to have such producer. I feel safe when I work with producers like Damu. I shot 95% of what scripted. He shapes film along with the director. He is unobtrusive and the most democratic producer.
Tell us about the music?
This is the best album in my career and among the albums composed by Kalyani Koduri. All seven songs are narration driven except for the 1st song. AMAT album also has best lyrical values compared to the films I have directed so far. If you take songs out of the film, you will miss the story.
Why do you take so much time to make a film?
That's because I start afresh every time. I start with a plain paper and write all scenes my self. I neither have assistants not have a separate story department for my films. I generally take 6-8 months to script a movie. Most of my films have fresh face. Casting takes a lot of time. Then I need to conduct a workshop for them. Then I go for the shoot.
What is going to be your next film?
I would love to make films in different genres. I have not repeated any genre so far. Grahanam (Drama), Maya Banzaar (Fantasy), Ashta Chemma (Screwball Comedy), Golkonda High School (Sports) and AMAT (Romantic Drama) belong to different genres. I might do a crime caper for my next film.