Story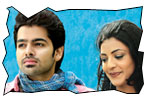 Ganesh (Ram) is an orphan who always pitches in to help needy people. In one such strange situation, he is forced to act with Divya (Kajal Agarwal) that he loves her. But later on, she comes to know that he is loving her to fulfill some other ambition and his love is an act of fabrication. By then, Ganesh genuinely falls in love with her. The rest of the story is all about how he convinces her about his true love.
Artists Performance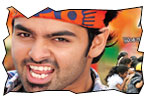 The 26 kids who acted in this movie are wonderful. They performed naturally and added fun and purity to the scenes they are involved with. Ram is pretty good as Ganesh in this movie. He has shown lots of maturity in performance and dialogue modulation towards the end of the movie. His dances in Ganesa song are interesting. Kajal Agarwal is nice. Brahmanandam's comedy, though routine gives relief. Poonam Kaur is adequate as the friend of heroine. Asish Vidyardhi alright as a comedy villain. Rohini Hattangadi did a brief role..
Technical departments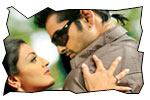 Story - screenplay - directon: Story of the movie is wafer thin. A story like these should be narrated with tight screenplay and gripping emotions. The debutant director couldn't come up with a gripping screenplay to narrate the story in an interesting manner. However, the kids backdrop has helped in keeping the movie going. The episodes involving kids are a sheer delight to watch. The direction should have been better. Films like these will be interesting only if director projects the love between lead couple in a tender yet interesting way. Though it may look different on paper, the director couldn't translate those sweet nothings onto the screen in a convincing way. I didn't expect a couple of insensible scenes (hero cutting his wrist to prove his love and kids being ill-treated in climax) from a production house of Sravanthi.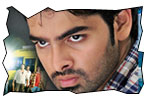 Other departments: Micky J Meyer's songs definitely sound good on stereo. However, they are not captured efficiently onto the screen. The chalo song featuring kids is picturized well. The 'rajkumrai' song which sounds fabulous is misplaced in the movie. Background score is not good. The dialogues written by Abburi Ravi in key scenes leading to climax are good. Cinematography should have been better. Fights by Peter Heins are adequate. Editing should have been crisper as there is lots of lag in the second half of the movie.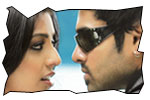 Analysis: First half of the movie is adequate. The second half lacks pace. The climax should have been shot interestingly. Plus points of the movie are Ram and kids. Negative points are screenplay and slow second half. Stories of this type needs tremendous creativity and presentation ability from director. The runtime of the movie is around 3 hours and it seriously needs some trimming in the second half. The lifeline of the movie is the kids episode. Ganesh is not the movie for morning show crowds. It is a clean movie aimed at family crowds. The fate of the movie will solely depend on how family crowds receive it.
Ganesh Links:
• User reviews
• Sravanthi Ravi Kishore interview
• Ram interview
• Music launch
• Muhurat
• Pressmeet 2
• Press meet 1
• Photo gallery
• Wallpapers
• Trailers
• Abroad: USA | Australia
Jeevi reviews of previous 5 films
• Banam
• Sankham
• Josh
• Mallanna
• Anjaneyulu
• Snehituda
• Magadheera
• Kalavaramaye Madilo
• Gopi Gopika Godavari
• Oy!
• Evaraina Epudaina
• Current
• Raju Maharaju
• Boni
• Kavya's Diary
• Ride
• Aa Okkadu
• Diary
• Pista
• Prayanam
• Kick
• Veedokkade
• Mitrudu
• Circus Circus
• Adhineta
• Punnam Naagu
• Ananda Tandavam
• Billa
• Bheebatsam
• Manorama
• Aakasamantha
• Sontha Vooru
• Malli Malli
• Mesthri
• Naa girlfriend baga rich
• Drona
• 16 Days
• Satyameva Jayathe
• Siddham
• Nenu Devudni
• Konchem Istam Konchem Kastam
• Shh...
• Arundhati

More Reviews