Story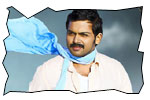 Kamal's (Karthi) ancestral property is being forcibly taken by the government to construct a railway subway. He goes to Hyderabad to ask the help of politicians. He realises that the politicians are forgetting their electoral promises once they get into power. He decides that he should get his property back by applying political pressure to the CM. In the process, he becomes the kingmaker. The rest of the story is all about how he gets back his property.
Artists Performance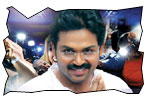 Karthi is pretty good as an innocent common man who later turns into a king maker. He dubbed the character himself. Though his efforts are appreciable, there is still Tamil accent to it. Praneeta is fine, but she doesn't have much of a role to play in the movie as her screen time is very less. Roja is good in a limited role. Radhika is excellent. Kota is good as usual. It's routine character for Prakash Raj. Santhanam entertains throughout as an auto driver. Kiran Rathod acted as the love interest of Prakash Raj and she is fine. Nassar did a funny role of a beedi Baba.
Technical departments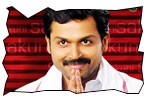 Story - screenplay - direction: Story of the film is about a common man taking revenge on CM. We have seen many films with similar story lines in the past. What differentiates this movie from the earlier ones is the orientation. While earlier ones tried to cater to all kinds of audiences, the director of this movie has decided to just take on the political aspect at full length. Hence the love interest and other commercial elements were cut down. The entire first half is narrated in a spaced-flashback mode that comes during the conversation between the passenger and an auto driver. The director has also simplified the entire process of elections. There are a couple of things that might go against the film. 1. The entire first half goes in flashback mode which can be trimmed. 2. Hero achieves things so easily in second half. Hence there is no proper conflict between hero and villain.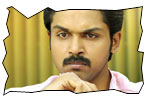 Other departments: There are four songs inthe film. Music by GV Prakash is pretty average with a couple of tunes giving 'heard before' feeling. Cinematography is good. Dialogues are nice. Editing is good.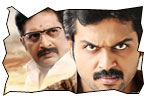 Analysis: First half of the film has limited appeal because the pace is sluggish and narration is flashback-oriented. Second half of the film is racy. Shakuni is a political story that is told in entertaining way without bothering much about logics and complexicities. Plus points of the film are Karthi and political satires. On the flip side, one-side orientation (no all-round orientation) might make the commercial appeal of the film limited. We have to wait and see how Shakuni works at box office.
Shakuni links
• Music launch
• Photo gallery
• Wallpapers
• Videos
• US schedules
Jeevi reviews of previous films
• Oka Romantic Crime Katha
• Endukante Premanta
• Gabbar Singh
• Dhammu
• Racha
• Lovely
• Ee Rojullo
• Mr. Nookayya
• Ishq
• Poola Rangadu
• Love Failure
• SMS
• Snehitudu
• Bodyguard
• Businessman
• Rajanna
• Journey
• Panjaa
• Priyudu
• Solo
• Sri Ramarajyam
• Oh My Friend
• Mogudu
• Nuvvila...
• 7th Sense
• Pilla Zamindar



More Reviews