April 2 , 2008
Jalsa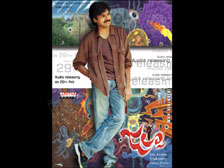 Jalsa
First day, First show…I was initially apprehensive about going to Pavan Kalyan's movie as I did not have any particular opinion about him and moreover there were the crazy fan associations to think of. But finally we landed at the theatre totally enticed by Devi's rocking tunes. The cool songs and energetic beats had me wishing to check out the picturization as soon as possible and BOY, it sure was awesome. Trivikram, the director truly knows how to captivate his audience. In this movie we have Pavan jiving with 3 dames and bashing up villains with equal ease.
So starting off with the hero- Pavan excels in his role of an ex-naxalite who's trying to lead a normal life and u've got to believe he actually has 3 degrees in the flick!!! He underplays his character and the story gives him optimum space to showcase varied emotions (after many days you actually get to see his acting prowess). The comedy scenes featuring him, Prakash Raj and Brahmanandam are the highlights.
You also get to see trivikram's trademark fights (with the villains oozing blood at every possible opportunity) and the punch lines are perfect. Kaamalinee Mukherji features in a short cameo as pavan's first love and she looks really cute. Parvati Melton doesn't have much to do either but she does look sophisticated and suave. The toast of the movie is Ileana. This girl from Goa gets a very decent role and she manages to look innocent and sexy at the same time. Her habit of 'being 10secs late every time' is funny and her expressions and acting sure have improved a lot.
The music is another thing to rant and rave about- Devi has definitely matched up to his previous superhit audios like bommarillu and varsham. He gives us very fresh and fun songs and u'll find urself humming them in no time. There are no double entendres and it's nice to see that there haven't been too many censor cuts either. The climax actually comes as a surprise and those who expect a dhamaka fight in the end could be disappointed. Mahesh babu's voiceover suits the entire situation especially when there are any intense scenes. So he probably could take up this job too.
I wouldn't like to reveal the story line as the movie has released only today and any spills could spoil the enjoyment.
It's a movie worth watching with the whole family and I can still find myself recalling some of the dialogues and laughing out loud. Go watch it and have fun. It's not always that u get to watch 3 heroines with one hero in a clean entertainer!!!
Thanks
lalitha spoorthi
[email protected]
More My Movie experiences:
Gamyam by Sridhar
Gamyam by Sreekanth D
Gamyam by Sanjay
Halla Bol by Purnesh
Taare Zameen Par by Ashok Varma
Taare Zameen Par by Raja Simha
Happy Days by Krishna Sastry
Chirutha by Phani Kumar
Chak De India by Ravi
Yamadonga by Lalitha
Chak De India by Shyam
AMAV by Darsakudu
5 in March by Sashidhar
Okkadunnadu by Anand
Black Friday by Ratnakar
Desamuduru by Krishna Prasad
Guru by It's opinion
Dhoom 2 by Lalitha Spoorthi
Dhoom 2 by ASK
Don - Syam
Boss - Anand
Boss - Hrithik
Stalin - Bala
Bommarillu - Nandini
Bommarillu - Darsakudu
Bommarillu - Vasu
Bommarillu - Harsha Prakash
Bommarillu - Lalitha Spoorthi
LRMB - Shravan
Bommarillu - Anirudh
LRMB - Srinivas
LRMB - Darsakudu
LRMB - S Sridhar
Bommarillu - Shridevi
Bommarillu - Vasudev
Bommarillu - Roopa
Sriram - Godavari
Sarath - Bangaram
Bala - Pokiri
Srinadh - Allari Pidugu
Sudheer Allari Pidugu
Anu - Athadu
Shyam Krishna - Iqbal
Purnesh - Grahanam
Sudhindra - Super
Vijay - Aparichitudu
Madhav - Aparichitudu
Hazaraon Kwaishein Aisi
Swades
Shyam - Black
Sai - Anand
Rohit - Anand & Veer Zaara
Jaya Prakash - 7GBC
Raj - Anand
Purnesh - Anand
Purnesh - The Village
Sriram - Gudumba Shankar
Purnesh - Gharshana
Purnesh - Lakshya
Purnesh - Yuva
Leenesh - Yuva
Kis - Lakshmi Narasimha
Indian Pride - Tagore
Raj - Boys
Phani - Gangotri
Phani - Khadgam
Vikram - CKR
BKR - Indra (Singapore)
Ram - Indra (Dubai)
Ranjeet - Idiot
Rahul - Indra
King Koduri - Indra
Srilakshmi Katragadda - Mitr: My Friend